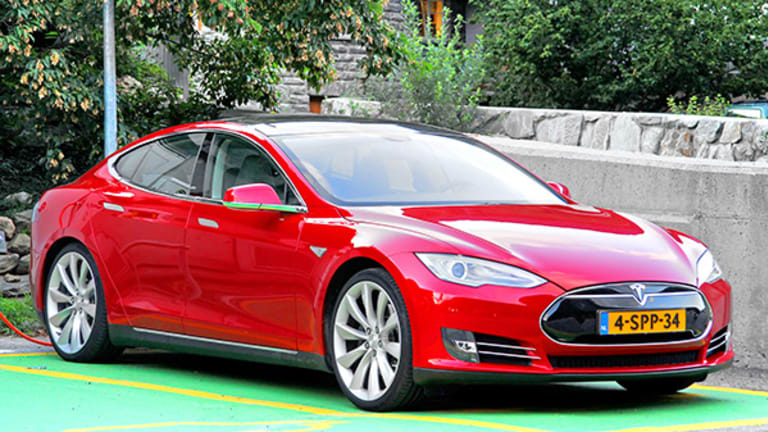 Tesla Is More Active in South Korea but What Are Its Plans There?
Tesla expands its business relationships in South Korea, though the maker of battery-powered vehicles isn't spelling out its goals or timetables.
Tesla (TSLA) - Get Report is expanding its business relationships in South Korea, though the maker of battery-powered vehicles isn't spelling out its goals or timetables.
The fledgling automaker, relatively small in global terms, almost certainly has no ambitions to challenge the local automotive behemoth, Hyundai  (HYMLF) , which dominates the country's automotive market with its affiliate Kia Motors  (KIMTF) . Together, they sell about 70% of the new cars at home and are the fifth-largest global automaker.
In March, Hyundai unveiled in New York its Ioniq line of gas-electric hybrid, plug-in hybrid and battery-powered models -- a strategic response to Toyota's (TM) - Get Report successful Prius line of hybrids and plug-ins as well as to new EV upstarts like Tesla.
Fresh evidence of Tesla's South Korean activities is a posting on its Web site there for four new sales and engineering positions as well as a Japan-based recruiter. The news was first reported by Bloomberg. Several months earlier, news organizations reported that the company had incorporated in South Korea and will open an office in Seoul.
In March, Elon Musk, Tesla's CEO, said in a tweet that the company had received $1,000 refundable reservations from South Korea, among several foreign nations, for the planned Model 3 mass market electric sedan, scheduled to debut in late 2017.
When asked this week if Tesla planned to sell vehicles in South Korea, a company spokesperson provided an earlier quote from President J.B. Straubel:
"Korea is a market we plan to expand into but I can't give you a specific date just quite yet. We will do it as soon as we realistically can for our growth plan. We are still a relatively small company and we need to be careful.
"As we expand into each new country and each new region, customers have very positive experiences. We don't want to damage the brand by growing too quickly and not having enough infrastructure, service and support," he said.
Tesla may have other goals in South Korea, besides selling its vehicles. South Korea's parts industry could provide cost-competitive alternatives to Japanese parts used in the automaker's vehicles. Last month, Reuters reported that Mando Corp., a local parts maker, was in talks to supply parts for the Model 3.
Tesla denied a story in a South Korean publication saying that Mando had been picked to supply autonomous driving parts, news that pushed up Mando's share price. Mando currently supplies steering racks for Tesla's Model S sedan.
"Tesla is turning to South Korean parts makers, which are more cost-competitive than Japanese rivals, as the electric car start-up plans to drastically cut costs for the cheaper Model 3," Eim Eun-young, an auto analyst at Samsung Securities, told Reuters.
Because Tesla is an object of endless fascination by its fan base, as well as speculation by wildly bearish and bullish investors, every small move gets attention, even the hiring of a few engineers in a country that probably won't ever provide many sales.
Doron Levin is the host of "In the Driver Seat," broadcast on SiriusXM Insight 121, Saturday at noon, encore Sunday at 9 a.m.
This article is commentary by an independent contributor. At the time of publication, the author held no positions in the stocks mentioned.