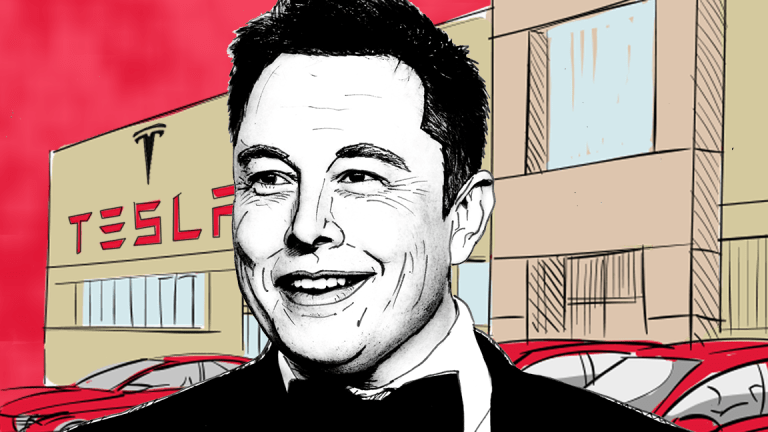 Here Are Two Not-So-Good Signs for Tesla
Tesla has lost two key financial executives, which is a big red flag. Tech stocks remain hot, except social media giant Facebook.
Not good when numbers people leave.
This Isn't a Good Sign for Tesla
For some, electric carmaker Tesla (TSLA) - Get Tesla Inc. Report can do no wrong. The company is changing transportation more so than Uber and Action Alerts Plus holding Alphabet (GOOGL) - Get Alphabet Inc. Report (Waymo) and as a result the stock is 500% undervalued. These folks have bought the Elon Musk hype hook, line and sinker. Elon not only deserves $2.6 billion in potential equity comp, but he should really get $5 billion. But this blinded bull camp better respect two recent developments that have happened at the company. Tesla's corporate treasurer and vice president, Susan Repo, has left Tesla, Bloomberg reported on Tuesday. The report said Repo departed to become chief financial officer at another company. Her LinkedIn profile hasn't changed, yet. Repo's exit comes a few days from Tesla's chief accounting officer Eric Branderiz leaving because of "personal reasons," said a filing with the Securities & Exchange Commission. Perhaps this is all a coincidence, a function of a high-achiever burning out (Branderiz has been on the grind since the late 1990s) and another wanting to be the top person in the finance department (Repo). Even still, losing two people overseeing the finances of a money-losing electric car company that has a history of execution missteps, weeks removed from the end of the first quarter, is a big red flag. Buyer beware.
Around the Horn
(1) iShares PHLX Semiconductor (SOXX) - Get iShares Semiconductor ETF Report will open at its highest level since March 2000 on Wednesday, reported Kinsey Grant; (2) Walmart (WMT) - Get Walmart Inc. Report is expanding its grocery delivery business to 100 metropolitan areas by year end, up from six currently. After reviewing earnings call transcripts from Walmart, Target (TGT) - Get Target Corporation Report , Kohl's (KSS) - Get Kohl's Corporation Report and others one thing has become clear: Amazon (AMZN) - Get Amazon.com Inc. Report better watch its back as bricks-and-mortar retailers are fighting back very hard (and creatively); Action Alerts Plus holding Facebook (FB) - Get Meta Platforms Inc. Report has slipped below its 50-day moving average -- not good seeing as tech stocks continue to rally big time. 
Get on This Service
I am confused why you aren't a subscriber to our sister publication, The Deal. If you knew the who's who of Wall Street who receive The Deal's super premium M&A, private-equity and other institutional level analysis you would kick yourself for not being on sooner. One fun aspect of The Deal is it's rumor mill platform, where our newsroom of journalists pens short stories on things they are hearing from sources. In many cases, these rumors turn out to be actual news just days later. Case in point: on Tuesday yours truly penned a short note on the likelihood The North Face and Timberland owner VF Corp. (VFC) - Get V.F. Corporation Report would remain active on the deal front, perhaps pulling the trigger on something sooner than Wall Street expected. VF Corp. announced Wednesday that it will purchase running shoe brand Altra for an undisclosed sum. While small ($50 million revenue brand), it finally gets VF Corp. into the running space with a very credible name. This news is likely bad for Wolverine Worldwide (WWW) - Get Wolverine World Wide Inc. Report and to a lesser extent, Adidas (ADDYY) owned Reebok. VF Corp. is a master at scaling up brands, and I expect it will move quickly to expand distribution for Altra and create a true lifestyle brand.
More from the JoltArchives. Receive the free Jolt newsletter here.