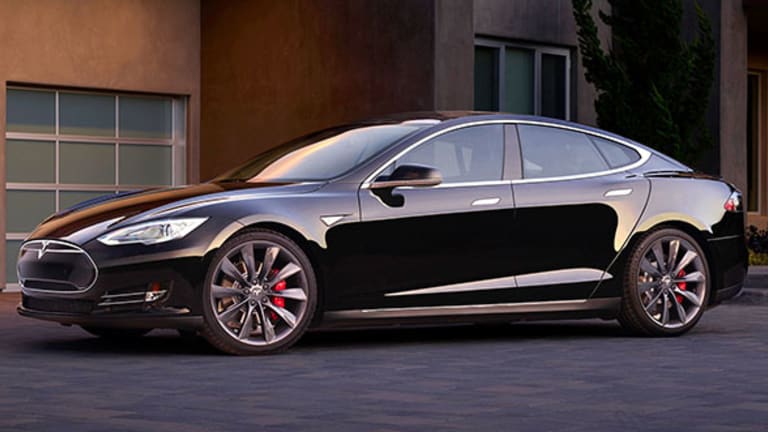 Tesla Is Charged Up to Power Higher
Tesla's breakout move today is setting the stock up well for more upside.
At midday on Wednesday, Tesla is the top gainer in the Nasdaq 100 with a 2.3% gain. This powerful move has driven the stock through a heavy resistance zone near its initial December peak. Tesla is now up over 7.5% from Monday's low and has completely reversed last week's disappointing action. Today's breakout-type move is setting the stock up well for more upside.
This morning's news-inspired ramp is putting some distance on an area the stock has struggled with since the October low. After Tesla's steep pullback from its September peak, the stock has been held in check by its 200-day moving average. This key long-term indicator capped the initial mid-October bounce and held multi-week highs in November. This month, Tesla made numerous attempts to break past the 200-day but was unable to maintain any traction.
While this sub-200-day consolidation was developing, the stock did manage to put in higher monthly lows in November and December. The base was improving, but the $235-to-$238 area remained impenetrable. Tesla's bullish action over the last two sessions may finally have the momentum to clear this heavy resistance zone.
Adding additional fuel to today's news-inspired surge is a very high short interest ratio. Tesla entered this week sporting a 9.8 ratio, indicating that a large amount of traders are now leaning the wrong way and taking immense heat. The stock is also leaving behind what could develop into a very solid support zone near what was considered heavy resistance just last week.
In the near term, investors should keep a close eye on the $238.60-to-$235.60 area. A dip back down to this zone would provide low-risk entry. On the downside, a close back below yesterday's low of $229.55 would be a clear warning sign of a failed breakout.
Click here to see the below chart in a new window. 
Disclosure: This article is commentary by an independent contributor. At the time of publication, the author was long Tesla.