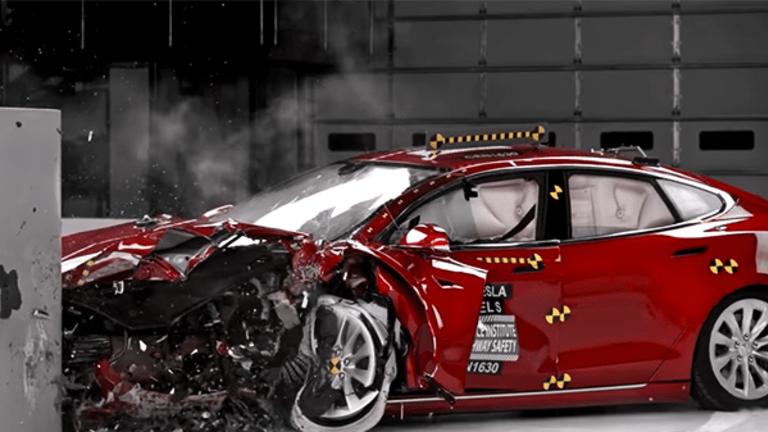 Tesla Has a Potentially Lethal Risk That Has Nothing to Do With Cars
Tesla's Elon Musk for all intents and purposes is the soul of the company. But all signs point to him being increasingly distracted by side projects.
If you'd like to receive the free "Morning Jolt" newsletter, please register here.
Paging Elon Musk: Do you remember that car company called Tesla Inc.  (TSLA) - Get Free Report ?
It seems that nowadays, Tesla is nothing more than a side project for the big-thinking Musk, CEO of Tesla. Take for example Friday, where Musk's latest idea of flying people in rockets from coast to coast is blowing up Twitter. So are his overall views on space travel and the future of his SpaceX creation (he spoke at a space industry conference). Surely, Musk will be tweeting more about space travel and the hyperloop (and God knows what else -- maybe new SolarCity solar panels that help solve world hunger) in the weeks and months to come. That ultimately should remind every Tesla investor of this risk factor buried in the electric car company's annual report:
"We are highly dependent on the services of Elon Musk, our Chief Executive Officer, Chairman of our Board of Directors and largest stockholder. Although Mr. Musk spends significant time with Tesla and is highly active in our management, he does not devote his full time and attention to Tesla. Among other commitments, Mr. Musk also currently serves as Chief Executive Officer and Chief Technical Officer of Space Exploration Technologies, a developer and manufacturer of space launch vehicles." From the outside, Musk looks increasingly stretched at a time in which all his attention should be on making Tesla profitable. He has an obligation to shareholders to deliver (actual results, not just a higher stock price), and whether he is able to fulfill that is a major unknown. It's time he looks in the mirror, acknowledges his true passion (perhaps space travel) and hands the baton off to an outside CEO to run Tesla. 
Because let's face it, Musk hasn't done a good job of building his executive bench. Just take a look at the sparse executive team at Tesla. 
What's Hot
ROKU!
Wall Street definitely tuned into Roku Inc.'s  (ROKU) - Get Free Report initial day of trading.
Shares of the streaming service skyrocketed 68% in their first day of trading on Thursday as investors ignored competitive forces such as Alphabet Inc.'s  (GOOGL) - Get Free Report Chromecast and Amazon.com Inc.'s  (AMZN) - Get Free Report Fire stick. Earlier this week, Roku had priced its IPO at $14 per share, the high end of its range. At $17.75, the provider of streaming set-tops and HDMI sticks has an official valuation of about $1.7 billion, with that number rising higher after accounting for outstanding stock options and warrants.
While the company's debut benefited from investors looking for the next great tech IPO in a year of so few, there is indeed a growth story to Roku explained Chief Financial Officer Steve Louden in an interview with me at the Nasdaq (video below).
Fueled by rapid cord-cutting, Roku's revenue rose 25% in 2016 and 23% during the first half of 2017 to $199.7 million. However, hardware sales fell 2% during the latter period to $117.3 million. Revenue growth stemmed entirely from a 91% increase in Roku's higher-margin "Platform" revenue. That business, which covers ad sales, software licensing, branded channel buttons on Roku remotes and revenue cuts on subscriptions and on-demand content purchased on Roku devices, increased to $82.4 million.
Roku isn't yet profitable, but has plans to get there quickly via a combination of selling ads on its platform and attracting more overall users, says Louden.
On a side note, Louden told me people are watching more old episodes of "Friends" these days. Great to have a treasure trove of data, huh. 
Geeky Stock Market Data
If you love geeky stock market data, check out this read by TheStreet's London Bureau Chief Martin Baccardax. 
The current bull market in global stocks has earned investors more than an entire year's output for the U.S. economy, Merrill Lynch research calculated, and the incredible winning streak might have more room to run.
Equities markets turned the corner in early February of last year, lifting the S&P 500 to a string of at least eight all-time highs and a near 35% gain. That has taken the broadest measure of global stocks, the MSCI All-Country World Index, to its highest valuation in history points out Martin. Merrill Lynch said the run, across all markets around the world, has created $18.5 trillion in new value, "an amount equivalent to the entire US GDP."
Thank you for contributing, Apple Inc.  (AAPL) - Get Free Report . Here comes the crash ...
Apple and Alphabet are holdings in Jim Cramer'sAction Alerts PLUS Charitable Trust Portfolio. Want to be alerted before Cramer buys or sells AAPL and GOOGL? Learn more now.
More of What's Trending on TheStreet: