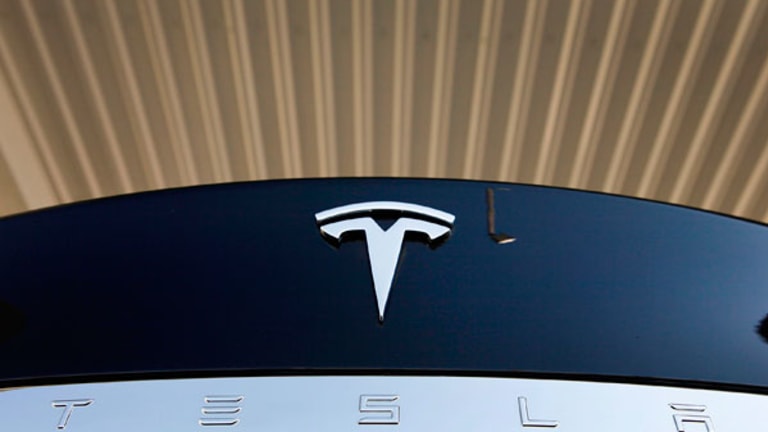 Tesla Deserves a Facebook-Google Market Cap
Tesla's gigafactory may be just the jump the car company needs to prove it's a tech leader.
NEW YORK (TheStreet) -- It's acceptable to refer to Internet advertising companies like Facebook (FB) - Get Free Report and Google (GOOG) - Get Free Report as tech companies. In reality, these ad companies do not qualify as real tech. Want to see real tech, look no further than Elon Musk's efforts at Tesla (TSLA) - Get Free Report, SpaceX and SolarCity (SCTY) .  
Facebook made a lot of noise with its $19 billion acquisition of WhatsApp and its 450 million users; some believe it was a brilliant acquisition as it enables Mark Zuckerberg to mask the user slowdown at Facebook's core site but others see the buy as evidence that Wall Street is drunk on social.
Facebook's current growth rate looks great but consider that the total U.S. ad spending on media was $171 billion in 2013. This figure makes Facebook's market cap of $178 billion look ludicrous. Only $42 billion of the $171 billion was allocated to digital. By 2017, it's expected that $61 billion will be spent on digital advertising. Digital advertising is a small component of the economy.
And guess who controlled $30 billion of the $42 billion spent on digital ads in 2013? Google. That leaves $12 billion spread among Facebook, Twitter, LinkedIn, Yelp and any other Internet company fighting for relevancy.
The advertising pie is basically a fixed amount. It doesn't fluctuate with volatility. These numbers should scare a long term Facebook investors and they should strike fear into an investor in the second- third- fourth-ranked social networks. So, if Facebook operates in a $42 billion industry and is rewarded with a $178 billion market cap, where does that leave Tesla?
As Tesla's Gigafactory announcement approaches, we think Wall Street is in the process of shifting its label of Tesla from a car company to a tech company. Musk says the giga factory will build battery packs for future mass-market electric cars.
Owning Tesla in front of the Gigafactory announcement may be similar to owning Apple (AAPL) - Get Free Report ahead of the original iPhone announcement. The electric utility industry is a trillion dollar industry.
The global automotive industry is a trillion dollar industry. Even after Tuesday's tremendous stock performance, Tesla's market cap sits at a paltry $31 billion compared to Facebook at $178 billion, Google at $410 billion and Apple at $470 billion. Tesla could be headed to $1,000 over the next 3 years to 5 years based on these market cap comparisons. Even at $1,000 a share, Tesla would have a smaller market cap than Facebook.
What kind of battery innovation are we taking about with Tesla? Last September Tesla found itself in the headlines as it filed patents for hybrid battery packs that rely primarily on lithium-ion but draw power from metal-air packs on extended journeys.
Metal-air battery packs have a shorter lifetime when exposed to regular charging but use more common elements like zinc or aluminum that drastically reduce batter costs. Using the metal-air to charge the lithium-ion could theoretically give Tesla cars a 400 mile range on a single charge. The utility of such innovation is widespread in a world that relies on power efficiency.
"We believe the days when Tesla is known purely as an auto company are numbered," said Adam Jones, analyst with Morgan Stanley. He continued, "We believe we are witnessing the most disruptive intersection of manufacturing, innovation and capital experienced by the auto industry in more than a century. Tesla may be in position to disrupt industries well beyond the realm of traditional auto manufacturing. It's not just cars."
Perhaps Tesla is more undervalued than we thought.
At the time of publication, the author was long Tesla but held no positions in any of the other stocks mentioned.
Follow @EconomicTiming
This article represents the opinion of a contributor and not necessarily that of TheStreet or its editorial staff.