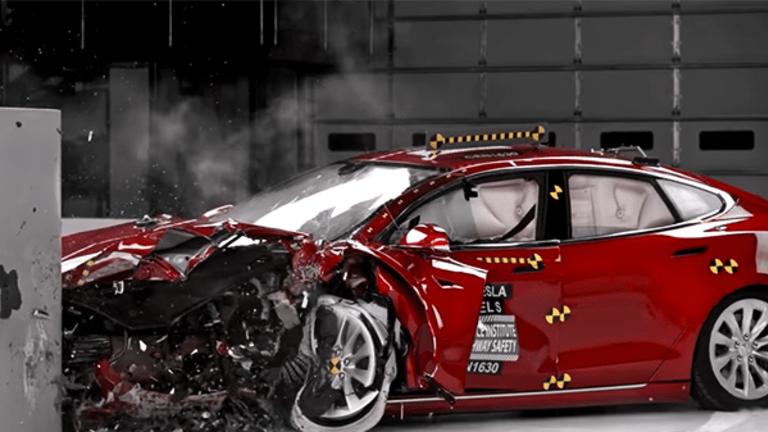 Tesla, Apple, Facebook and Other Tech Titans on Top 10 SELL List: Market Recon
This trade has not worked on almost any timeframe other than intra-day over the long haul.
"Don't confuse lack of volatility with stability, ever." -- Nassim Nicholas Taleb
Pricing Out Korea?
Equity index futures are trading broadly higher this morning. Doesn't a potential military conflict on the Korean peninsula matter anymore? U.S. equity markets gave up a rough percent and a half last week, mostly on Thursday, thanks to worries over a nuclear war in the Pacific. Has the concern abated? Is the risk priced in at this point? There is probably almost no way to actually price in an event such as open conflict between two or more nuclear powers.
That said, traders and algorithms have been taught in Pavlovian fashion that grave situations such as this usually pass without actual incident. Those of you who have craved volatility for so long can relax. There will be more, eventually. I promise. While underlings from both the U.S. and North Korea may be talking, and that does ease tensions to some degree, the rhetoric that led us here can and will flare up as quickly as it appears to be dying down. You probably have to wait until this whole situation has been out of the news cycle, so it can be a surprise.
The bigger news regarding the U.S. and Asia (for today) concerns China. The Trump administration let us know over the weekend that sometime today, the president will sign a directive that orders a formal investigation into the possibility that Chinese government agencies and businesses have been unfairly gaining patents and licenses from U.S. businesses through either theft or as a form of extortion in allowance of entry into Chinese markets. The president spoke to Chinese President Xi Jinping on Friday regarding the crisis in Korea, and has said in the past that he might take a pass on disputing trade issues with China if China were to offer substantial help with Pyongyang. Guess he wasn't satisfied with the answer he got. Then again, everything in this world, and with this president... is simply point of negotiation. We'll see.
Bitcoin
Whoa. That's all I have for you right now. 
Fear the Reaper?
The Tech sector took a step backwards last week. The whole equity market, for the most part, did as well. For some investors, though, this possible change in behavior for the market's most consistent positively performers becomes key. Go back year to date, one year, three years, five years, or even ten years. Under all of those timeframes, the Information Technology sector is either number one among the S&P 500's sector divisions, or darned close to it.
That tends to change once you bring performance in under a year, however. Over the last month, the "FAANG" stocks -- Action Alerts PLUS holdings Facebook (FB) - Get Facebook, Inc. Class A Report and Apple (AAPL) - Get Apple Inc. (AAPL) Report , Trifecta Stocks name Amazon (AMZN) - Get Amazon.com, Inc. Report , Netflix (NFLX) - Get Netflix, Inc. (NFLX) Report and Google parent Alphabet (GOOGL) - Get Alphabet Inc. Class A Report -- and other high-fliers have performed inconsistently coming out of their quarterly earnings releases. The telecom and utilities sectors have taken up market leadership for various reasons, such as consolidation, and safe haven seeking. The end of tech dominance? The short interest is there. Of course, that negative expectation also places a bid under the group.
Watch More with TheStreet:
It is both interesting and makes some sense that the tech sector dominates a list of the top 10 most heavily shorted U.S. stocks. After number one, which is Tesla (TSLA) - Get Tesla Inc Report , come the likes of Alphabet, Apple, Netflix, Amazon, Intel (INTC) - Get Intel Corporation (INTC) Report and Facebook. This trade has not worked on almost any timeframe other than intra-day over the long haul.
My personal take on this is to never get short and stay short any of these companies. I had several successful experiences shorting some of these names this past "earnings season", but those positions were held only for a few minutes around those news events. I became re-acquainted with the long side of the coin for several of these names during last week's geo-politically inspired selloff. The one name that I did hold on to my short position, where I broke discipline (because I was so sure that I was right), has been TSLA. Yeah, nice going, Slick. Where will you cover this one, Sport? Spin the wheel. Win a goldfish. Learn a lesson. Again.
Asian Macro
Last night, Japan's Cabinet Office reported that not only had the Japanese economy grown for the sixth consecutive quarter, but that the nation had flat-out crushed expectations (+4.0% SAAR) thanks to huge beats for both personal consumption and business spending. Like the U.S., Japan has faced a sustained lack of both inflation and wage growth, despite extremely accommodative monetary policy. Can this outperformance be sustained? Will this performance be revised? You will likely need to see help from exports, which were a net negative this quarter thanks to yen strength, as well as from inventory building, which was not really there either.
Tempering the joy coming out of the Asian Rim was the broad underperformance of the Chinese economy versus expectations for the month of July. Retail sales? Miss. Industrial production? Miss. How about fixed asset investment? Oh, they missed there too. The data-points not only missed expectations by fairly wide margins, but all slowed significantly from the levels seen in June.
Many economists indicate that this could foretell a slowdown for the Chinese economy over the second half of the year, as the government tries to tackle a property bubble, as well as cool monetary policy. Remember that the Chinese government has targeted full-year GDP growth of 6.5%, and saw growth of 6.9% for the first half. This does give Beijing some wiggle room in managing the economy and still being able to claim victory. U.S. corporations that deal in infrastructure building, such as Caterpillar (CAT) - Get Caterpillar Inc. Report , are watching closely. That stock is slightly lower in early trade, despite the overall strength being seen in equity index futures markets.
Sarge's Trading Levels
These are my levels to watch today for where I think that the S&P 500 and the Russell 2000 might either pause or turn.
SPX: 2469, 2458, 2447, 2438, 2431, 2422
RUT: 1390, 1384, 1377, 1368, 1362, 1352
Today's Earnings Highlights (Consensus EPS Expectations)
Before the Open: (JD) - Get JD.com, Inc. (JD) Report ($0.58), (SYY) - Get Sysco Corporation Report ($0.71)
Get Morning Recon delivered directly to your inbox each market day. Click here to sign up for e-mail delivery of Stephen "Sarge" Guilfoyle's Morning Recon, Jim Cramer's Daily Booyah! or other great free newsletters from TheStreet.
More of What's Trending on TheStreet:
At the time of publication, Stephen Guilfoyle was long AAPL, AMZN, GOOGL, INTC, short TSLA, although positions may change at any time.