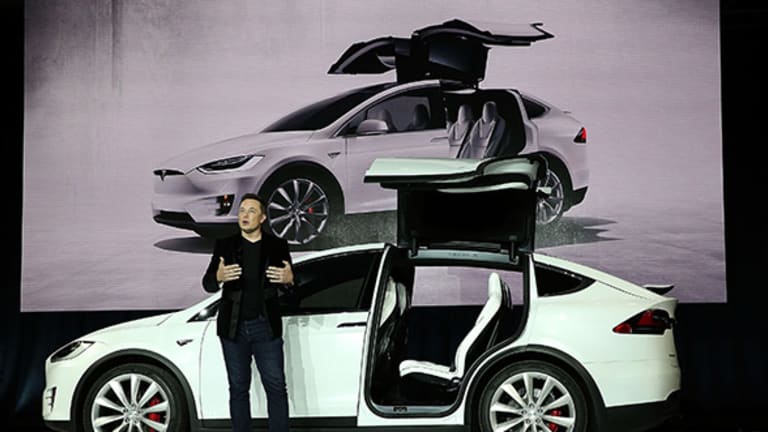 Tesla Annual Meeting Fuels Skeptics, Optimists Alike
The electric carmaker's CEO used the four-hour event to deliver a rambling history of the company, providing a message of hope to bulls and room for criticism to bears.
Tesla (TSLA) - Get Tesla Inc Report CEO Elon Musk used his company's annual meeting to reassure investors that the automaker is capable of reaching the ambitious goals it has set for itself. How well that message goes over likely depends on the listener's existing notions on how well the company has done so far.
While some future plans were discussed at the Moutain View, Calif. meeting--company officials seemingly confirmed speculation that buyers of the upcoming Model 3 wouldn't have free access to Tesla's network of Supercharger sites--the bulk of the four-hour meeting was devoted to the formation of the modern day Tesla. Long-time employees provided a lengthy oral history of the company as Musk rehashed the beginnings of the company.
The meeting did play host to some official business, including the vote to reelect directors, the company's 44-year old co-founder used the majority of the time to talk about Tesla's formation including some of the risks he took during development and the sometimes-unattainable goals he had set for the company in the past.
Prone to attention-grabbing statements when he ad-libs, Musk stayed consistent with past presentations, joking at one point during a two-hour presentation on the history of the company: "we say things we believe, even when those things are delusional."
"The reality is the foundation of Tesla was based on two entirely false premises that in retrospect turned out to be spectacularly dumb," Musk said of the company's first electric car which was sold to consumers but posed safety risks to drivers and tended to break down. The false premises involved basing its initial Roadster around an existing vehicle, which led to safety issues and a product that was a poor fit for a consumer business.
"Frankly this car, although it passed all the regulatory requirements for a street legal car, was completely unsafe," Musk said.
He said that one of the reasons he put most of the initial funding into Tesla was he thought there was maybe a 10% chance the company would succeed and didn't want to lose outside-investor money. "We all thought this is probably going to fail, but it is worth a shot," he said. 
While company critics will pounce on comments like these as signs of Tesla's dangers and perhaps of Musk's unsuitability to run a $32 billion market-cap enterprise, the message that the company can achieve the seemingly impossible eventually is sure not to be lost on true believers. Musk himself in the past has said Tesla's goal to deliver 500,000 Model 3s annually by 2018 might be near impossible to achieve, but investors are sticking with the company on the belief that Tesla will be able to get there eventually, and when it does the payoff will be substantial.
The CEO said he sees opportunities to surpass industry benchmarks for how long it takes to move a vehicle through the production line. "People won't believe us, but I am absolutely confident about this," he said.
Musk did hint at the challenges that the company is facing, saying it was "worth dwelling on how big of a leap it was to go" from the company's initial Roadster to its more mainstream Model S. The company delivered about 500 Roadsters per year, doing about half of the work in-house, while the Model S aimed at 20,000 deliveries per year almost entirely done by Tesla.
"I think it is important to point out we have made much bigger leaps than this in the past," Musk said.
Critics will have a field day with that comment as well, as it's no promise Tesla will be able to deliver on its next production uptick. That said, Tesla has from the beginning always divided investors between those who believe in Musk's bold projections, and those who don't. Expect the arguing to continue as everyone places their bets and waits around to find out how the story will play out.
Investors were lukewarm in after hours trading as the company's stock stayed nearly unchanged at $223.10 down from a close of $223.23 per share.