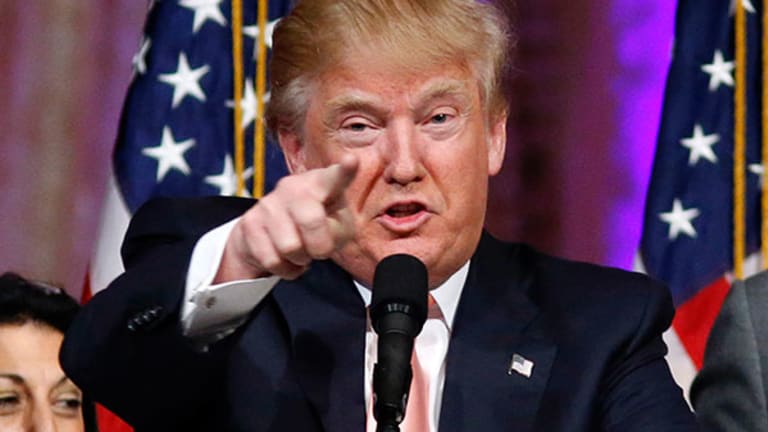 Terrified by Trump? Get Peace of Mind With These 2 Precious Metals Plays
The prospect of Donald Trump in the White House is making many investors skittish. Now's the time to buy these two hedges, before the investor stampede bids up their prices.
Does the idea of reality television star Donald Trump in the Oval Office give you the night sweats? You're not alone. Mental health professionals report a growing stream of patients who express enormous anxiety about the political rise of the brash and confrontational billionaire. It's not just liberals, minorities and Democrats; many corporate CEOs and even conservatives are worried as well.
Even if you're a Trump supporter, the turmoil of this extraordinary (and sometimes violent) election year hangs over your investments like a cloud. Republicans, Democrats, Libertarians and independents alike should all agree on at least one thing: the need for portfolio protection. Below, we examine two precious metals plays that offer a bulwark against uncertainty, as well as outsized growth potential.
This summer's party conventions are likely to be highly contentious, demonstrating to millions of TV-watching Americans that the social landscape is undergoing its worst upheaval since the late 1960s. The time to consider these two investments is now, before their prices are pushed higher by political fear. Let's take a look.
1. Silver Wheaton undefined
This Canada-based company is an unconventional play on the silver market, with smaller interests in gold. Rather than producing silver, Silver Wheaton is a "silver streaming" company that ponies up an advance payment to silver miners for the right to purchase a designated portion of their future production. Silver Wheaton subsequently doles out regular, smaller payments as it receives silver shipments.
With a market cap of $8.07 billion, Silver Wheaton is the largest firm of its type. The company holds 19 long-term purchase agreements and one early-deposit long-term purchase agreement associated with silver and gold.
Silver prices now hover at $16.06 per ounce. The forecast on the high end for silver prices is $18.18 per ounce by the end of June and $21.25 by the end of December. Some analysts say silver could rise as high as $140 per ounce by 2019. Driving demand for silver are its many industrial applications, including its use in electronic gadgets such as smartphones. Silver Wheaton is a safer play on rising silver prices than silver miners, which shoulder most of the production risk.
With shares of Silver Wheaton lnow trading at around $18.36, the average 12-month price target from analysts who cover the stock is $24, which suggests share can gain another 31% in the next year. That's a highly enticing growth prospect amid this overvalued and choppy broader market.
2. Goldcorp (GG)
With a market cap of $13.92 billion, Canada-based Goldcorp is the world's largest gold miner by market value.
Goldcorp boasts several competitive advantages compared to its smaller and more volatile rivals, such as Barrick Gold and Newmont Mining, including production growth, a robust balance sheet, and mines in politically safe regions.
Goldcorp benefits from one of the lowest all-in production costs of any primary gold producer in the world, which will hold it in good stead if gold prices rise as expected. Gold prices now stand at $1,212 an ounce. Strategists at Citi Research recently raised their gold price forecast to an average of $1,280 per ounce in the current quarter. Analysts at J.P. Morgan are even more bullish, forecasting a rise to $1,400 by the end of the year.
Goldcorp shares now trade at $16.70. The average 12-month price target from analysts who cover the stock is $19.54, which suggests that shares can gain 17% in the next year.
---
As we've just explained, Silver Wheaton and Goldcorp are effective hedges, as well as superb growth plays, in these worrying times. But if you'd rather avoid stocks altogether while the market goes through its current turmoil, I know a way you can make a guaranteed $67,548 over the next 12 months. In fact, this technique is so successful and simple, you might want to give up stock investing forever! Click here now to learn more.
John Persinos is an editorial manager and investment analyst at Investing Daily. At the time of publication, the author held no positions in the stocks mentioned.