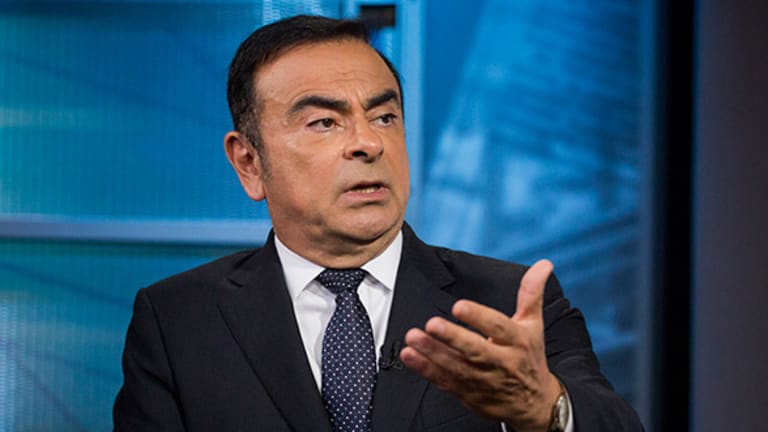 Tension Rises at Renault Nissan Alliance as Japanese Explore Changes
Carlos Ghosn, CEO of both automakers, faces rising pressure from the French Socialist government that wishes to increase its control.
The board of Nissan (NSANY)  is considering whether to increase its stake in Renault (RNSDF) in order to neutralize the possibility of a Renault takeover of the Japanese automaker, say sources close to the automakers.
The companies have been partners in a global alliance since 1999. 
Nissan is seeking the changes as pressure has increased from France's Socialist government on Renault and its CEO, Carlos Ghosn. The government recently increased its stake in Renault to 20% and could increase its voting power to 28% next spring under a new French law. 
Ghosn told The Wall Street Journal in Tokyo, where he is attending the country's biennial automotive exposition that "we are discussing many things" to "strengthen the alliance," adding "it has to be done in a way that all the stakeholders think is good." 
For 16 years, since Renault rescued Nissan from the brink of bankruptcy, Ghosn is credited with managing the two automakers as family members, enabling them to collaborate on many projects, thereby saving capital. On other projects they remain independent. Lately, he has been pushing them to share resources more closely. 
The Renault-Nissan alliance is studied in business schools and widely seen as a successful one-off in which two companies have reaped the benefits of a merger while avoiding pitfalls such as those that blew Daimler and Chrysler apart in 2007. 
Since 1999, Nissan shares have gained 160%, compared with 11% for the Nikkei 225 Index. Renault shares have gained 140% over the same period, compared with 22% for the FTSE 100. Together, the automakers have a market capitalization of about $73.5 billion. 
Currently, Renault holds voting rights on 43.4% of Nissan's shares and effectively controls the Japanese automaker. Nissan has 15% of Renault's shares but no voting rights. According to a published report in Japan, Nissan is studying the possibility of buying more Renault shares and gaining voting rights in order to counter the French government. 
How Ghosn plays his hand with the two automakers and the French government could have broad impact in France, which is sensitive to the company's role as an employer, and with German automaker Daimler (DDAIF) which has joined the alliance and is cooperating on a number of projects, including the production of luxury cars for Nissan. 
Ghosn, 61, has a two-year employment agreement as CEO of Nissan through 2017. He also is employed by Renault under a four-year agreement that ends in 2018. 
Last week, Yoshide Suga, chief cabinet secretary of the Japanese government, told the Japan News of the Yomiyuri Shimbun "the matter has been discussed by those concerned. The government, for its part, hopes to see no change to the current stockholding structure between Nissan and Renault," which was interpreted as an implicit criticism of France's move to change the status quo.
Doron Levin is host of "In the Driver Seat," broadcast on SiriusXM Insight 121, Saturday at noon, encore at 9 a.m. on Sunday.
The writer has no financial interest in the aforementioned companies.