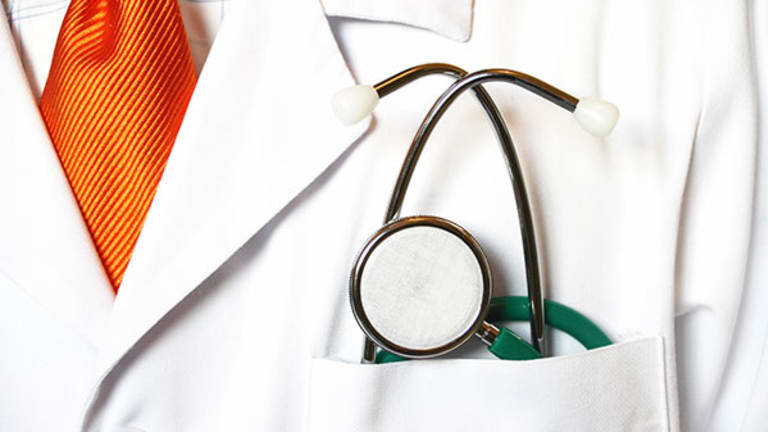 Tenet Healthcare Stands Its Ground as Justice Department Files Suit
Tenet is facing serious accusations but is determined to meet its objectives.
NEW YORK (TheStreet) -- After a banner year for Tenet Healthcare (THC) - Get Tenet Healthcare Corporation Report stock, the Justice Department charged the company and competitor Health Management Associates, with paying kickbacks for patient referrals. Health Management Associates was purchased in January by Franklin, Tenn.-based Community Health Systems (CYH) - Get Community Health Systems, Inc. Report.
If you are an investor, you'd think these accusations would affect Tenet's shares.On Friday, two days after the Justice Dept. announced the lawsuit, Tenet shares closed 1.63% higher on heavier than normal volume. On Monday, shares have continued rising, up 2.5% to $48. In fact, for the year to date, shares are up 14% compared with 4.9% for the Standard & Poor's 500.
The company reports earnings after the market close Monday.
Tenet Healthcare, Dallas, owns and operates acute care hospitals and ambulatory surgery centers, among others, throughout the United States. Tenet has grown through acquisitions, including the recent purchase of Vanguard Health Systems at the end of 2013.
Tenet and Health Management face allegations hospitals paid kickbacks to obstetric clinics serving primarily undocumented  Hispanic women in return for referral of those patients for labor and delivery at the hospitals.
In its lawsuit, filed under the whistle-blower provisions of the False Claims Act, the Justice Department claims the hospitals billed the Medicaid programs in Georgia and South Carolina for the services provided to the referred patients and, in some instances, also obtained additional Medicare reimbursement based on the increased numbers of low-income patients.
Steven Campanini, a spokesman for Tenet, said in a statement to the news media the company will defend itself against the lawsuit. Neither Community Health nor its subsidiary have commented on the lawsuit as yet.
Let's look at a five-year price chart to see how far the stock has risen and highlight a key financial metric that has contributed.


From almost being dead in the water at the beginning of 2009 with a share price of less than $5, Tenet's stock has risen nearly 1,000%.
That speaks volumes, but what will speak even louder will be its latest earnings results Monday and what Tenet's officers say about them and perhaps the lawsuit on Tuesday. Analysts are anticipating on average that fourth-quarter revenue will have risen a staggering 66% and for all of 2013 an increase of 22%.
On the flip side, analysts expect the company to report that its earnings per share fell nearly 33% in same quarter. The full-year EPS is expected to have grown by a little more than 6%. These figures were derived from both Yahoo! Finance and my own research.
The share price is up towards the high end of its 52-week range, and that tells me investors still believe in what Tenet Healthcare is accomplishing. This apparently is another revenue-driven investment theme (think Amazon (AMZN) - Get Amazon.com, Inc. Report).
As long as sales growth continues on its torrid pace, the stock may have some upside left in it. But the legal Sword of Damocles is hanging over the company's head. Until that case is resolved, caution may be the better choice.
My inclination is to wait until I hear the latest facts, guidance and numbers before even considering Tenet Healthcare as a part of my investment portfolio. Pay special attention to the guidance management offers for the rest of the year.
The Justice Dept. lawsuit comes at a challenging time in for the health-care industry in general and Tenet in particular.
At the time of publication the author had a position in AMZN.
This article represents the opinion of a contributor and not necessarily that of TheStreet or its editorial staff.
Marc Courtenay is the founder and owner of Advanced Investor Technologies, LLC, as well as the publisher and editor of www.ChecktheMarkets.com.