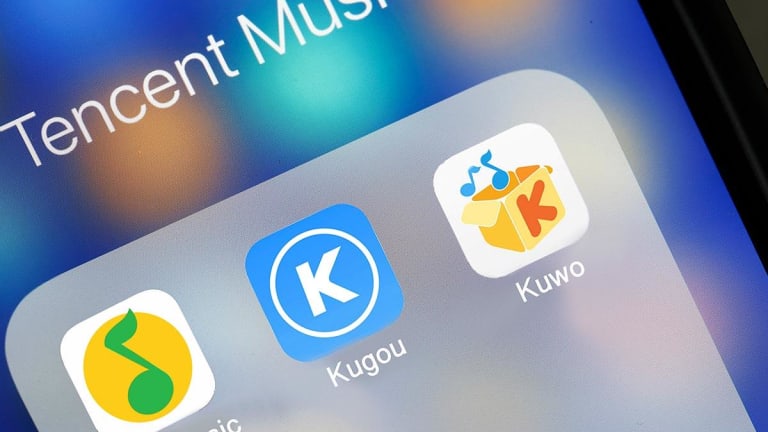 Tencent's Selloff Offers Key Lessons for U.S. Investors in Chinese Tech Firms
The Chinese tech giant's gaming revenue growth slowed sharply in Q2 amid delayed government approvals.
Considering how much the company still has going for it, and how much its stock had already dropped prior to earnings, Tencent's (TCEHY) post-earnings selloff might be overdone.
That said, the Chinese gaming, messaging and payments giant's drop might provide a lesson or two about the risks that U.S. investors face when investing in Chinese tech companies. That's true both in terms of understanding demand trends for services used by Chinese consumers, and recognizing how vulnerable even the largest of players can be to adverse government rulings.
On Wednesday morning, Tencent reported Q2 revenue of RMB73.68 billion ($11.14 billion) and EPS of RMB1.87 ($0.28), missing consensus analyst estimates of RMB77.95 billion and $1.97. Revenue growth slowed to 30% from Q1's 48%, and thanks in part to aggressive spending, operating profit growth slowed to 11% from 36%.
As of the time of this article, Tencent's U.S. over-the-counter (OTC) shares wefre down 6.5% to $41.32, after having opened down over 9%. They're now 32% below a January high of $61, and roughly flat over the last 12 months. The Nasdaq on Wednesday afternoon was down 1.4% amid a broader market selloff.
Contributing heavily to Tencent's revenue miss: The company's online games revenue, which accounted for 34% of total revenue, rose just 6% to RMB25.2 billion, a sharp slowdown from Q1's 26% growth. Smartphone gaming revenue growth slowed to 19% from 68%; PC gaming revenue fell 5%, after having been roughly flat in Q1.
Tencent blames its mobile gaming slowdown to a shift in user activity towards "non-monetized tactical tournament games." That's at least partly a reference to PUBG -- though Tencent has seen strong uptake for a pair of PUBG mobile games it has launched in China, it hasn't yet received government approval to monetize them. The company also notes that five of the seven new mobile games it launched in Q2 arrived late in the quarter.
In addition, Tencent hasn't yet received approval to launch PUBG on PCs. And while the company is benefiting from Fortnite's global success thanks to a roughly 40% stake in Fortnite developer Epic Games, it only recently got approval to launch the PC version of Fortnite and hasn't yet been approved to launch the mobile version or monetize the PC version.
There's more. On Tuesday, Tencent shares fell over 3% ahead of earnings on news that Chinese regulators had ordered the company to remove the popular Japanese role-playing game Monster Hunter: World from its WeGame distribution platform, in response to unspecified complaints. And on Tuesday evening, Bloomberg reported Chinese authorities had frozen the approval process for game licenses in general following a regulatory shakeup that comes amid criticism within state media about the addictiveness of digital games.
Business trends were better for many other parts of Tencent's empire. Strong subscription growth for video and other content services helped Tencent's "social networks" revenue rise 30% to RMB16.9 billion. And with the help of growing video ad sales and Tencent's success at better monetizing its WeChat platform (it's not really fair to call it just a messaging app at this point), its online ad revenue rose 39% to RMB14.1 billion.
User growth trends were also mostly healthy. Chinese smartphone gaming daily active users (DAUs) rose by a double-digit percentage annually; WeChat monthly active users (MAUs) rose 10% to 1.06 billion; and total fee-based subscriptions rose 30% to 154 million, with video subscriptions growing 121% to 74 million.
Tencent also reports now having over 200 million DAUs for WeChat's Mini Programs feature, which officially launched last year and is monetized via ads and payments. Facebook (FB) - Get Report , which is in the early stages of monetizing Messenger and WhatsApp, should take note.
The story is a little more complicated for Tencent's "Other" revenue, which is driven in large part by its WeChat Pay platform and cloud services. Other revenue rose 81% annually to RMB17.5 billion ($2.5 billion), but sequential growth was a relatively subdued 10%. Tencent notes that while its cloud revenue doubled annually and its daily payments transaction volume rose over 40% with the help of soaring offline activity, its growing payments revenue and gross margins are being pressured by the People's Bank of China's efforts to increase deposit ratio requirements for third-party payment services.
"[The] centralized deposit ratio has increased to 42% in April 2018, and to 52% in July 2018, and is reported to ultimately increase to 100% in the near future," Tencent said. "We are currently approximately mid-way through this transition, and are seeking to mitigate the impact through various monetization initiatives elsewhere in our payment and related financial services."
Admittedly, the extent of Tencent's gaming slowdown was surprising; though slower growth rates were to be expected given tougher annual comparisons and recent holdups for approvals, the magnitude of the Q2 drop in mobile gaming growth was a little startling. And while I felt Tencent's shares were overheated when they rallied towards $60, I thought the risk/reward was a lot more favorable in the mid-40s, given the long-term opportunities it still has in ads, payments, subscriptions and elsewhere in a country still seeing 6%-plus GDP growth and stronger disposable income growth.
Those long-term opportunities, along with a potential thawing in the approval process for game launches and monetization, could help Tencent's stock bounce in the coming months. Still, much like the pressures Baidu's (BIDU) - Get Report search ad business saw in 2016 following government restrictions on its healthcare ad sales, the issues that Tencent's gaming and payments businesses are currently dealing with act as a reminder of how easily the sales and profits of Chinese tech firms can be hit by sudden shifts in the local regulatory climate.
Tencent's gaming slowdown might also serve as a reminder that for U.S. investors, gauging things such as usage and competition for Chinese apps and services requires a little more work than doing so for American counterparts. While many U.S. investors in, say, Apple (AAPL) - Get Report  or Netflix (NFLX) - Get Report  can gain some understanding of how popular and competitive the company's offerings are via first-hand knowledge, more effort is needed to understand how Tencent's many games are being played and monetized, or how Alibaba's (BABA) - Get Report Chinese sales are faring relative to JD.com's (JD) - Get Report .
Facebook and Apple are holdings in Jim Cramer's Action Alerts PLUS member club. Want to be alerted before Jim Cramer buys or sells FB or AAPL? Learn more now.