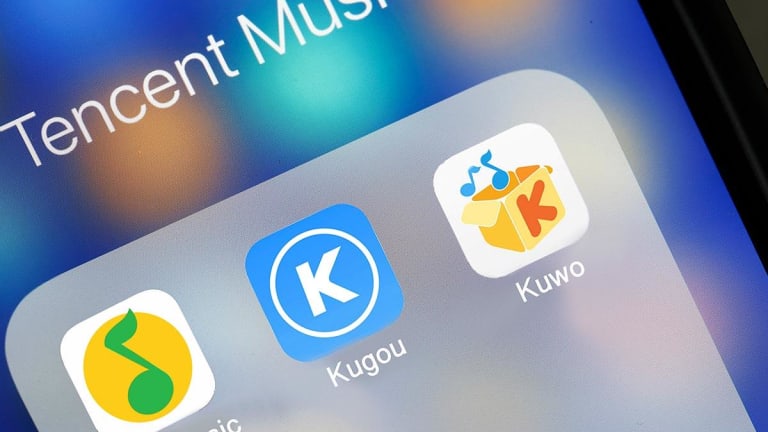 Tencent Music's Cool Market Reception Says a Lot About Investor Sentiment Now
Though the Chinese online music leader is still seeing very strong revenue and profit growth, it was granted a much lower IPO valuation than what many expected a few months ago.
Though its shares are rising on their first trading day, Tencent Music (TME) currently sports a post-IPO valuation much lower than what the company was reportedly aiming for.
Considering how many things are still working in the Chinese online music leader's favor -- both in terms of its competitive position and its financial performance -- its debut arguably says something about how little risk tolerance equity investors currently have when its comes to Chinese tech names.
After pricing its 41-million share IPO at the low end of a $13-to-$15 price range, Tencent Music opened at $14 and closed at $14.12. That leaves the company, which was reported in late August to be aiming for an IPO valuation of $29 billion to $31 billion, valued at roughly $23 billion.
Needless to say, tech stocks have had a rough time since late August. And Chinese tech names certainly haven't been spared along the way, as worries about trade tensions and slowing economic growth take a heavy toll.
In Tencent Music's case, investors might also be worried about the indirect threat posed to the company's karaoke and live music-streaming services -- they're monetized via "virtual gift" purchases for content creators, and account for over two-thirds of the company's revenue -- by the runaway success of short video-sharing app TikTok. TikTok, known as Douyin in China, reported having over 400 million monthly active users (MAUs) and over 200 million daily active users (DAUs) in its home country as of November. That's up from 300 million MAUs and 150 million DAUs as of June.
However, judging by the Q3 numbers Tencent Music shared in its most recent prospectus, Douyin hasn't done major damage to Tencent Music yet. The company did see mobile monthly active users (MAUs) for "social entertainment" services such as live-streaming and karaoke drop by 3 million sequentially to 225 million. However, social entertainment MAUs were still up by 11 million annually, and MAUs for Tencent Music's online music services grew by 11 million sequentially and 46 million annually to 655 million.
Paid users for Tencent's social entertainment services rose by 400,000 sequentially in Q3 to 9.9 million. And paid users for its online music services rose by 1.6 million to 24.9 million.
That, along with increases in the average revenue that Tencent Music gets from paying social entertainment users, helped its revenue rise 10% sequentially and 71% annually to RMB4.97 billion ($722 million). The company's operating profit more than doubled annually to RMB1.06 billion ($154 million).
Though Douyin's potential impact on Tencent Music bears watching, it's worth remembering that the entertainment services delivered by Tencent's live-streaming and karaoke apps are (to a large extent) different from the short video services provided by Douyin. It also can't be ignored that Tencent Music's close relationship with Tencent proper, which (among other things) has resulted in its services being integrated with Tencent's massive WeChat and QQ platforms, remains a major strength in its battles against direct rivals such as YY (YY) .
Meanwhile, Tencent Music's digital music services, which are monetized via subscriptions, ad-supported streams and paid downloads, remain in a pretty enviable competitive position, thanks to both Tencent proper's support and the company's exclusive licensing deals with top U.S. music labels. While a portion of this exclusive content has been sub-licensed to rivals, Tencent Music's online music MAU count speaks volumes about how dominant its music services remain in China. And with less than 5% of these MAUs having been converted to paid subscriptions, the business still has a lot of potential to grow.
With the shares of Chinese tech firms such as Alibaba
(BABA)
, Tencent
(TCEHY)
, JD.com
(JD)
and Sina
(SINA)
 all trading well below their 52-week highs, and often sporting fairly subdued multiples for companies still seeing healthy double-digit growth, it's not that surprising that Tencent Music got a cool reception from equity investors. However, if investor sentiment improves thanks to a calming of macro and/or trade worries, the company's reported pre-IPO hopes for a valuation in the $30 billion range might not look so far-fetched.