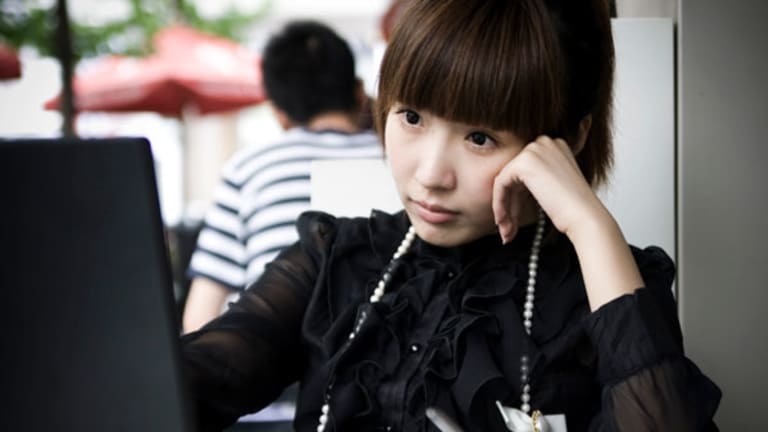 Tencent and Other Chinese Internet Stocks Are Under Pressure
Tencent is up almost 110% in the last year but is down more than 20% from the recent highs. Where does it go from here?
NEW YORK (TheStreet) -- This week, Chinese Internet giant Tencent -- which only trades in Hong Kong, which is why you don't hear more about it over here -- saw its stock take another drop.
A month ago, when momentum tech stocks around the world hit their peak, Tencent hit the $635 level. That gave the company a market cap of about $170 billion. However, it's now dropped to $524 and, earlier in the week, it briefly fell below $500. That gave it a market cap of $134 billion and was a 21% drop from where it hit its highs.
Its drop has reflected a risk-off attitude by investors towards all Chinese Internet names. These stocks are high fliers and can go up incredibly far in good time but then can also drop suddenly as well.
In the last month, Sina (SINA) - Get SINA Corp. Report is down 16%, Baidu (BIDU) - Get Baidu, Inc. Sponsored ADR Class A Report is down 18%, Renren (RENN) - Get Renren Inc. Sponsored ADR Class A Report is down 26% and Sohu (SOHU) - Get Sohu.com Limited Sponsored ADR Report is down 27%. Yet, all these names are still up strongly for the past 12 months and Baidu is even up 71% over that time.
But Tencent is another story entirely. It's up almost 110% in the last 12 months.
Its success is deserved. Its popular WeChat messaging app has swept up China. The company is already finding innovative ways to monetize the huge user base, unlike WhatsApp. Many also believe Tencent will be a formidable competitor to Alibaba's traditional dominance in e-commerce as it is training the WeChat users to make purchases from within the app instead of going to Alibaba's sites to do this.
After a huge run-up in Tencent's stock, though, it will be interesting to see where it goes from here.
On Tuesday, the day its stock broke below the $500 share price level, Tencent went into the market and actually did a big share repurchase. That quickly gave a shot in the arm to the share price and it even propelled it up to $565 by the end of trading on Thursday -- a 13% gain in three days.
But the Nasdaq's Thursday selloff in the U.S. led to another risk-off move in Tencent's stock price in Friday trade. All global technology stocks look vulnerable these days, but that's terrible news for Chinese Internet stocks that have much higher betas than even typical Internet stocks.
After such a huge run-up in Tencent's stock this past year, it would not surprise me if profit-taking continued in the coming weeks.
That's bad news for Tencent and the rest of the Hong Kong Stock Exchange as Tencent is the largest stock weighting on that index. It's also bad news for the upcoming Alibaba initial public offering. Whatever Alibaba's financials are, they will be closely compared to Tencent especially as a clue to what the probable IPO valuation will be.
Bear markets can be particularly brutal to Chinese Internet companies. We forget it now but Baidu -- with a stock price of $152 and a market cap of $53 billion -- got down to $11.27, which was a market cap of under $4 billion back in November 2008. That's more than 92% below Baidu's current price.
At the time of publication the author had no position in any of the stocks mentioned.
This article represents the opinion of a contributor and not necessarily that of TheStreet or its editorial staff.