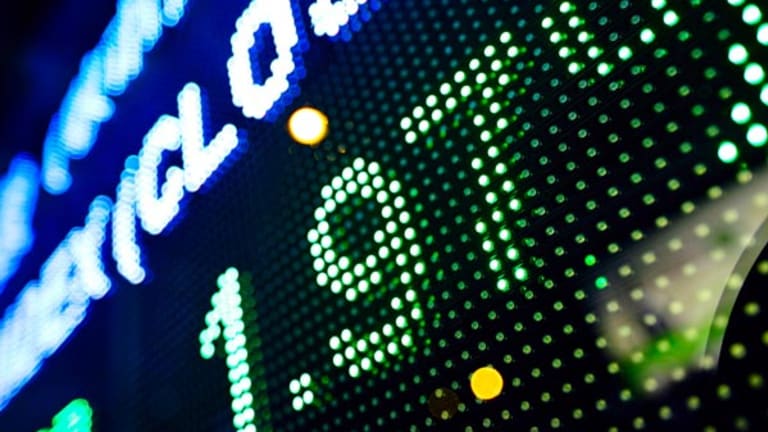 Temper Dow Growth Optimism on Volume Concerns
The Dow closed at a new 2014 high, but with lack of buying volume, traders and investors need to be cautious.
NEW YORK (TheStreet) -- The DJIA closed at a new 2014 high Wednesday, finishing the day up 40.2 points at 16575.57. The S&P 500 finished just shy of a new yearly closing high at 1883.33, up 5 points, but short of the 1890.9 year-to-date high.
Whatever the reason for this rise to closing highs, it must be noted that, once again, the volume was lackluster on an up day. The S&P 500 Series ETF (SPY) volume was under 90 million shares traded, up slightly from Tuesday's volume of 84 million shares.
I will again make mention that when prices are up on down volume and volatility is unchanged, that is BAD. There is nothing positive to be taken away from that scenario. It will just be a matter of time before the high frequency trading machines pull the plug on this market. It will not be pretty.
The simple fact remains that the DJIA and the S&P 500 are both in overbought territory according to my algorithm process. If both indexes open on the upside tomorrow, they will be deeper into overbought territory and an intraday turn to the downside can be expected very soon.
If you are a day trader or swing trader, please recognize the overbought signal and wait for lower prices ahead. There will be better entry points very soon if you are looking to put money to work in this market.
Turning the attention to the Nasdaq and Russell 2000 indexes, both closed to the upside on Wednesday. The Nasdaq was up 11.01 points and the Russell 2000 was up 6.02. Both indexes are still well into trend bearish territory, a three-month or longer time frame. A two-tiered market is still the norm for now. Both the Nasdaq and Russell 2000 are not yet into overbought territory and may not get there before the market downturn. A Bearish, negative divergence from the DJIA and S&P, indeed.
I would also call your attention to the performance of Apple (AAPL) . After pushing up against the $600 a share level, Apple finished the day in the red, down $2.24 a share. As I mentioned in my last article on Monday, AAPL was approaching extreme overbought levels and a downturn was expected within the next day or two. Wednesday was the day. My algorithm process is able to flag these types of conditions, the same way it is flagging the DJIA and S&P 500 overbought condition at the present time. Expect a market downturn within the next day or two.
As mentioned in my article on Monday, I started a long position in Lululemon Athletics (LULU) , and Oculus Innovative Sciencesundefined. Both of those positions were sold on Tuesday for a better than 3% gain on each. All positions are time-stamped for my subscribers at my website.
I started a new position today in the ProShares Ultra VIX Short-Term Futures ETF (UVXY) , expecting a market downturn shortly. I always do starter positions with room to add over the next few days.
At the time of publication, the author had a position in UVXY.
This article represents the opinion of a contributor and not necessarily that of TheStreet or its editorial staff.