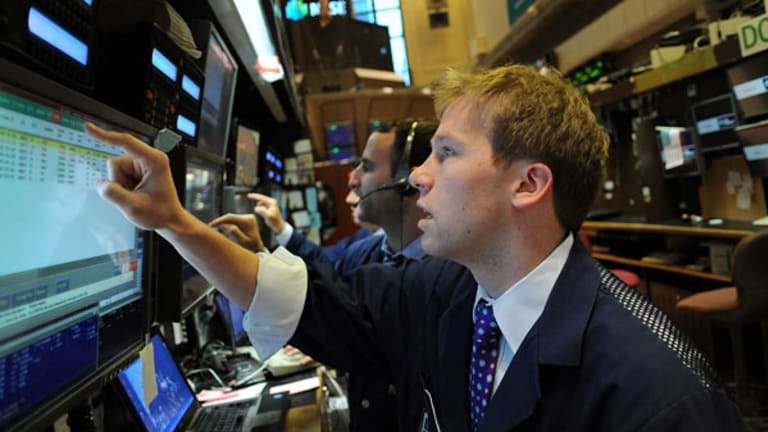 Publish date:
Technology and Value Hand in Hand
Value investors may want to check out these five tech stocks.
Value investors may want to check out these five tech stocks.
NEW YORK (TheStreet) -- Six months ago, I unveiled my "BITES" portfolio that consists of five technology-related companies trading at what I believed to be very cheap valuations.
Historically, I had avoided technology stocks, but over the years began to see that technology and value can go hand in hand, if the price is right.
The letters in "BITES" each represent the first letter of the companies in the portfolio, which includes
Benchmark Electronics
(BHE) - Get Report
,
Ingram Micro
(IM)
,
Tech Data
(TECD) - Get Report
,
Electro Scientific
(ESIO) - Get Report
and
SYNNEX
(SNX) - Get Report
.
The original intent was to identify companies that met the following rather stringent criteria and track their progress:
Minimum market cap of $250 million
Trading for less than 2 times net current asset value
Profitable during trailing 12 months
Forward price-earnings ratio is less than current PE
Long-term debt-to-equity ratio is less than 30%
All are technology-related companies
At the time of inception, this portfolio was extremely cheap, with the five stocks trading at an average of 1.37 times net current asset value (calculated by subtracting total liabilities from current assets), 0.97 times book value per share, and 0.43 times sales.
While value investors are seldom blessed with quick results, six months in, this portfolio has performed extremely well. "BITES" is up nearly 22%, beating the S&P 500, which is up 8%, and the Russell 2000, which is up 13.5%. Given the average market cap of companies in the BITES portfolio, which is about $1.85 billion, the Russell 2000 is the more appropriate benchmark.
While all five "BITES" stocks are in positive territory since March, SYNNEX is the leading force, up nearly 54%. One of the big drivers for the company was the announcement on Sept. 11 that it will purchase
International Business Machines'
(IBM) - Get Report
customer-service business for $505 million. The news sent SYNNEX shares up 20% in one day, and the company is now trading at all-time highs.
I know that SYNNEX's recent run due to the purchase had little to do with value, and was therefore "lucky" for lack of a better word. But even if I backed out SYNNEX's return since the IBM deal, and assume that it traded flat, "BITES" would be up about 16.5%,
data by
Benchmark Electronics has also performed well, as shares are up about 29%, while Ingram Micro is up 19%, and Tech Data is up 8.5%. Electro Scientific Industries has lagged, with shares up just 0.5%.
data by
Despite its strong performance, the portfolio is still not expensive, trading at 1.73 times net current asset value, 1.2 times book value per share, and 0.52 times sales.
Of course, given the current government partial shutdown, price action in "BITES" members could be very volatile in the coming days.
At the time of publication, the author was long Ingram Micro and Electro Scientific.
This article is commentary by an independent contributor, separate from TheStreet's regular news coverage.
Jonathan Heller, CFA, is president of KEJ Financial Advisors, his fee-only financial planning company. Jon spent 17 years at Bloomberg Financial Markets in various roles, from 1989 until 2005. He ran Bloomberg's Equity Fundamental Research Department from 1994 until 1998, when he assumed responsibility for Bloomberg's Equity Data Research Department. In 2001, he joined Bloomberg's Publishing group as senior markets editor and writer for Bloomberg Personal Finance Magazine, and an associate editor and contributor for Bloomberg Markets Magazine. In 2005, he joined SEI Investments as director of investment communications within SEI's Investment Management Unit.
Jon is also the founder of the
, a site dedicated to deep-value investing. He has an undergraduate degree from Grove City College and an MBA from Rider University, where he has also served on the adjunct faculty; he is also a CFA charter holder.