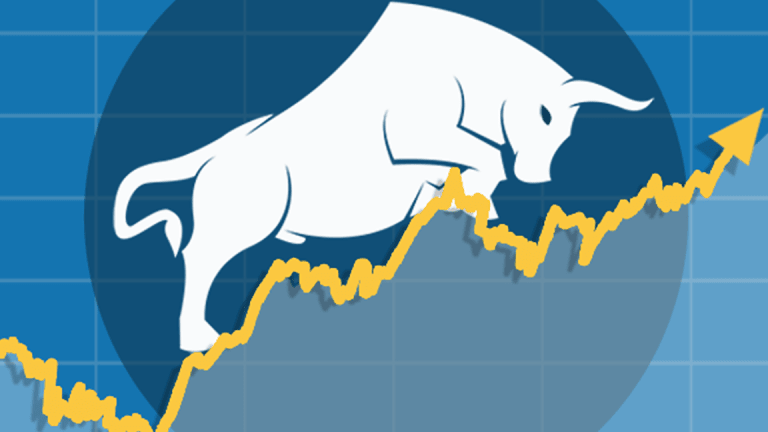 Trump Brings Fourth-Best New President Market in History, Fueled by Tech, Banks
Tech has fueled a large portion of the gains this year, but there are market concerns as 2018 approaches.
Donald Trump's election has ushered in the fourth-best stock market rally for new presidents in history. Led by the tech industry and banks, the three major U.S. indexes have reached record highs dozens of times this year.
"There was a certain expectation among parts of the business community that companies were going to be well taken care of," said Michael Madowitz, an economist at the nonpartisan policy institute Center for American Progress, partly due to Republican legislation with a business-friendly message as well as the president's business background.
"You're not stupid to put money in the stock market if you think businesses are going to be treated fairly," Madowitz continued. Still, he said he was puzzled by extent to which markets have risen.
Jeffrey Hirsch, editor in chief of the Stock Trader's Almanac and the chief market strategist at Probabilities Fund, said in an interview with TheStreet that he wasn't expecting a post-election year to be great for the stock market, but he "learned to stop worrying and love the rally."
This year, investors and traders saw the Dow Jones Industrial Average reach new closing records 57 times, including Tuesday's record close at 23,557.23. Shortly after the inauguration, on Jan. 25, the Dow hit 20,000 just moments after the New York Stock Exchange opened for trading; since then, the Dow marched higher, getting to 23,000 on Oct. 17. The Nasdaq and the S&P 500 have also soared to new levels this year, 6,786.44 and 2,591.13, respectively. 
The S&P 500 has returned 21% since Trump's election, "ranking as the fourth-best 12-month gain following a presidential election since 1936," analysts at Goldman Sachs said in a Nov. 3 research note. The Trump rally trails behind presidents Bill Clinton, John F. Kennedy and George H.W. Bush.
"Financials and Information Technology powered the market with returns of 37% and 39%, respectively," the Goldman analysts continued. "Given its large weighting, Tech contributed 37% of the index gain." 
The U.S. market began taking off after Trump's election, as investors and traders exulted in the business-friendly aspects of his agenda, including deregulation, infrastructure and tax reform. The latter includes a proposal to slash the corporate tax rate to 20% from 25%.
President Donald Trump took to Twitter to tout the record-breaking stock market while on a trip to Asia.
"This market is so robust at the moment that it will likely take some systemic market event" to quell the rally, Hirsch wrote at the end of October. "Perhaps it will be triggered by a run in the mushrooming ETF arena, Federal Reserve tightening, a new major international conflict, a breakdown in the U.S. or another major economy, or something on the geopolitical front."
Hirsch noted that 2018 is a midterm year, and if the Trump administration and Congress fail to deliver on key policy issues, "an impatient electorate could dethrone GOP control of Congress, upsetting Wall Street."
"But for now, all is well," wrote Hirsch, adding that he remains optimistic for further gains through year-end and into early next year.
Congress, however, is feeling the pressure to deliver tax reform before 2018.
"I want the House to pass a bill by Thanksgiving," President Trump said on Oct. 31. "I want all the people standing by my side when we sign by Christmas, hopefully before Christmas."
Separately, the Senate Budget Committee has set a deadline of Nov. 13 to release legislative text on tax reform.
"If tax reform doesn't happen before Thanksgiving, we could easily get a correction in early December," Hirsch said. "It could be just a dip, and an opportunity to buy."
Still, if tax reform manages to make it to the President's desk this year, "the overall scope of a tax policy was largely priced in so I think it seems more likely that you're not going to see a major move higher," said Madowitz.
Goldman Sachs said there is a 65% likelihood of tax reform in the first quarter of 2018 but believes that further changes to the plan are likely. 
Even though the stock market's momentum does not appear to be slowing down, "starting in the first and second quarter of next year, we begin to get concerned with the extended valuations and length of this bull market and the bearish tendencies of midterm election years, and what promises to be overarching monetary policy and geopolitical risk," said Hirsch.
Wondering how the Tweeter-in-Chief moved the market in 140 characters or less?
TheStreet's feature series "Inside Trump's First Year" looks at the biggest stories in business over the last year fueled by one of the most unpredictable presidents in history. Most importantly, TheStreet offers a glimpse into what could happen in 2018 on a range of issues -- and stocks -- in what will probably be an equally chaotic second year for Trump. Read more by tapping the photo below.

More of What's Trending on TheStreet:
Editors' pick: Originally published Nov. 8.