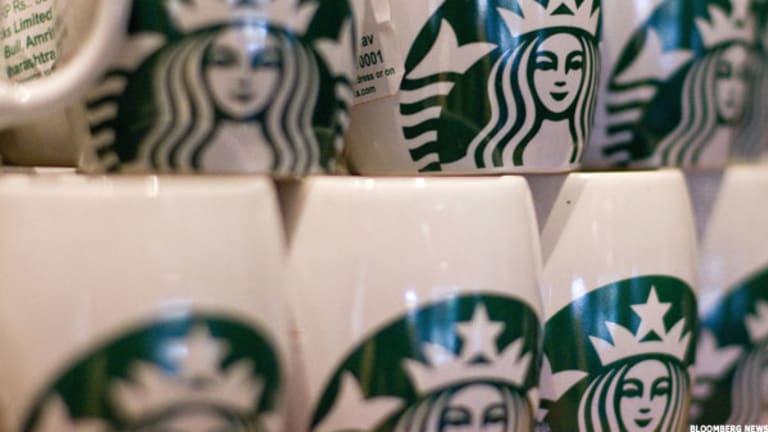 Tech, Small Business Can Learn Plenty from Starbucks
SBUX pops on earnings. And Rocco Pendola goes beyond revenue and EPS to describe what makes Howard Schultz's company tick.
NEW YORK (TheStreet) -- You have just got to be on the conference call for some companies. If you don't catch it live, stream the Webcast or, at the very least, read the transcript, you're only seeing what the financial media puts in front of you. A formulaic series of numbers that, while meaningful, do not tell the entire story, particularly with respect to a company as dynamic as Starbucks (SBUX) - Get Starbucks Corporation Report.
People scoff at me when I refer to Starbucks
, but, with more than a cursory glance, it's obvious that mobile, social, digital and a sense of what's hip drives the company's most recent -- and ongoing -- hyper-growth phase.
In this article, I take a slightly different approach from my others. Because most of the media doesn't pull the real nuggets from conference calls, I excerpt the quantitative and qualitative stuff I consider most important. I use this information to make the case for Starbucks as a tech company. I close by explaining how local retail, particularly coffeehouses, must stop playing victim to the corporate behemoth.
The free-form style meshes nicely with the gritty, rough-around-the-edges, yet freakishly refined vibe we're nurturing with our still-evolving videos from TheBeach in Southern California.
So, from Starbucks FY13 Q1 earnings
, some seemingly random, though chronological and complementary blurbs:
This season, and for the first time, a Starbucks card was perhaps the nation's single most frequently given holiday gift, with one in 10 U.S. adults receiving a Starbucks card and $2 million worth of our exclusive first-ever steel Starbucks card selling out on Internet luxury goods retailer Gilt.com in only, believe it or not, six minutes.
I got my hands on a steel Starbucks card shortly after Christmas. It's a symbolic item, but it shows that Starbucks is more than a place to buy coffee; it's a daily habit, bordering on obsession for quite a few people. Like
Lululemon
(LULU) - Get Lululemon Athletica Inc Report
and
Apple
(AAPL) - Get Apple Inc. Report
, it's a lifestyle brand.
As such, it knows where it needs to be to resonate most strongly with its core customer:
And we will expand Teavana's current 300-store footprint from largely mall-based stores to urban street locations, where Starbucks obviously has very strong capabilities ...
Starbucks recently closed on
Teavana
acquisition. You heard the man; Howard Schultz will overhaul Tevana's absolutely awful geographic strategy. I wrote about it in July, 2011, on the eve of Teavana's IPO for
in "Teavana Needs to Penetrate Urban Areas to Become a Buy."
At first blush, you might not associate mobile and digital efforts with a focus on "urban street locations," but it's there. Urban consumers tend toward mobile and digital adoption/savvy. Plus, they have disposable income. Like LULU, Starbucks locates where these people are; it infiltrates the best neighborhoods in big cities and, although the company doesn't break down sales, I would love to see an urban/suburban side-by-side of its sales.
I'm the customer they were going after with their best-in-breed mobile app. Download it. Play with it. Interface with people on the team who conceived it. You'll see what I mean when I call Starbucks a tech company. Hitting home with an urban-located or at least urban-minded, mobile-and-digital comfortable crowd drives these numbers we heard on the call. I guarantee it:
Our Starbucks card is more popular than ever today, accounting for 25% of U.S. tender, and an increasing portion of Starbucks card transactions and sales are being paid by using our mobile payment apps, with mobile payments now accounting for nearly 20% of overall card transactions. Over 7 million customers now use one of our mobile payment apps, translating into 2.1 million mobile payment transactions each week, with hundreds of thousands of additional Starbucks mobile app downloads each week (bold emphasis added).
Our Starbucks card had its best holiday season in history, as measured by any metric, with more than $1 billion loaded during Q1, the most ever loaded onto any kind of Starbucks card. Mobile e-gifting also delivered record holiday results, with the most popular days for e-gifting being Christmas Eve and Christmas Day.
Local coffeehouses in some neighborhoods compete effectively with Starbucks. Most don't. The one that's across the street from the Starbucks in my neighborhood will shut down in less than a year. That's another guarantee. Why? There's no vibe, no reason, just nothing compelling that would draw a customer into this local establishment over Starbucks.
Down the street, however, there's a coffeehouse that will not only stay open as long as its owners desire, but will continue to expand. Sometimes you just can't put your finger on it, but certain local coffeehouses organically create an inviting atmosphere that can compete with Starbucks. And they do it without multi-million dollar marketing budgets, ad campaigns and tech development teams.
Don't blame Starbucks for local's demise. You can compete with Starbucks at the local level if you can outthink and out-innovate Starbucks. If you think like a tech company. If you think like a lifestyle brand. If you refuse to think of yourself as a retail establishment that sells coffee. You must think of yourself as a tech company nurturing a lifestyle brand that just so happens to sell coffee.
--Written by Rocco Pendola in Santa Monica, Calif.
Rocco Pendola is
TheStreet's
Director of Social Media. Pendola's daily contributions to
TheStreet
frequently appear on
CNBC
and at various top online properties, such as
Forbes
.