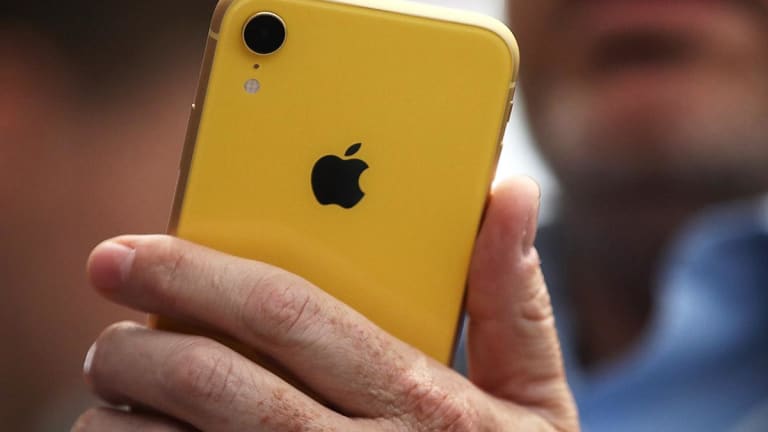 Tech Reviews Aren't Always a Good Predictor of Demand (See: Apple's iPhone XR)
The things that matter to consumers when deciding whether to buy a new device are often very different from the things that product reviewers pay attention to.
Though investors should pay attention to reviews for new consumer hardware, it's also worth remembering that consumers and/or businesses could end up feeling very differently about new products than reviewers do.
The contrast between initial reviews for Apple's (AAPL) - Get Report iPhone XR and iPhone XS are a good case in point. In a nutshell, whereas reviews for the iPhone XS and XS Max were subdued -- reviewers generally liked the devices, but also stressed that they were just incremental upgrades relative to the iPhone X -- iPhone XR reviews were often much more enthusiastic, with reviewers frequently arguing iPhone buyers should opt for the XR ($749 U.S. starting price) rather than one of its costlier siblings.
"For once, the cheaper iPhone is the better choice," wrote Mashable, while adding that none of the XR's feature set shortcomings relative to the XS ($999 starting price) or XS Max ($1,099 starting price) make it "feel any less of an iPhone." CNET's review called the XR "the best iPhone value in years." The Wall Street Journal's review called the XR the "'just right' iPhone for most people," and declared it sports "the best feature-to-price ratio of any iPhone possibly ever."
There are plenty of other reviews making similar arguments. And many of these reviewers, it should be noted, offered more measured reviews for the iPhone XS and XS Max, arguing that iPhone X buyers shouldn't bother upgrading and that most (if not all) other iPhone owners should wait for the XR.
Yet six weeks after the XR began reaching consumers' hands, it's clear that XR demand hasn't lived up to expectations. There have been several reports of XR production cuts, as well as a slew of sales warnings from iPhone suppliers, with some of the biggest warnings coming from suppliers with outsized XR exposure, such as Qorvo (QRVO) - Get Report  and Japan Display. We've also seen Apple take some surprising steps to boost XR sales.
And while iPhone XS demand appears to have cooled following a strong start, it seems to be holding up better relative to expectations than XR demand. This is particularly true for the 6.5-inch iPhone XS Max.
Clearly, many consumers care more about the XR's hardware compromises -- the XR has an inferior display and camera relative to the XS, and also has an aluminum body rather than a stainless steel body -- than the average reviewer did. And with high-end phones buyers often sensitive about a phone's image and marketing, the fact that the XR has been viewed from the start as Apple's "cheaper" new iPhone might be impacting demand as well.
On the flip side, though many reviewers didn't spend a lot of time discussing it, the introduction of a flagship iPhone that has a 6.5-inch display, but a form factor similar to that of 5.5-inch "Plus" iPhones, seems to have fulfilled a lot of pent-up demand for a larger top-of-the-line iPhone.
Reviews in 2016 for virtual reality headsets are another good example of how reviewers can be much more enthusiastic about a new product than consumers. Though featuring occasional complaints, reviews for both Facebook's (FB) - Get Report Oculus Rift and Sony's (SNE) - Get Report PlayStation VR were generally pretty upbeat.
Wired gave the Rift a score of 9/10, and The Verge a score of 8/10. IGN, which gave a score of 9/10, declared the Rift to be "the start of a new era" and "worth every penny."
Reviews for the PlayStation VR were a little more mixed, but the positive ones easily outnumbered the negative one. TechRadar called the headset "the promised land for virtual reality on consoles," while Forbes called it "the first step to the future of gaming." TechCrunch deemed the VR "a truly transformative piece of consumer hardware," thanks to its moderate price and the fact that consumers don't need a high-end PC to use it.
Yet two years later, VR headsets remain a niche market. Research firm IDC estimates global VR headset shipments amounted to just 1.9 million in Q3, a figure that represents a modest 8.2% annual increase.
The technical limitations of present-day VR headsets remain a problem. Display resolutions arguably still aren't good enough -- the closer a display is to a user's eyes, the higher the resolution needs to be to deliver a quality user experience -- and there are also lingering issues related to things such as motion sickness, screen tearing and software support. Beyond that, VR headsets can feel too immersive and socially isolating for many consumers when used for a long period of time.
None of that means a mass market for VR won't form over the long-term, as display resolutions improve and other shortcomings get addressed. However, it does mean that a lot of the first headset reviews were too optimistic about how the technology would be received in the near-term.
There are, to be fair, many occasions where initial reviews for a product ended up having much in common with how consumers would react to the product in the ensuing months. The critical reviews that GoPro's now-discontinued Karma drone received are a good case in point, as are the positive reviews seen for Amazon.com's (AMZN) - Get Report first-gen Echo speaker in 2014 and 2015.
But with that said, it's also not hard to find instances where there ended up being a major disconnect between reviewer and consumer reactions. For investors, the big takeaway is to remember that what each particular group cares about when judging in a new product isn't always the same thing.
Apple and Amazon.com are holdings in Jim Cramer's Action Alerts PLUS member club. Want to be alerted before Jim Cramer buys or sells AAPL or GOOGL? Learn more now.
Save 66% with our '12 Days of Holiday Deals' Sale. Join Jim Cramer's Action Alerts PLUS club for investors and get our best deal of the year. Click here for details or to sign up.