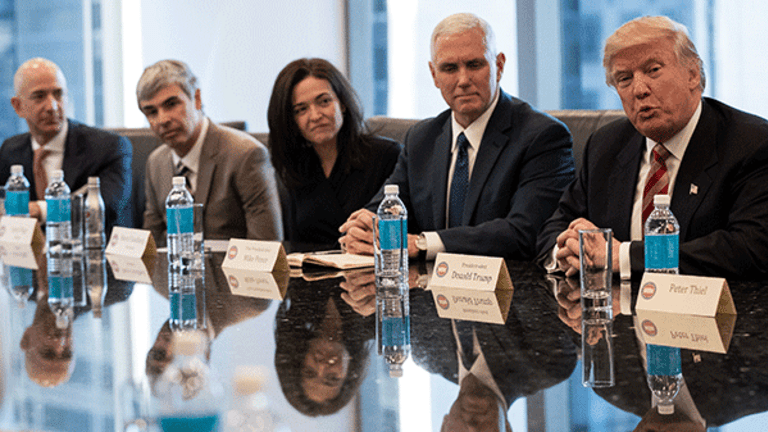 Tech Leaders Continue to Lash Out Against Trump's Muslim Ban
Tech luminaries that once pledged to work alongside President Donald Trump are taking on a different tone
A growing list of luminaries from Silicon Valley's top technology companies are speaking out against President Donald Trump's executive order, signed on Friday, that restricts immigration from seven Muslim countries. 
Executives from tech companies including Facebook  (FB) - Get Free Report , Apple (AAPL) - Get Free Report, Netflix (NFLX) - Get Free Reportand Alphabet (GOOGL) - Get Free Report have all issued statements denouncing the travel ban, which prevents the entry of all refugees to the U.S. for 120 days, bars Syrian refugees indefinitely and blocks citizens travelling from Iran, Iraq, Libya, Somalia, Sudan, Syria and Yemen to the U.S. for 90 days. Twitter (TWTR) - Get Free Report , Amazon (AMZN) - Get Free Report , Microsoft (MSFT) - Get Free Report , Tesla Motors (TSLA) - Get Free Report , Uber, Lyft and Airbnb were among other tech giants who railed against the travel ban. 
Some of the most vocal dissenters were among the leaders invited to Trump's tech roundtable at Trump Tower last month. Microsoft CEO Satya Nadella, who attended Trump's roundtable, was one of the first high-profile executives to personally condemn the order. 
"As an immigrant and as a CEO, I've both experienced and seen the positive impact that immigration has on our company, for the country, and for the world," Nadella said in a LinkedIn post on Saturday. "We will continue to advocate on this important topic." 
Apple, Facebook and Alphabet are holdings in Jim Cramer'sAction Alerts PLUS Charitable Trust Portfolio.Want to be alerted before Cramer buys or sells AAPL, FBor GOOGL? Learn more now.
The software company doubled down on the comments by pledging to provide legal assistance to any employees affected by the executive action. Microsoft President Brad Smith went beyond denouncing the travel ban, noting that the company supports "broader immigration opportunities" like the Deferred Access to Childhood Arrivals (DACA) Program, or the "Dreamers" act. On the campaign trail, Trump said he would work to repeal the DACA Program, but the White House has since signaled that there are no plans for immediate changes or a reversal of the program. 
Additionally, LinkedIn, which Microsoft acquired in June for $26 billion, said on Sunday that it would bring its Welcome Talent program to the U.S. The Welcome Talent Program aims to help connect refugees to internships in the their host countries. 
Apple CEO Tim Cook, who has communicated extensively with the Trump administration, told staff members that Apple isn't in support of the new policy and that the company "wouldn't exist...let alone thrive and innovate" without immigration. 
In perhaps one of the most outspoken cases, Netflix CEO Reed Hastings said Trump's executive order "hurts" Netflix employees around the world and is "so un-American it pains us all." 
"A very sad week, and more to come with the lives of over 600,000 Dreamers here in America under imminent threat," Hastings wrote in a Facebook post. 
Facebook CEO Mark Zuckerberg posted on the social media site that the U.S. is a nation of immigrants that benefits "when the best and brightest around the world can live, work and contribute here." Salesforce (CRM) - Get Free Report CEO Marc Benioff also spoke out against the ban on Twitter. 
Meanwhile, Alphabet's Google unit, Lyft and Uber both took their denouncements a step further. Lyft co-founders John Zimmer and Logan Green said the ride-sharing service will donate $1 million to the American Civil Liberties Union (ACLU) over the next four years. 
Google has created a $4 million crisis fund to help employees and other people affected by Trump's executive order, noting that the funds will be distributed to the ACLU, Immigrant Legal Resource Center, International Rescue Committee and the United Nations High Commissioner for Refugees. Google CEO Sundar Pichai also told about 100 Google employees travelling overseas to return to the U.S. immediately. 
"It's painful to see the personal cost of this executive order on our colleagues," Pichai wrote in an internal memo, according to Bloomberg. "We've always made our view on immigration issues known publicly and will continue to do so."
Google co-founder Sergey Brin also joined a protest against the order at San Francisco International Airport on Saturday. 
Uber said it would provide legal support to assist drivers who may be banned from entering the U.S. and is also forming a $3 million legal defense fund. Uber CEO Travis Kalanick denounced the order in a public memo to employees, saying it would "impact many innocent people."
Kalanick's tone in the memo was a stark difference from his previous comments regarding Trump, wherein he pledged to work with the new administration and later joined Trump's economic advisory group alongside other tech executives like Tesla CEO Elon Musk and IBM  (IBM) - Get Free Report CEO Ginni Rometty. 
Both Kalanick and Musk said they will raise their concerns about the order when they meet with Trump on Friday. Musk asked his Twitter followers to read the order and point out any specific amendments.
"Will seek advisory council consensus & present to the President," Musk tweeted. 
Among other leaders who spoke out were Slack CEO Stewart Butterfield, Box  (BOX) - Get Free Report CEO Aaron Levie, Etsy  (ETSY) - Get Free Report  CEO Chad Dickerson, eBay (EBAY) - Get Free Report founder Pierre Omidyar and Airbnb CEO Brian Chesky, who said the homestay network would provide free housing to refugees and "anyone not allowed in the U.S." 
A few of Silicon Valley's noteworthy executives were decidedly less vocal, however.
Amazon issued a memo to employees in support of cultivating a diverse workforce, but the e-commerce giant's CEO Jeff Bezos hasn't commented so far, despite suggesting during the election that he would send Trump into space. IBM's Rometty, who said she would create 25,000 jobs in the U.S., has also not issued a statement. 
Hewlett Packard Enterprise (HPE) - Get Free Report CEO Meg Whitman has yet to comment on the order, though if her previous statement calling Trump a "dishonest demagogue" is any indication, she likely has some fiery words to spar with.