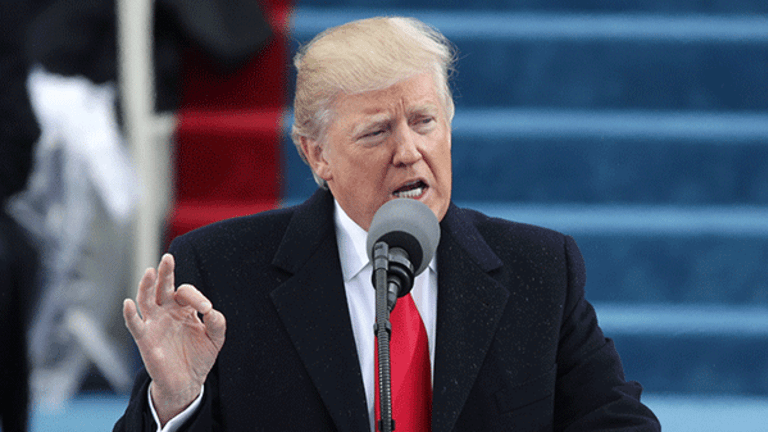 Tech Investors Have Reason to Fear President Trump Now
The tech industry depends on its ability to attract highly skilled migrants.
This article originally appeared at 11:00 ET on Real Money, our premium site for active traders. Click here to get great columns like this from Jim Cramer and other writers even earlier in the trading day.
Over the course of a week, President Trump has put at risk the tremendous seven-year bull market in tech stocks that now has the Nasdaq Composite hovering near all-time highs. 
The ground-breaking innovations that big tech companies create are often the outcome of a variety of different views expressed by people with all sorts of varying world experiences. Technology companies rely heavily on the H-1B visa program, through which highly skilled workers like software engineers are allowed to work in the U.S. for companies such as Microsoft (MSFT) - Get Microsoft Corporation Report , Google (GOOGL) - Get Alphabet Inc. Class A Report and Intel (INTC) - Get Intel Corporation Report . 
Hence, it's no surprise that some of tech's most prominent executives have taken to social media to denounce President Trump's new immigration ban that is sparking protests across the country. In effect, the tech industry's very busy model could now be viewed upon as being under siege by the new administration -- no free flow of talent, potentially no new game-changing innovations. 
Already, the CEOs of Microsoft, Apple (AAPL) - Get Apple Inc. Report , Netflix (NFLX) - Get Netflix, Inc. Report , Uber, Airbnb, Google and Tesla (TSLA) - Get Tesla Inc Report slammed Trump's executive order, which could affect their own employees working here legally, as well as the companies' voracious appetite for best-in-class talent.
Apple and Alphabet are holdings in Jim Cramer'sAction Alerts PLUS Charitable Trust Portfolio.Want to be alerted before Cramer buys or sells AAPLorGOOGL? Learn more now.
"As an immigrant and as a CEO, I've both experienced and seen the positive impact that immigration has on our company, for the country, and for the world," Microsoft CEO Satya Nadella said in a post on the company's newly acquired LinkedIn (LNKD) .
Apple CEO Tim Cook said in a memo to employees on the ban that "it's not a policy we support."
The risk to tech from Trump's executive order pen is very real. Consider these stats:
A June 2011 study by McKinsey & Co. found that more than one in every four science and engineering firms report difficulty hiring. Currently, the number of U.S. students pursuing STEM (science, technology, engineering and math) fields is increasing at less than 1% per year, and by 2018 there will be more than 230,000 advanced degree STEM jobs that will not be filled even if every single new American STEM graduate finds a job. Cracking down on immigration will only make it harder for tech to find crucial talent. What talent is found will become much more expensive, which could take a bite out of the tech sector's bottom line.
In 2011, 76% of patents awarded to the top 10 U.S. patent-producing universities had at least one foreign-born inventor. These are people trying to change the world, and of course in the meantime profit in the U.S. from their minds (who doesn't love tech industry stock options?).
Microsoft has taken a lead position in at least warning investors of the potential risks to immigration reform. "Changes to U.S. immigration policies that restrain the flow of technical and professional talent may inhibit our ability to adequately staff our research and development efforts," the tech giant said in a filing on Friday.
These types of disclosures are what every tech investor needs to be on the lookout for moving forward. One also needs to pay careful attention to comments from executives on how they intend to fight back against Trump, either on Twitter, press releases or lobbying and naturally, via actions inside their own companies.
Indeed, being a tech investor has been a relatively easy way to make money the past seven years. But that may no longer be the case.
Cool Reads from Around the Web
-- Here comes flying cars:Airbus (EADSY) - Get Airbus SE Report plans to test a prototype driverless flying taxi before the end of this year, and to have the first model called the Vahanas ready for production by 2020, The Associated Pressreported. Airbus isn't alone in flying car development, according to the report.
-- Shelby celebrates 50 years in business: An impressive streak deserves an impressive commemoration. For the 2017 model year, its 50th year in business, super performance car maker Shelby will introduce the limited edition Super Snake (pictured below), reportedGearHeads. Production will be capped at 500 vehicles, each starting at $69,995. Horsepower: 670.
-- Social media may be making you dumb: Perhaps this is something President Trump needs to keep in mind. In the time you spend on social media each year, you can read 200 books, Quartzcalculates.  
-- Elon wants to dig into the Earth: Tesla founder and CEO Elon Musk has been vocal on Twitter of late on the need to start digging underground to build tunnels in order to alleviate traffic jams. He reiterated that view this past weekend, in a four minute speech. H/T to Electrek for pointing out the video. 
Employees of TheStreet are restricted from trading individual securities.