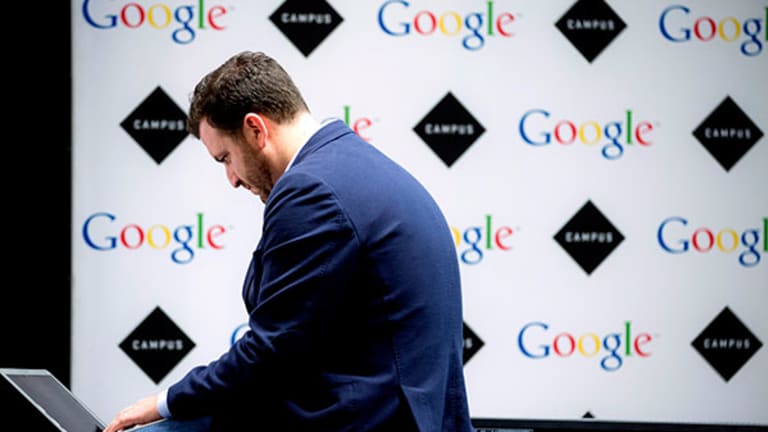 Tech Firms Should Drop 'Brogrammer' Culture, Welcome Women in
A new ad for cloud services that looks more like a lingerie spot puts sad locker room culture of tech world in sharp relieve. When Will Silicon Valley Grow Up?
NEW YORK (TheStreet) -- How twentieth century: every example in the sad, decades-long timeline of bad "brogrammer" behavior, flagrant male sexism and sexist advertising in the technology world.
Everyone has heard the numbers: Less than 25% of the workforce in Silicon Valley is female; at Google (GOOG) and Facebook (FB) , the numbers are 17% and 15%, respectively. We have a lot of work to do on this front at my firm, Hosting.com, as well. The percentage of computer science graduates at universities in the U.S. who are female has dropped to 14% in 2013 from 36% in 1984. Why?
Women considering their career prospects may be hearing the stories. It wouldn't be hard. They could read about the sexual harassment allegations from a former Tinder (IACI) executive, the departure of Julie Ann Horvath from Github because of alleged harassment, discrimination, and intimidation, and the recent and unsuccessful sex discrimination suit by Ellen Pao against venture-capital firm Kleiner Perkins, knowing all of these allegations did not come out of a gender-neutral nowhere.
No, they come from a culture that produced, not long ago, a job ad, for a Finnish tech company, Sportacam, that listed as an employee benefit: "making it rain on them hoes." The ad, which has since been taken down, can be viewed here.
And who can forget the hackathon presentations of a "Titstare" app and a fake male masturbation app called Circle Shake at TechCrunch Disrupt in late 2013?
The most recent publicized incident occurred just a couple of weeks ago when a small cloud services IT company (a competitor to Hosting.com, the company I run) used a photo of a lingerie model in pumps sprawled on a bed as click bait on Twitter for their discounted hosting services. After being hit with a wall of complaints and derision on Twitter, the CEO then went as far to defend the ad. 
Such images, apps and behaviors not only are dorky and dated, but completely inappropriate for a business environment.
What are technology company leaders thinking? They're not thinking with their heads. Recent studies have shown that more gender-balanced companies in the U.S. and U.K. post better earnings, and those that are the most out of balance report the worst earnings.
Yes, there are mixed messages in advertising. There always have been. But this lingerie ad was a Throwback Thursday to the knuckle-dragging era.
The IT environment, past and present, is tone deaf to half the workforce and creates nothing short of a hostile environment for women in technology.
Is it any surprise then that women are leaving the tech sector in frustrated mobs? Even in this day of Coder Grrrls, Girls Who Code and other support systems for women in technology, almost 50% of the females in science, engineering and tech positions quit those fields by mid-career, twice the proportion of men.
The result? Companies are missing out on nearly half of the potential recruiting talent in this industry. Plus, more often than not, companies could do a better job serving customers who are much more diverse than our own ranks -- by making our ranks more diverse.
It can't be left to women in technology to fight their way through the misogynist work environments in the tech world. Men also need to do better job of seeing this problem, calling it out and stopping it.
This article is commentary by an independent contributor. At the time of publication, the author held no positions in the stocks mentioned.