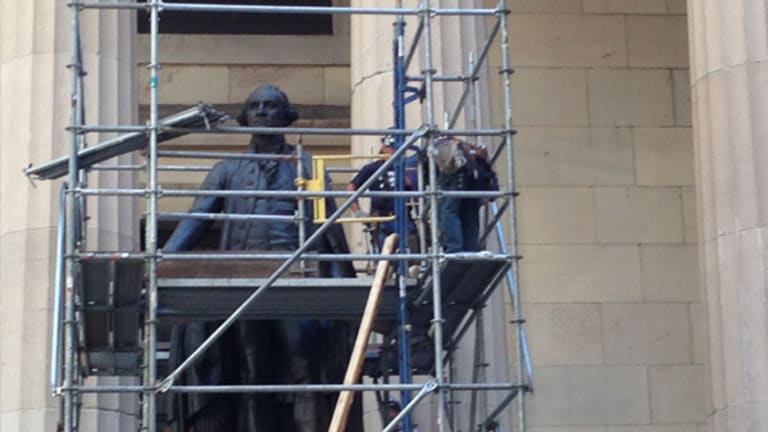 Tea Party Benefits From Broken Government
The notion that government only screws things up plays right into the hands of the Tea Party.
NEW YORK (
) -- While much of the press and, it seems, the Democratic Party, have taken it as a given that the government shutdown weakens Republicans, there is also a way it could strengthen the Tea Party.
The consensus thinking goes like this: The Tea Party's refusal to stand down over Obamacare and approve a budget will brand them as wackos in the eyes of most Americans and ultimately cause them to lose votes.
But another thought occurred to me yesterday when a colleague said to me that the good thing about the government shutdown is "at least while it's shut down, they can't screw anything up."
This mentality -- that government only screws things up -- plays right into the hands of the Tea Party, which of course wants smaller government.
Never mind whether it's in fact the Tea Party that is contributing to the screw up.
It's a truism most of us heard in grammar school, but the lesson rarely seems to sink in: it's easier to tear something down than to build something.
You may not like the Affordable Care Act. You may not like our government. But that doesn't mean the solution is to shut it down.
Take a look at page 24 of
this 2010 Department of Commerce study
. It shows that health care costs rose 155% from 1990-2008, not counting inflation. We know from the latest Census figures released last month, however, that the typical American family earns the same $51,000 it made in 1988. In short, the status quo -- skyrocketing health care costs and stagnant incomes for most Americans -- isn't working. Whatever its faults, Obamacare is at least trying to address this obvious problem.
A belief in less government -- not more -- led to deregulation of credit default swaps, which led to the implosion of
American International Group
(AIG) - Get American International Group, Inc. Report
. Less government, not more, was the philosophy behind Gramm-Leach-Bliley, also known as the Financial Services Modernization Act of 1999. That helped repeal much of the 1933 Glass Steagall Act, which prevented insurers, securities firms and banks from merging. Its private sector champion -- who has since changed his mind -- was Sanford Weill, CEO of the great "financial supermarket," known as
Citigroup
(C) - Get Citigroup Inc. Report
. Deregulation, in other words, didn't work out so well for the financial sector.
And yet somehow the financial crisis, despite being caused in large part by deregulation, gave us the Tea Party, which wants even less regulation.
Government works so poorly for so many that it's easy to see how exploding it can become attractive. What's harder to see is that one of the reasons it works so badly is because -- ever since the Reagan era -- we've been cutting taxes, making it weaker all the time. The Tea Party may say our country is headed in the wrong direction, but the truth is that their "shut it down" philosophy has been driving the bus for decades. They just want to step on the accelerator.
--
Written by Dan Freed in New York
.
Disclosure: TheStreet's editorial policy prohibits staff editors, reporters and analysts from holding positions in any individual stocks.