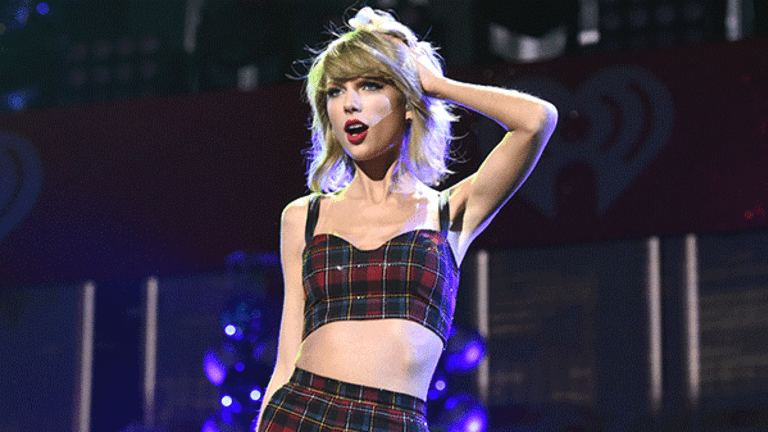 Taylor Swift Hype Is About to Get Much Bigger and More Expensive
Evil genius marketers have come up with a scheme to sell tons of stuff to Swift's fans just to get access to tickets for her tour.
If you thought your kid's hysterical obsession with Taylor Swift was impossible now, you haven't seen anything yet.
Judging by the clever and manipulative tools being employed by Taylor Swift's marketers, tween and teen fans of the popstar -- or more likely their unfortunate parents -- are about to be leveraged as never before to shell out hundreds of dollars just to have a crack at decent concert tickets.
TicketMaster launched Taylor Swift Tix Registration Friday.
According to the announcement "Taylor Swift is committed to getting tickets into the hands of fans...NOT scalpers or bots."
(She might just as well have added "...and to getting all those scalper dollars herself and a lot more besides.")
The scheme works this way: You register what city you hope to see the tour in. Then you're encouraged to buy stuff in return for unspecified "boosts" to help you get access to tour tickets.
Low boosts include watching videos of Taylor Swift songs, or sharing your interest on social media platforms. High boosts include pre-purchasing Swift's new album "Reputation," or items from an online merchandise store starting with $45 t-shirts and $60 hoodies.
As part of the evil genius at work, the site displays a progress bar ranging from "waitlist" to "priority," so you can check every day to see where you stand.
God help you if your kid sees you slipping back in the rankings.
And you probably are going to slip in the rankings.
As the site warns: "As more fans join Taylor Swift Tix and participate in boosts, the line in your city will grow. Keep in mind the more you and fans do, the more you boost."
So the solution to keeping your place in line is shelling out more bucks for stuff and contributing to the hurricane of hype around Swift over the next three months.
And if you're cursed with a young fan of the pop star there's no way you can "Shake it Off."
More of What's Trending on TheStreet:
The 30 Nastiest Storms in Recent U.S. History Have Caused Mind-Blowing Damage