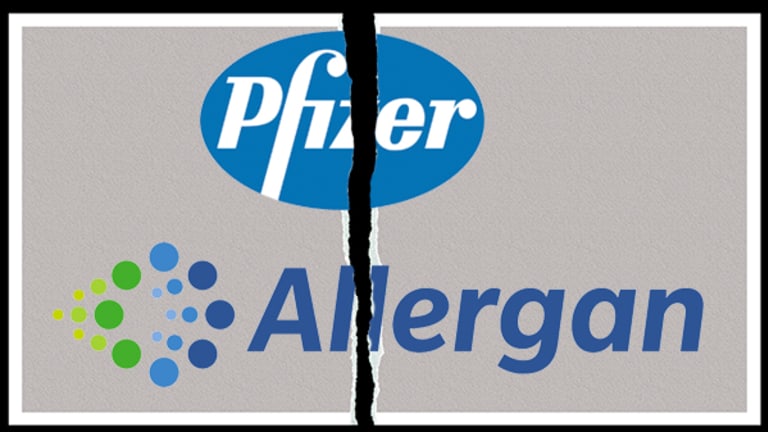 Tax Inversions: Explaining What They Are, How We Got Here and What's Next
Federal regulators have been engaged in a whack-a-mole game of sorts as of late, stomping out a series of proposed tax inversion deals. But what are they? And what's next?
Federal regulators have been engaged in a whack-a-mole game of sorts as of late, stomping out a series of so-called "tax inversion" deals. If you've been paying attention to politics this year -- and who hasn't -- you've probably heard the term. But what are they?
Inversion is a fairly common tactic companies employ to reduce their tax burdens by simply relocating abroad. In the United States, inversions generally involve a larger American company merging with a smaller foreign rival located in a country where the corporate tax rate is lower. According to the Tax Foundation, the marginal corporate tax rate is in the U.S. is 39%. In Ireland, one popular inversion destination, for example, it's 12.5%.
More than 50 companies have inverted to low-tax countries since 1982, and the pace has picked up since 2012. A number of those employing the tactic are names you might recognize: Fast-food giant Burger King merged with Canadian doughnut house Tim Hortons in 2014 to create Restaurant Brands International (QSR) - Get Restaurant Brands International Inc Report ; water technology company Pentair absorbedTyco International's flow-control business in 2012, incorporating in Switzerland in the process. In Canada, where Restaurant Brands is now based, the corporate tax rate is about 26%; in Switzerland, it's around 18%. 
As you might imagine, the U.S. government and the American people don't love the idea of American companies taking their addresses -- and, therefore, tax money -- abroad. President Obama has characterized the tax loophole that allows for such transactions as "unpatriotic." House Speaker Paul Ryan has criticized current tax structures as "encouraging [companies] to move overseas." Democratic presidential candidate and Vermont Senator Bernie Sanders has called companies that invert "corporate deserters," and GOP frontrunner Donald Trump has said "we have a huge inversion problem in this country."
The idea that tax inversions are a bad thing is one topic where politicians on both sides of the aisle agree. The problem is, they're on different pages when it comes to the solution: Democrats want to up regulations to keep companies in the U.S.; Republicans want to lower tax rates to keep them from wanting to leave in the first place.
"It's actually an unhelpful standoff, an unproductive Congress," said Steve Rosenthal, senior fellow at the Urban-Brookings Tax Policy Center at the Urban Institute and former legislation counsel with the Joint Committee on Taxation. "We're just not seeing a Congress that responds to current events any longer."
Even when that current event is the Department of Treasury's blatant crackdown on a $160 billion pharmaceutical deal.
The History
The first notable corporate inversion dates back to 1982, when oil and gas company McDermott decided the tax situation in Panama was better than in the U.S. Twelve years later in 1994, consumer products company Helen of Troy followed suit and reincorporated in Bermuda. Both instances caught the attention of the IRS, which in response enacted limited rules aimed at discouraging other companies from doing the same, such as a shareholder-level capital gains tax that would subject U.S. shareholders to taxation on certain inversion transactions.
The measures worked for a while, but inversions picked up again in the late 1990s and early 2000s.
So, in 2004, Congress took action and enacted bipartisan legislation to establish Section 7874 of the U.S. tax code as part of the American Jobs Creation Act of 2004. It was intended as a more effective deterrent to inversion transactions by imposing additional penalties on inverters and laying out guidelines of objectionable transactions. For example, it allowed U.S. companies to move overseas only if it combined with a foreign company with shareholders who end up with at least 20.1% of the combined entity. (The act also entailed a one-time tax repatriation holiday, allowing U.S. companies to bring back cash hoarded abroad and be taxed at just a 5.25% rate.)
But where there's a will, there's a way, and it didn't take long for firms to decipher ways around the new law.
"Markets, companies, advisors have a way of adjusting quickly, so even when new regulations come about, whether they're tax or otherwise, people have a way of figuring out [how to structure to work around or with them] but still achieve the outcome they want," said Sonny Allison, corporate partner at law firm Perkins Coie in Denver. "The M&A market is pretty resilient."
And so inversions have continued. Investment bank Lazard shifted its tax address to Bermuda in 2005, real-estate firm Altisource Portfolio Solutions to Luxembourg in 2009, and cable company Liberty Global to the U.K. in 2013. Medical device maker Medtronic boughtCovidien for nearly $50 billion in 2015 in order to save on its tax bill by moving to Ireland.
The Current Situation
Even though Congress hasn't acted on inversions since 2004, it has left the door open for others to do so. "Treasury was granted a fairly broad grant of authority to write regulation," said Bob Willens, a New York-based tax analyst and former managing director at Lehman Brothers. "You can see where Treasury has broadly construed that grant of authority."
The Department of Treasury has acted on its own on threeseparateoccasions since 2014 in an effort to clamp down on inversions.
It enacted new rules in 2014 aimed at squashing a $52 billion deal between pharmaceutical firms AbbVie and Shire that would have taxed overseas cash meant to fund the deal. In 2015, it took action again, limiting tax benefits on inversions by curtailing the ability of inverted companies to transfer operations to a foreign parent without paying U.S. tax.
In April, it took its boldest actions yet, targeting the practice of earnings stripping (a tactic where U.S. units reduce tax bills by borrowing funds from foreign parents and deducting interest payments) and serial acquirers (foreign companies that acquire multiple U.S. companies in stock-based deals). The maneuver was largely interpreted as an attempt to squash a proposed inversion merger between Allergan (AGN) - Get Allergan plc Report and Pfizer (PFE) - Get Pfizer Inc. Report -- which it did successfully in a matter of a day. Deep Dive: Treasury Department Was 'Targeting' Pfizer-Allergan Deal
"The decision by Treasury to block Pfizer's merger with Allergan smacked of terrible caprice," said TheStreet's Jim Cramer, who owns Allergan in his Action Alerts Plus charity stock portfolio. "Both companies had been following Treasury's regulation that advised how you could still do a legal 'inversion,' and at the last minute the Treasury created a new rule that was meant, in retrospect, simply to stop Pfizer from moving overseas. This kind of arbitrary goal-post-moving represents a stunning level of hubris given that both companies wanted nothing more than to comply to the letter of the law."
The move on Allergan-Pfizer in particular is part of a larger pattern of increased regulatory scrutiny by the federal government over mergers and acquisitions. Using data from the Federal Trade Commission and The Deal, a subsidiary of TheStreet.com, TheStreet has discovered a pattern of increased regulatory actions challenging mergers that dates back to the Reagan administration. Under President Obama, the FTC, DOJ and other regulatory bodies have challenged and blocked a higher proportion of U.S. deals than ever before. At the same time, deals are getting bigger and more complicated. Call it "Big Business vs. Big Government."
President Obama praised the new rules, calling inversions "one of the most insidious loopholes out there." Others, however, have been critical of the Treasury's audacious move. On April 18, a bipartisan group of former Treasury officials penned a letter to current Treasury Secretary Jacob Lew, urging him to reconsider the release of the latest set of rules. They argued that "this unprecedented regulatory fix by [the] department is not the answer" and warned that changing the rules of the game "creates added uncertainty and unpredictability, producing a chilling effect on investments in the United States."
"It's got enormous unintended consequences," said Doug Holtz-Eakin, an economist and president of the American Action Forum, a center-right policy institute in Washington, D.C., who served as chief economic policy adviser to U.S. Senator John McCain's 2008 presidential campaign.
What's Next?
Even though the Treasury Department's actions make cross-border mergers difficult, they're still not impossible. Case in point: Canada's Mitel Networks' announcement of plans to buy American U.S. voice and telephone gear maker Polycom (PLCM) on April 15. Mitel CEO Richard McBee has said the transaction is not a tax inversion, even though the combined company will be headquartered in Canada.
The technicalities of deals, however, may not be the problem. Instead, it's the optics.
"You can certainly navigate the technical rules and have a successful transaction, as long as the relative size of the two companies is within the guidelines," said Willens. "The bigger problem is whether or not you're willing, as management, to take the criticism that you know is going to be coming."
With inversions under the microscope and election season in full swing, it will be harder for companies to keep major deals under the radar. "Reputation aspects are the biggest problem," said Willens. Deep Dive: Will the Next President Be as Tough on Mergers and Acquisitions as Obama?
Most agree this marks the last time the Treasury will seek to enact inversion rules under the Obama administration. In fact, they're now in a time crunch to get everything settled before the next president is sworn in.
"The Treasury, at the moment, is out of ammunition," said Rosenthal. "They'll try to finalize the work they've done before they leave office."
The next president will make his or her own appointments that will shape Treasury policy moving forward; however, many believe real change has to come through Congress.
"They need to look at combinations more generally, earnings stripping more generally, not just for U.S. companies that invert but any combinations across border," said Rosenthal, who is a proponent of imposing a corporate exit tax to curb inversions.
But given Congress' non-action in recent years, on inversions or on much of anything, and in the face of a likely scenario that a single party will not control the federal executive and legislative branches anytime soon, he doesn't foresee significant change on the horizon. "It's hard to see compromise and deal-making," he said.
Regardless of what happens, observers should keep a close watch on what the government does. 
"Treasury Secretary Jack Lew had repeatedly told many members of the media, including me, that he would need legislation to block legitimate inversions, something that the tax code did allow," said Cramer. "He told me a little less than two years ago that you couldn't tinker with the code and only Congress could make changes that could block this kind of deal [Pfizer-Allergan]. But none of that mattered. It was a classic overreach and a reminder that you can't trust the government to keep its word as it can change its word any time it wants." 
-- For Banks, Era of 'Too Big to Fail' Is Also Era of 'Too Small to Succeed'
-- Will the Halliburton-Baker Hughes Deal Survive Government Opposition?
-- Obamacare Has Big Government Fighting Itself Over Hospital Mergers -- And Winning
-- Will the Next President Be as Tough on Mergers and Acquisitions as Obama?
-- Antitrust Regulators Are Getting Smarter and More Aggressive
-- Top Antitrust Regulator Debbie Feinstein Q&A
-- Tax Inversions: Explaining What They Are, How We Got Here and What's Next
-- Are Activist Hedge Fund Managers to Blame for Mega-Deal Failures?
-- Government Oversight on Mergers Is Taking Longer Than Ever, Delaying Deals
-- With New Treasury Department Rules, Is This the End of Tax Inversion Deals?
-- Treasury Department Was 'Targeting' Pfizer-Allergan Deal