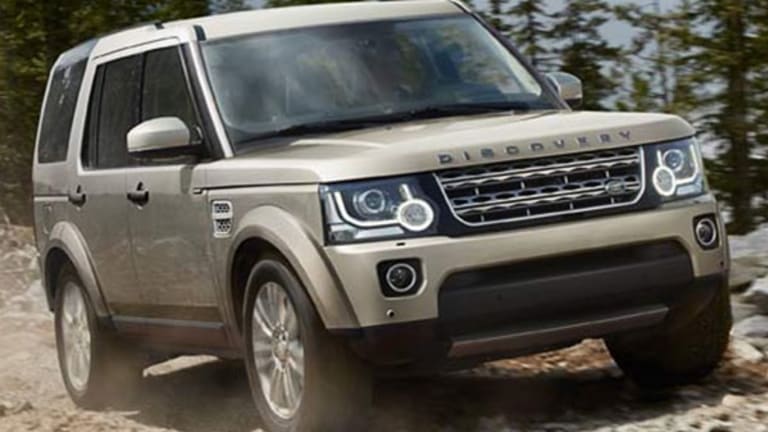 Tata Motors Offers a New Discovery for Investors
A new Land Rover from Tata Motors lets drivers remote control their car and uses lasers to see ahead.
A new Land Rover from Tata Motors lets drivers remote control their car and uses lasers to see ahead.
NEW YORK (TheStreet) -- Tata Motors (TTM) - Get Report continues to be the No. 1 automobile company in India. Despite declining auto sales in its home country, Tata Motors is seeing new highs for its stock and strong growth around the world. A new family of SUVs coming to North America should help power the growing Land Rover brand and Tata Motors higher.
At the New York Auto Show held over the past weekend, Tata Motors introduced its new lineup under the Discovery brand. Tata's new brand will have several vehicles all under the Discovery name. This leisure SUV has some unique features that could power its sales.
The Discovery vehicle uses lasers to scan upcoming trails and can also tell drivers how deep water is. The car's infrared lasers map the ground and let the four-wheel drive adjust. The water depth measurement will also tell drivers if they should forge ahead or turn around. Cameras project images to the screen located inside the vehicle.
Another feature for the Discovery SUV is a remote control feature. Drivers can use a smartphone or tablet to control their vehicle for low speed maneuvers like parking or hooking up a trailer, without actually being in the vehicle. The Discovery SUV has three rows to fit up to seven passengers in a 2-3-2 model. The seats are also set in a stadium model, allowing passengers in the back of the car ample viewing out of the vehicle.
Back in 2008, Tata Motors made a huge acquisition of Jaguar and Land Rover from Ford (F) - Get Report. A price of $2.3 billion was paid by Tata Motors to acquire the brands, while Ford also chipped in $600 million to outstanding pension funds. The acquisition is a bargain for Tata Motors and possibly a big mistake for Ford. Ford paid $2.5 billion for Jaguar and $2.8 billion for Land Rover in 1990 and 2000 respectively, before netting only $1.7 billion from the deal to Tata Motors.
The Land Rover brand continues to be one of the best for Tata Motors. In the third quarter, wholesale volume for Jaguar and Land Rover, the company's two key North American brands, increased 22.7%. Revenue for Jaguar and Land Rover grew 40% in the third quarter. Operating profit for the two brands increased 79%.
Tata Motors has had a rough time in its home country over the last 13 months. However, sales in India might be rebounding. In February, Indian auto sales rose for the first time in five months. A total of 160,718 units were sold in the month. Tata Motors saw a 6.7% sales gain in February. Third-quarter revenue increased 38.6% for Tata Motors. Over the last nine months, revenue has grown 26%. Profit over the last nine months has grown an incredible 69%. In March, Jaguar sold 11,731 units, an increase of 19.4% from the prior year. Land Rover actually saw a slight decline with 43,452 units moved in March, a decrease of 1.1%.
Shares of Tata Motors are closing in on 52-week highs. In 2014, shares are now up 22%, after a small rise of only 4% in 2013. Since the acquisition of Jaguar and Land Rover, shares of Tata motors are now up over 200%. Tata Motors has strong growth ahead. Returning growth in the Indian market adds to an already impressive lineup in North America. With growth coming in new markets like China and the Philippines, investors may do well getting into this automaker name now for the long term.
At the time of publication, the author had no positions in any of the stocks mentioned.