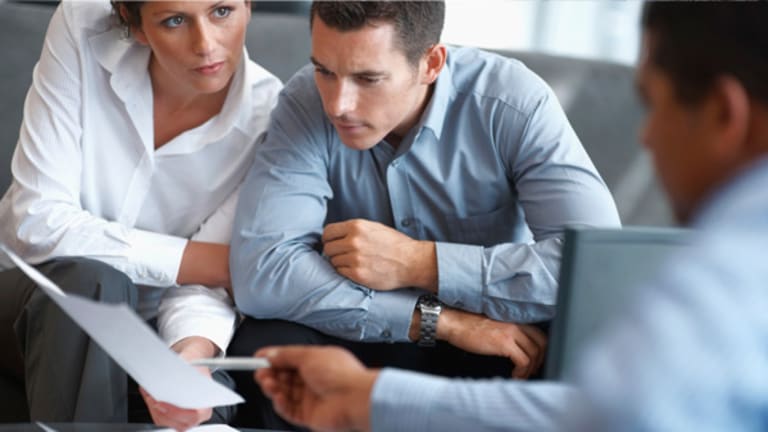 Tariffs Create Storm Clouds Over Solar Stocks
The Commerce Department's anti-dumping tariffs dim prospects for solar companies.
NEW YORK (TheStreet) -- The U.S. Department of Commerce has decided it's an excellent idea to intensify trade tensions with China. The situation would be laughable if real taxpayer money were not at stake. After losing over $500 million dollars from a loan guarantee with Solyndra (money at least in part was borrowed from China), the Commerce Dept. is now imposing anti-dumping tariffs on Chinese solar companies.
Solyndra is the poster child of why private equity is more efficient than taxpayer money chasing political goodwill and feel-good pet projects. At the same time the government was dumping hundreds of millions in dollars down the drain, private enterprise cracked enough natural gas to kill any thoughts of solar gaining traction for years to come.
In an almost perverse twist of fate, some companies who are the targets of the tariffs may end up winning in the long run. Many smaller solar manufacturers in China are faced with a virtual product-banning 250% import tariff. However, two or three key companies are expected to "only" pay 31% according to
of AlphaVN.com. The companies may find the tariff a benefit in multiple ways, if they can last long enough to make it through the other side. All told, it appears 61 companies are members of the 31% club, while other factories face 249.96%.
Suntech
(STP)
,
Trina Solar
(TSL)
and possibly others including
LDK Solar
(LDK)
are Chinese companies reportedly to pay an anti-dumping 31% tariff. The disparity will leave other higher tariff paying companies with several choices:
Fold up the tent and go out of business;
Sell the business to another company;
Sell production to companies facing lower tariffs, which will in turn sell the products;
Look for markets outside the U.S.
If Suntech and Trina Solar can leverage the advantage over other producers enough to offset their own increased cost of business, they could end up winners almost immediately. Even without an immediate positive impact, both may end up winners.
Remaining major solar manufacturers could be well positioned to grab market share when the Commerce Department ends the increased tariff. A decrease in the number of companies to compete with doesn't necessarily result in lowered overall competition.
Fewer, albeit larger companies may result in new formidable competition. The world is awash in solar production capacity. European countries such as Germany have backed off from subsidies, and American based
SunPower Corporation
(SPWR) - Get SunPower Corporation Report
and
First Solar
(FSLR) - Get First Solar, Inc. Report
may enjoy a short solace if China closes the market in retaliation.
The market has voted on the Commerce Department's decision and you can hear the crickets chirping over the reaction. First Solar and SunPower are near new 52-week lows. Everyone but Washington has figured out trade wars don't work. Solar prices are down 50% from a few years ago, and while some cost efficiencies are partly attributable to falling prices, subsidies from China are not the problem; lower cost energy alternatives are driving the market.
The only bright spot I see in solar is Suntech, based on technical analysis of the shares oversold under $2. Suntech's current oversold status should not result in more than a dead cat bounce. With over 10% of Suntech's float short, a short squeeze on positive news is not out of the question.
I would like to suggest Suntech and Trina Solar as longer term holds looking for a breakthrough in the power/cost ratio. The first obstacle is an
inability to trust the reporting numbers
out of China. The second obstacle is surviving in an environment of lower energy prices. The third obstacle is the political environment. It's hard to handicap what politicians will do and if solar wasn't the center of attention before, it is now.
Investors in solar will need a little bit of luck on their side, cost breakthroughs, and the wherewithal to withstand a volatile market -- nothing new for many.
At the time of publication, the author had no positions in any of the stocks mentioned.