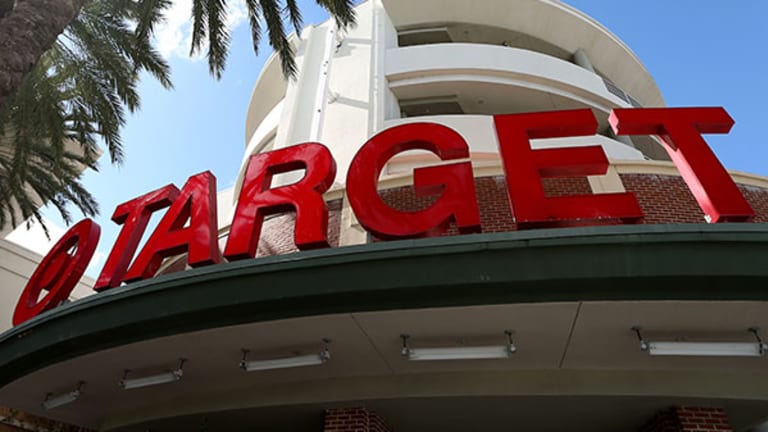 Target's Woes Won't End Even If It Dumps Canada Operations
Target Canada has fundamentally hurt Target. Should the company exit the business, it will return to a U.S. retail scene that is fast-changing. Brian Sozzi reports.
NEW YORK (TheStreet) -- Target Canada (TGT) - Get Target Corporation Report has stacked up a jaw-dropping $1.64 billion in operating losses since the business entered the development phase in 2011. Any new chief executive officer at Target, including interim leader John Mulligan should he be made official by the board after the holidays, will likely have to exit the Canadian business for the benefit of shareholders.
That hypothetical exit from Canada would mark Target's return to a domestic-only brick and mortar retailer with a website and a nifty-looking iPad app, a severe concern for long-term investors given the changing competitive dynamics in the States.
Plagued by execution missteps from inception, such as improperly laid out store interiors, overpriced housewares, and a broken supply chain that led to persistent out of stocks in food, Target Canada has been a dreadful experience for the Minneapolis-based retailer. In fact, my firm Belus Capital Advisors rates Target shares a sell on the premise the stock market continues to underappreciate the financial risks of the company's Canadian segment.
Should Target withdraw from Canada by 2016 following a comprehensive strategy review by the new chief executive officer, its return to a domestic-focused business will be hampered for a number of reasons. The first is the otherwise failed venture known as City Target, which was conceptualized and rolled out by former chairman and chief executive officer Gregg Steinhafel. Introduced with an initial store opening on July 25, 2012 following two years in development and featuring slimmer checkout lanes and an edited assortment of general merchandise, City Target was the retailer's gateway to reaching higher income, urban customers in stores that are two thirds the size of a typical Target store at 135,000 square feet.
A spokesperson for Target shared that "there are no plans to open any City Target locations in 2014." That would leave the company with eight City Target stores (four of them in multi-level formats), three in Los Angeles, two in San Francisco, and one each in Chicago, Portland, and Seattle. Given the widespread nature of the store base geographically and high operating costs, there is reason to suspect these eight stores are not even profitable.
Target has not only been slow to the draw in opening these smaller format City Target stores to help reinvigorate its sluggish sales and earnings growth, but its drugstore-like Target Express concept just opened and is considered a mere test by the company. Target Express, meant as a direct answer to Walmart's (WMT) - Get Walmart Inc. Report Express format, totals 20,000 square feet and sells grocery and pharmacy items, as well as a limited selection of generation merchandise. Based on media reports, Target Express is on track to open four more locations in 2015.
Watch More: Domino's Pizza CEO Says Big Ideas are in the Oven (Exec Interview)
While Target continues to get its operational and excecutive suite in order, Walmart is plowing ahead with the opening of its smaller store formats to better compete with grocery stores such as Kroger (KR) - Get Kroger Co. Report and Whole Foods (WFM) . A typical Walmart Neighborhood Market store is one-third the size of a Walmart supercenter.
On February 20, Walmart announced that it would add 270 to 300 small stores in 2014, which includes the Express banner, doubling its initial forecast of 120-150. To support this growth, Walmart raised its U.S. capital expenditure plans for its current fiscal year to a range of $6.4 billion to $6.9 billion, from $5.8 billion to $6.3 billion previously.
Furthermore, a merged Family Dollar and Dollar Tree are likely to partake in upgrading their visual signage and merchandise selection to attract a higher income customer, or a portion of the Target shopper. The combined company should also be expected to remain voracious acquirers of real estate to open new stores. 
When reached for comment regarding the store composition of the soon to merge companies (deal expected to close in early 2015), a Family Dollar spokesman shared this information:
About 25-30% of our stores are in the same customer trade area with a Dollar Tree store. As you can imagine, the size of customer trade areas differs, depending on population density and the size of the market. For example, the trade area in Brooklyn, NY would be much smaller than the trade area in Roanoke, AL.
In our last 10-K, we indicated that at the end of FY13, approximately 24% of our stores were located in large urban markets (like Chicago). Approximately 20% of our stores were located in small urban markets (like Cincinnati) or suburban markets.
Since the beginning of FY12, we have renovated, expanded or relocated approximately 2,300 stores. Please note that we began our renovation program in FY11 and renovated about 1,000 stores in that year.
The read: Target's slow movement on the small store opportunity may leave it shut out of prime real estate and promoting more to drive traffic, thanks to the aggressiveness of Walmart and Family Dollar/Dollar Tree.
Target must be a player in urban stores in order to reignite its stagnant sales and earnings growth. Due to real-time price discovery for merchandise on mobile devices and weakened financial state of the company as a result of the Canadian business, Target's return on assets has fallen to 4.28% in the first quarter of 2014 from 6.59% in the first quarter of 2012, based on Bloomberg data. Return on invested capital, a key measure for a retailer, during that time has shrunk to 7.58% from 10.66%. The primary culprits in these worrying figures, other than Canada, has been weakening store traffic and mediocre average transaction value in the U.S. as consumers opt to not shop the entire store for discretionary offering. Traffic to Target stores, per Bloomberg, last increased (2%) in the first quarter of 2012, and has declined in six consecutive quarters.
This article represents the opinion of a contributor and not necessarily that of TheStreet or its editorial staff.