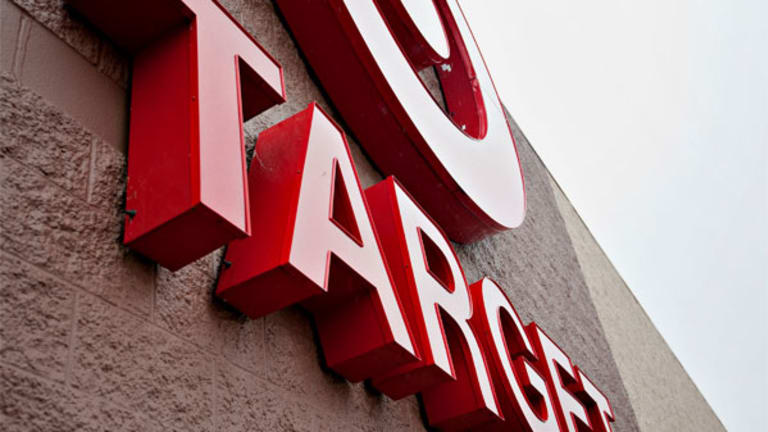 Target's New CEO Is About to Make a Big Decision on the Retailer's Future
New Target Chairman and CEO Brian Cornell is poised to make one of the biggest decisions of his professional career -- what will the future of Target be in Canada?
NEW YORK ( TheStreet) --New Target (TGT) - Get Target Corporation Report Chairman and CEO  Brian Cornell is poised to make one of the biggest decisions of his professional career: whether to pull his new employer completely out of Canada, where it currently has 133 stores. 
"We know that to succeed in Canada we will need a major step change in performance, and the fact is, given where we are performing today, we need to see improved financial performance from every Target store in Canada over time," said Cornell on the company's third-quarter earnings call in November. Cornell took over the reins of Target on Aug. 12.  
The former Wal-Mart (WMT) - Get Walmart Inc. Report and PepsiCo (PEP) - Get PepsiCo, Inc. Report exec foreshadowed that Target would communicate its vision for its future "early next year" following a thorough review of both the Canadian and U.S. businesses. That would suggest the fate of Target Canada will be shared at the very latest on the company's fourth-quarter earnings call on  Feb. 25.
Target Canada has been dead weight to the financial statements since the company spent $1.8 billion in the fall of 2011 to acquire the chain's leases from department store retailer Hudson's Bay (HBAYF) . The stores were formerly occupied by defunct Hudson's Bay holding company Zellers.
From 2011 through the third quarter of 2014, Target Canada has lost about $2.1 billion as the company battled empty shelves in everyday essential categories. It also fought a perception that its food, apparel and home goods were not priced competitively compared to Wal-Mart and Loblaws.
Further, Target, which is known for its affordable fashions and housewares in the U.S., failed at setting its merchandise apart in Canada compared to Wal-Mart, Sears (SHLD) and Sears' Kmart. The sorry state of affairs in Target's Canadian operations led Cornell to visit the team and stores almost immediately upon joining the company on Aug. 12.
The decision on whether to completely leave Canada by unloading stores or vacating the worst-performing spots will be made after Target threw the kitchen sink at righting the ship this past holiday season. According to Target, of the 70,000 items offered for sale in one of its Canadian stores, roughly 30,000 items were new for the holiday season. Target added more exclusive items and designer partnerships to boost what it calls "newness."
To address barren shelves in the food and household cleaning departments, Target retrained its employees to better identify when things had to be re-ordered. The company also ramped up efforts to comparison shop its prices vs. competitors on a greater number of items more frequently, and instituted a price match policy that included online and local competition.
Based on some anecdotal evidence during the holiday season, Target Canada continued to have difficulty in keeping shelves stocked. That puts the  business at risk of another disappointing quarter.
Target expected a high single-digit percentage increase in total sales for Canada in the holiday quarter, driven by a mid-to-high single-digit percentage gain in comparable-store sales. Target Canada was anticipated to produce a meager 20% gross margin in the fourth quarter, an improvement from the 4% rate achieved a year earlier when goods were aggressively marked down, but well shy of Target U.S.'s goal of about 28%.
Target could conceivably unload a good portion of its Canadian stores to Wal-Mart, which operates 391 stores there already. When Target announced its intent to enter Canada, it transferred the rights on 39 leases to Wal-Mart, showing that the rivals can still work together . This also showed Wal-Mart's interest in boosting its presence in the country.
Second, Cornell replaced Doug McMillon as President and CEO of Sam's Club in 2009. McMillon went onto lead Wal-Mart's vast international business, and then landed the top job at the retailer from CEO Mike Duke.
Cornell and McMillon are both Wal-Mart alumni who worked there at the same time, which may make brokering a deal easier for Target.
Without the steep losses in Canada, Target could jump start two somewhat forgotten strategies -- share repurchases and the opening of smaller stores in urban markets. For the nine months ended Nov. 1, Target had not repurchased any of its shares, partly due to the uncertain outlook for Canada and payments to those impacted by the holiday 2013 data breach.
Meanwhile, Target has eight smaller format stores under its CityTarget banner in cities like downtown Seattle and San Francisco. TargetExpress, which has about 20,000 square feet, launched in July in the company's hometown of Minneapolis.  Four new TargetExpress locations will open in 2015, three in the San Francisco Bay area and one in the Highland Park area of St. Paul. 
This article is commentary by an independent contributor. At the time of publication, the author held no positions in the stocks mentioned.