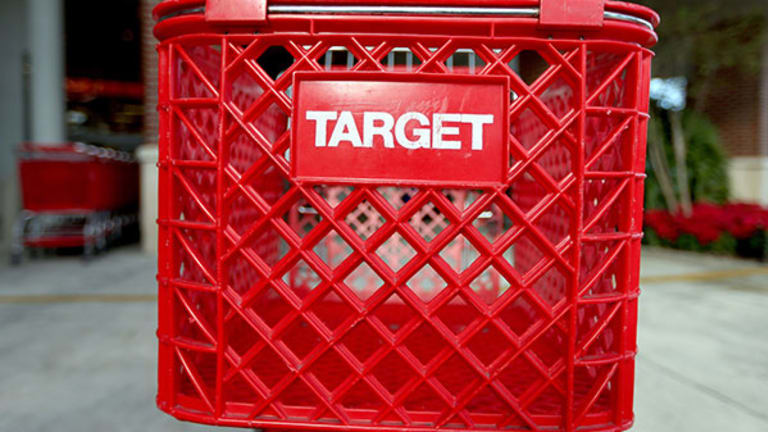 Target's Future Is Bright Thanks to Smaller Stores and Digital Growth
Target suffered in 2013 and 2014. Now, the stock has shed the mistakes of the last two years and is poised for growth.
NEW YORK (TheStreet) -- Target (TGT) is the third-largest discount retailer in the U.S. based on market cap, behind only Wal-Mart (WMT) and Costco (COST) . The company's slogan, "Expect more. Pay less.," sums up what makes Target unique. The company has consistently delivered low priced merchandise in clean stores. Additionally, Target has done an excellent job managing the exclusive brands it sells in its stores. As a result, Target appeals more to the middle and upper-middle class shopper than larger competitor Wal-Mart.
The company is also forward-thinking. Just today, it announced that it would follow Wal-Mart and several other retailers in raising wages for its lowest paid workers to $9 an hour, starting next month. The move will help it retain valuable workers as well as appease advocacy groups that have called it out for paying low wages.
Target is a Dividend Aristocrat thanks to its 42 consecutive years of dividend increases. The company currently has a dividend yield of 2.6%. With 42 years of increasing dividends, Target investors will very likely see their dividend income continue to grow year in and year out. With that said, the company is not without its issues.
It is no secret that Target struggled through 2013 and 2014. The company suffered through a data breach that exposed millions of customers credit card information. It then completely botched its expansions into Canada. Target's Canadian expansion was supposed to drive growth. Instead, it ended in failure. Despite these setbacks, Target has corrected itself and is poised to show strong growth going forward.
Jim Cramer's charitable trust Action Alerts PLUS is long Target. Read the AAP team's take on the company's analyst day with a free trial subscription.
How Target Handles Adversity
Target's Canadian expansion was an absolute disaster. The company opened a total of 133 stores in Canada. This year, Target announced it will liquidate its entire Canadian operations. Management chose to exit Canada because the most optimistic estimates did not show the company breaking a profit in Canada until 2021. Target is taking a write-down hit of approximately $500 to $600 million by exiting Canada. The move should be commendable. Target's management chose to switch strategies rather than pouring more money down the drain and not admitting defeat. Target's quick recovery on the data breach and well-thought-out Canada exit have positioned the company for growth in 2015 and beyond.
To be sure, Target could have handled its data breach more effectively. The company hired Bob DeRodes as its chief information officer shortly after the breach. DeRodes is an IT security expert. He didn't last long. Target hired Mike McNamara to be the new chief information officer soon after. Following the breach, Target's stock took a hit as did its revenues and reputation.
Smaller Stores Will Drive Growth
Target's bricks-and-mortar growth plans are focused on smaller store layouts. The U.S. market for giant "super-sized" stores is saturated. Target is focusing its new store capital expenditure budget on smaller stores.
The Target Express store is about 15% the size of a normal Target. By shifting to smaller Express stores, Target hopes to capture customers who are just doing a quick shop. Focusing on smaller stores promotes convenience for shoppers who just need to pick up an item or two and don't want to traverse a giant big-box store. Target plans to open 50 new Target Express stores in 2015.
In addition to Target Express stores, Target is also seeing great success with its CityTarget stores. CityTarget stores are between half and three-quarters the size of traditional Target stores. CityTarget stores are optimized for densely populated urban locations and have been experiencing tremendous growth. Comparable store sales in CityTarget stores grew 6.6% in 2013 and another 8.6% in 2014.
Digital Growth Is the Future
In addition to smaller stores, Target is focusing heavily on digital sales to drive comparable store sales growth. Target's vision is to simplify and speed the shopping process through the use of digital tools. The company has experienced great success thus far; digital sales growth contributed about 50% of comparable store sales growth for the company in 2014. 
In particular, Target's Cartwheel program has been very successful. Cartwheel, a mobile app launched in 2013, gives customers discounts on some of the top brands in a Target store. Target Cartwheel generated $1 billion in sales from 13 million users. Target has found that customers engaged via mobile devices spend more in stores and visit more often.
Target grew digital sales 40% in 2014. This is profitable growth; Target has a 23% gross margin in its digital channel. While less than the 29% margin the company gets in stores, Target's digital operations still provide a boost. Target is now offering free shipping on orders over $25. In addition, the company has from-store shipping available from many of its stores; Target is expanding this option to more stores in 2015. Target's aggressive experimentation and focus on customer satisfaction in digital growth for the company going forward. 
The stepped up efforts by Target in digital not only underscore the importance of online shopping, but how far Target fell behind under old leadership in addressing consumer retail trends. Wal-Mart's initiatives in digital have been applauded by Wall Street, and have included things like expanded online assortment, a new real-time price savings app called Savings Catcher, better site visuals as well as the buy online ship from store capabilities. 
Expected Total Return
Target's management is projecting 10% earnings-per-share growth after 2015. Based on the company's historical growth numbers, 10% earnings-per-share growth is optimistic. Target has struggled (as discussed above) in 2013 and 2014. Throwing those years out, Target grew earnings-per-share 8.8% a year for the 10-year period ending in 2012. Based on the company's lower margin digital growth, I believe a long-term earnings-per-share growth rate of between 7% and 9% is more reasonable than management's 10% growth number.
Still, with 7% to 9% earnings-per-share growth and the company's current 2.6% dividend, shareholders could see double-digit returns going forward.
The Bottom Line
Target was a Top 10 stock The 8 Rules of Dividend Investing back in April of 2014. Since that time, the company's stock has risen over 30%. Target appears somewhat overvalued at this time, despite its strong growth prospects. The company is a hold for long-term investors as it does have solid growth potential going forward. Still, Target's largest competitor has a much more compelling valuation at this time.
This article is commentary by an independent contributor. At the time of publication, the author held WMT.