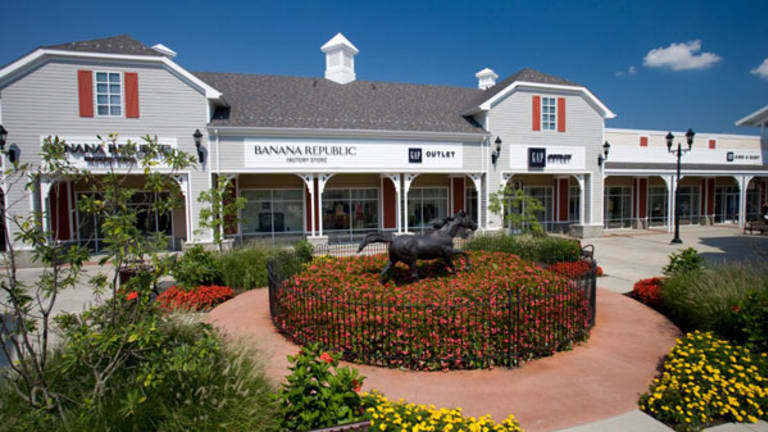 Tanger Celebrates a Blue-Chip Brand
Tanger has been paying dividends for 20 years.
NEW YORK (
) -- Yesterday,
Tanger Factory Outlets
(SKT) - Get Report
celebrated its 20th anniversary of being listed on the New York Stock Exchange and rang the closing bell.
Tanger began a new chapter in its history by becoming a "dividend aristocrat" as ranked by the
Standard & Poor's 500
. This prestigious honor is a remarkable achievement that is earned by a publicly traded company that has paid and increased dividends for at least 20 straight years.
Tanger is only one of 11 equity REITs that paid and maintained dividends during the Great Recession and also just one of five REITs that has a similar track record of paying 20 years in a row.
Last week I caught up with Steven Tanger at the annual ReCon event in Las Vegas. (Please see the video above.)
Tanger, with a market cap of around $3.4 billion, is the only "pure play" outlet REIT and is part of the regional mall sub-sector. The company's consistent earnings history has been extraordinary and the Greensboro REIT's enviable value proposition is summed up by the CEO, Steven Tanger (Source:
):
In good times people love a bargain; in tough times, people need a bargain.
Courtesy of SNL Financial
Earlier on, Tanger knew consumers wanted to buy high-quality, brand-name merchandise at substantial savings direct from the manufacturer. So Stanley K. Tanger opened the nation's first outlet center in Burlington, N.C., in 1981. Later, in 1993, Tanger took the company public and created the first factory outlet REIT to be traded on the New York Stock Exchange.
Tanger's vision paid off. Since the IPO, Tanger investors have received a cumulative return of over 1900% including dividends and price appreciation.
Steven B. Tanger sums up the success:
Outlet shopping is fashionable and the Tanger Outlets brand continues to garner the respect of shoppers and retailers. The value proposition is embedded in the lifestyle of today's consumer, and outlets are the natural destination of choice for branded apparel. The old adage is true: in good times people love a bargain and in tough times people need a bargain. It is the value proposition that makes the outlet distribution channel profitable and sustainable for our retail partners and for our company. We are thrilled to celebrate this achievement today.
Tanger has increased its dividend by an average of 5% over the last three years. The company's FFO payout ratio of 46.67% indicates the company could increase its dividend even more. In addition, Tanger's dividend is well covered; its FAD payout ratio for 2012 was approximately 56%. At these levels, Tanger generates significant incremental cash flow over its dividends, which enhances Tanger's ability to fund growth and/or to reduce amounts outstanding under its lines of credit.
Today, Tanger is trading at $35, down around 4% from last week. The total capitalization is around $4.66 billion and the dividend yield is 2.5%. Given Tanger's robust development pipeline and strong growth potential, I would expect to see the company return 20% year-over-year. Not bad for a "blue-chip" brand.
Courtesy of SNL Financial
Follow @swan_investor
This article was written by an independent contributor, separate from TheStreet's regular news coverage.