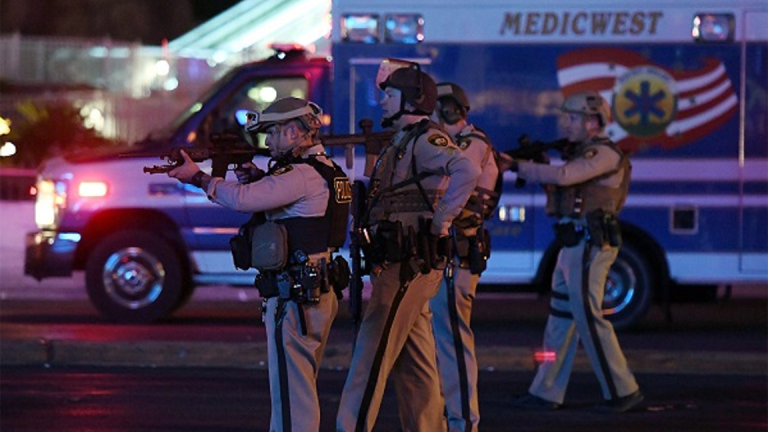 "Like most rights, the Second Amendment right is not unlimited... It is not a right to keep and carry any weapon whatsoever in any manner whatsoever and for whatever purpose." -- Antonin Scalia
Situation Miserable
A deranged man pokes the barrel of an automatic rifle out of a 32nd-story window. The people on the other end of his sights have their backs turned. They are listening to music, probably loud music. This is a party atmosphere. Over the next few minutes, chaos would ensue. People would be shot, likely never knowing where the rounds came from. Folks were probably injured by panicked crowds as well as hundreds of rounds of ammunition. The crowd of 22,000 innocent human beings started out tightly packed together. It would obviously not take much to cause massive numbers of casualties.
Financial markets do not care. The markets did not care when Biblical rains fell upon Houston. Did not care when Mother Nature took an eraser to the Florida Keys... and certainly did not care when the Virgin Islands and Puerto Rico took the very worst that she had to offer. So, why then, would a market place driven by algorithms that are not themselves driven by emotion nor sentiment care when one very sick person would intentionally harm the right to life, liberty, and the pursuit of happiness for almost 600 people that he did not know, and impact exponentially everyone who cares for those folks, or was simply present on Sunday night?
The broader equity market, as represented by the S&P 500 scored a gain of 0.4% on Monday, while the Russell 2000, also known as the Small Cap Index soared 1.2% on the session. Why? Does mass murder impact monetary policy? Does it help push tax reform through the legislative process? I think not. I don't think that has anything to do with price discovery. Know what easily outperformed the broader markets yesterday? Gun stocks, or rather the stocks of companies that manufacture firearms. You knew that already, though, because it happens every time that we, as a nation experience, a mass casualty event caused by a person with such a weapon.
Gun Stocks
Let's take a look at four such manufacturers. First there's Olin (OLN) - Get Olin Corporation Report . That stock closed at $36.52 yesterday, which was up 6.6%. Never heard of them? Ever hear of Winchester? Now, you're getting warm. American Outdoor Brands (AOBC) - Get American Outdoor Brands Corporation Report , the parent company of Smith & Wesson, saw a one-day gain of 3.2%. Sturm Ruger (RGR) - Get Sturm, Ruger & Company, Inc. Report +3.5%, Vista Outdoor (VSTO) - Get Vista Outdoor Inc Report +2.4%. Olin has had a good year to date, but the other three are all negative for 2017, AOBC, and VSTO decisively so. What drives these stocks as much as the fundamentals? Gun rights legislation -- or, should I say, the fear of such legislation.
The Second Amendment
The Second Amendment to the US Constitution states: "A well regulated militia being necessary to the security of a free state, the right of the people to keep and bear arms shall not be infringed." That's open to interpretation, which gets to the root of our problem. Is the right to bear arms the right to individually bear arms, or simply the right of the states and territories to raise a militia (National Guard)? We'll likely never truly know what our nation's founders were thinking at the time.
Stephen Paddock
The weapons used by Stephen Paddock on Sunday night were already illegal, you say? That's what I thought. That's what I always thought (and I am a certified Small Arms Master Gunner), until I researched this article. That's when I found out that automatic weapons may be legally owned, as long as they are registered with the Federal government, and were manufactured prior to May 1986. Isn't that interesting? I have no idea if Mr. Paddock's rifles were legal.
Without opining on the politics of this situation, past history tells us that there will likely be some modification to existing gun laws, at least in the state most recently impacted that will make it that much tougher or more expensive to own firearms, but not break the industry. We've been through this a few times now. My thought is that the inflated prices for the gun makers will recede, only to rise again, when a politician with an anti-gun rights agenda also rises.
That would be why these stocks all sold off so hard once Donald Trump was elected president. Not just the stocks, but the weapons themselves, as well as ammunition had all traded at extremely inflated prices under an Obama administration that looked likely headed toward a Clinton administration. In other words, these investments are such that their fortunes turn in opposite direction to the politically inspired climate. I have no intention of owning any of these stocks. Politics has nothing to do with that. They are just too unpredictable.
Macro
All Day - Total Vehicle Sales (September):Expecting 16.6 million, August 16.1 million annualized. Know what month was the last one that saw vehicle sales top expectations? Need a hint? OK. It's been a while. December 2016. Very good. Can't believe you got it right away. The truth is that this item is tough to call. You are going to now start to see increased demand in the wake of Hurricane Harvey in Texas, but that will play off against Hurricane Irma's depressive impact on Floridian demand.
08:30 - Fed Speaker:Federal Reserve Gov. Jerome Powell will speak on financial regulation from Washington, DC. Powell does occupy a permanent voting slot at the FOMC as a governor, but it is unclear whether he will touch on policy at today's event. Powell will answer questions from both the audience and the media today.
08:55 - Redbook (Weekly):Last Week 4.0% y/y. Over the past five weeks, this series, which measures chain store retail sales, has been red hot, averaging year-over-year growth of 4.16% over that time. You must remember that prior to late August, the Redbook had not touched that kind of growth since early 2015.
Sarge's Trading Levels
These are my levels to watch today for where I think that the S&P 500 and the Russell 2000 might either pause or turn.
SPX: 2554, 2541, 2529, 2519, 2512, 2504
RUT: 1527, 1520, 1513, 1506, 1499, 1491
Today's Earnings Highlights (Consensus EPS Expectations)
Before the Open: AZZ ($0.44), LEN ($1.01), PAYX ($0.60)
After the Close: NG (-$0.04)
Join Jim Cramer, CNBC's Jon Najarian and Other Experts Oct. 28 in New York
Jim Cramer will host CNBC's Jon Najarian, TD Ameritrade's JJ Kinahan, famed analytics expert Marc Chaikin and other market mavens on Oct. 28 in New York City to share successful strategies for active investors.
You can join them as they discuss how smart investors can make the most of options trading, futures contracts, fundamental and quantitative analysis and great ETFs to buy right now. Participants will also get a chance to meet Jim and other panelists and take photos.
When: Saturday, Oct. 28, 8 a.m.-3 p.m.
Where: The Harvard Club of New York, 35 West 44th St., New York, N.Y.
Cost: Special early bird price: $150 per person. (Normal price: $250)
Click here for the full conference agenda or to reserve your seat now.
At the time of publication, Stephen Guilfoyle had no positions in the stocks mentioned.