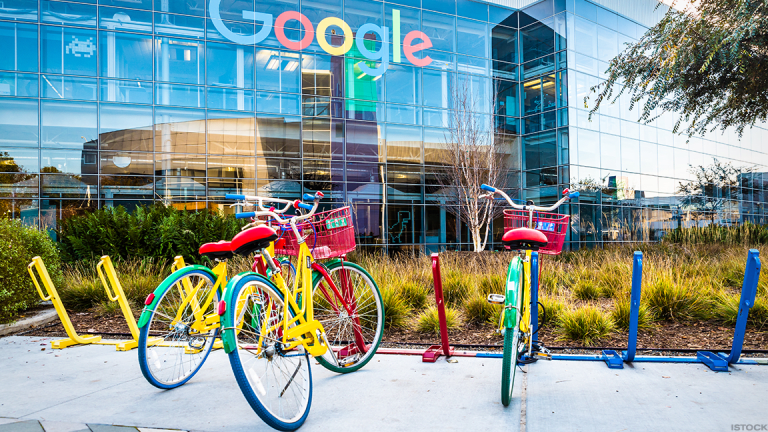 7 Takeaways From Google's $550-Million Investment in Alibaba Rival JD.com
Google and JD could each find a lot of value in the other company's technology and expertise. Meanwhile, Alibaba could mull a countermove.
Google's $550 million deal with China's JD.com (JD) - Get Free Report is one of the more interesting "strategic investments" the search giant has made over its history.
On Monday morning, JD, China's #2 e-commerce firm after Alibaba (BABA) - Get Free Report , announced that Alphabet/Google (GOOGL) - Get Free Report is taking a $550 million stake (a little less than 1%) in the company. The price is equal to $40.58 per JD's American Depositary Shares (ADS), and represents a 6% discount to where JD is trading on Monday following a roughly 0.6% decline after the news was announced (shares were up more than 3% initially). Meanwhile shares of Alphabet were up about 1.5%.
Worries about Google's purchase price and the dilution caused by the deal might be responsible for JD's decline on Monday. Another possibility is that news of the deal leaked last week, given that JD shares rose about 6% on Thursday and held onto those gains on Friday.
The companies say they want to use JD's supply chain/logistics expertise and Google's tech strengths to create "next generation retail infrastructure solutions, with the goal of offering helpful, personalized and frictionless shopping experiences." They add that JD "plans to make a selection of high-quality products available for sale through Google Shopping in multiple regions." The U.S., Europe and Southeast Asia are mentioned as regions where Google and JD plan to collaborate.
Here are some thoughts on the deal's potential implications for Google, JD and others:
1.Google is getting serious about partnering with foreign retailers and e-commerce players.
News of the Google/JD tie-up comes amid reports that Google is in talks to take a stake in leading Indian e-commerce firm Flipkart, which recent agreed to sell a majority stake to Walmart (WMT) - Get Free Report (an existing Google partner). It also follows news of a tie-up between Google and French retail giant Carrefour through which shoppers will be able to place orders with Carrefour via Google Assistant and the French version of the Google Shopping website.
It wouldn't be surprising to see Google unveil additional foreign e-commerce deals before the year is over. Latin American e-commerce leader MercadoLibre  (MELI) - Get Free Report is one plausible name.
2. The deal might be a sign of improving ties between Google and Beijing.
One definitely can't assume the Google/JD deal will pave the way for any of the major Google consumer services that are currently blocked in China (that would be nearly all of them) to be allowed in the country. However, it's hard to imagine that JD didn't give local authorities a heads-up before forming an alliance with a U.S. tech giant.
Together with some other recent moves, such as the launch of translation and storage-management apps in China and a patent-licensing deal with tech giant Tencent (an existing JD.com partner), the JD deal might just be a sign that tensions are thawing a little between Google and the Chinese government. If nothing else, Beijing may feel that Google's reach and technology make it too important of a company to completely shun.
3. JD should help Google grow its ad sales to Chinese firms, and perhaps also give a lift to Google Cloud.
Though Google Search and many other Google services are blocked in China, the company (like Facebook (FB) - Get Free Report ) still does a lot of business selling ads to Chinese firms that are trying to reach foreign consumers and businesses. With JD claiming over 170,000 merchants on its platform as well as a substantial direct e-commerce business, Google's alliance with the company should provide a boost to those sales.
And though this wasn't spelled out in the press release, it wouldn't be surprising to see JD, like Carrefour, make use of some of the Google Cloud Platform's (GCP) services. GCP's well-respected machine learning services in areas such as image analysis, text analysis, translation and speech recognition could especially be of interest to JD.
4. The deal comes amid a transition for Google's e-commerce efforts.
In March, Google unveiled its Shopping Actions program, which lets Google Search users clicking on its popular Google Shopping ads to buy items without leaving Google's site or app. Shopping Actions already has the backing of Walmart, Target (TGT) - Get Free Report and Costco (COST) - Get Free Report  (from the looks of things, Carrefour will also support it), and will notably be monetized through a cut on transactions rather than payments for ad clicks.
Google, trying to deal with the thorny problem of monetizing voice assistant activity without playing voice ads that irritate users, is also taking a cut on voice commerce transactions driven by Google Assistant. Based on what was said in the press release, it looks like JD will be enlisted in Google's efforts to expand its e-commerce revenue base beyond ads.
5. Google and its non-Chinese retail partners can probably learn a lot from JD.
Some of JD's Chinese warehouses feature a level of automation that appears to exceed even what Amazon.com (AMZN) - Get Free Report (no slouch when it comes to using warehouse robots) has achieved. The company has also built up an extensive package pickup and delivery infrastructure in major Chinese cities that lets it fulfill many orders the same day or the next day, and has R&D investments that cover everything from drones to autonomous vehicles to AI-driven shopping recommendations.
And like Alibaba, JD is looking for ways to fuse online and offline shopping activity. Though it remains to be seen just how much JD chooses to share, a lot of its logistics, automation and offline efforts have to be of interest to Google, which has become a key partner for quite a few U.S. retailers battling Amazon.
Alphabet, Facebook and Amazon.com are holdings in Jim Cramer's Action Alerts PLUS member club. Want to be alerted before Jim Cramer buys or sells GOOGL, FB or AMZN? Learn more now.
6. The deal should help JD expand overseas...but it's best to keep expectations in check.
Bringing JD's product listings to Google Shopping and Google Assistant can't hurt the company's efforts to grow overseas. It's also possible that the deal will pave the way for JD to draw closer to some of Google's existing e-commerce partners.
But it's worth remembering that Alibaba's multi-year efforts to grow its sales to Western consumers haven't exactly been a roaring success. Alibaba's retail international commerce revenue equaled just 6% of its March quarter sales, and a lot of that came from top Southeast Asian marketplace Lazada, which Alibaba has spent $2 billion on since 2016 to obtain an 83% stake. JD, which doesn't appear to do a ton of business with foreign consumers right now, could also face a tough slog.
7. Alibaba might be tempted to strike a deal of its own.
Though its attempts to expand in the West haven't quite gone as planned, Alibaba is nothing if not persistent, and its rivalry with JD is nothing short of intense (just ask merchants that have been caught in the crosshairs). Thus it's not hard to imagine Jack Ma's company mulling a countermove or two in response to the Google-JD deal.
An alliance with Amazon feels unlikely, given the extent to which Alibaba and Amazon compete in various markets and businesses. eBay
(EBAY) - Get Free Report
, on the other hand, could be a good fit. Though the current political landscape makes a full-blown acquisition of eBay by Alibaba (the subject of
over the years) unlikely, a partnership involving a minority stake doesn't sound as far-fetched.