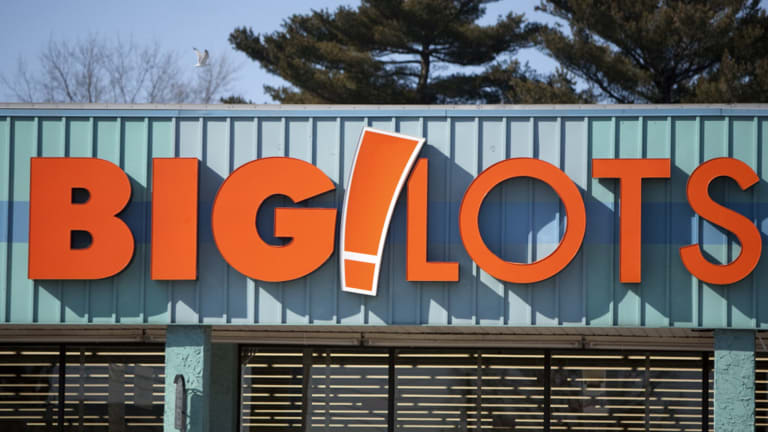 Take Profits on Big Lots Ahead of Earnings
Aside from the revenue and margin struggles, estimates are on the decline, suggesting lack of confidence in the company's results.
NEW YORK (The Street) -- With some terrible results released by various retailers after April's weak consumer sales, it's tough to place a long bet here on close-out specialty retailer Big Lots (BIG) - Get Report, which is due to report fiscal first-quarter earnings Friday before the opening bell.
The Columbus, OH.-based company may have posted in-line revenue results for three straight quarters, but revenue must show a stronger upward trend for Big Lots stock to climb. Merely posting in-line results does not incite confidence, especially when the company suffers from both decelerating same-store sales and compressed margins. Without strong in-store traffic or higher margins, profit will be tough to come by.
For the quarter that ended that ended April, the average analyst estimate calls for earnings of 59 cents a share on revenue of $1.28 billion. This compares with 50 cent-a-share earnings on revenue of $1.28 billion in the year-ago quarter. For the year, Big Lots is expected to earn $2.87 per share, marking a 16% year-over-year increase, while revenue of $5.21 billion will up less than 1%.
Big Lots stock closed Wednesday at $45.30, up 1.44%. The shares are up more than 13% year to date, dominating not only the broader averages, but also the 2.74% gains in SPDR S&P Retail ETF (XRT) - Get Report -- home to prominent retailers like Amazon.com (AMZN) - Get Report and Costco (COST) - Get Report. And that's all the more reason BIG investors should consider locking in some profits now, especially since Big Lots is approaching quarters where year-over-year comparisons will get tougher.
This explains why short sellers have piled in, placing bets that Big Lots stock will decline in the near future. As of the most recent settlement date, short interest on Big Lots stock now stands at roughly 8.25 million. The short sellers have increased their positions for the third straight reporting period, and the current level represents a 21% jump from the end of March when short positions stood at more than 6.8 million shares.
When factoring that Big Lots has 1.3 billion outstanding shares, 8.25 million represents more than 15% of its float, or shares outstanding. For some context, Home Depot (HD) - Get Reporthas less than 1% of its shares being shorted, indicating that a greater percentage of the market believes in Home Depot's business. The opposite can be said about Big Lots.
Why are the shorts betting against the company? Aside from the revenue and margin struggles we've highlighted, analysts -- on average -- have not shown much confidence in Big Lot's ability to overcome these pressures. In just the past three months, the average analyst estimate for the just-ended quarter has dropped more than 9% to 59 cents from 65 cents a share.
The estimate cut took place when the quarter started. This means that the average estimate has stayed the same despite April's weak retail sales data, which has punished several retailers. That's an added layer of risk Big Lots investors are taking by holding these shares through Friday's results.
This article is commentary by an independent contributor. At the time of publication, the author held no positions in the stocks mentioned.