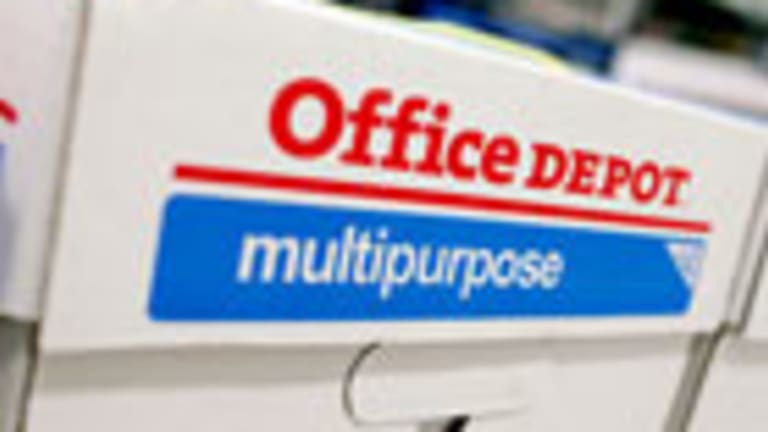 Take Profits in Office Depot's Stock Ahead of 4Q Earnings Report
The company is working with much easier year-over-year comparisons, which won't last indefinitely.
NEW YORK (TheStreet) -- Office Depot (ODP) , the second-largest retailer of office products and services in the United States, will report fiscal fourth-quarter and full-year earnings results Tuesday before the opening bell.
And though analysts have grown more optimistic about the company's future, especially with its $6.3 billion pending merger with larger rival Staples (SPLS) , there are still too many unknowns about what the future for either company will bring.
What investors do know, however, is that Office Depot stock has been on fire, gaining 83% in the past six months, compared with respective gains of 6.7% and 6.13% for the Dow Jones Industrial Average and the S&P 500 during that same period. But these gains aren't likely to hold.
Office Depot stock closed Friday at $9.49, down half of 1%. The shares are up almost 11% year to date, beating the broader averages.
And analysts, who expect the company to deliver 265% earnings growth this year, are looking for this outperformance to continue. And that may be just too much to ask, especially when considering the competitive deficits with which the Boca Raton, Fla.-based company is working in a world dominated by Amazon (AMZN) .
Working in its favor, Office Depot has some time to turn things around. Combined with Staples, the new entity will be able to save money on various overlapping costs such as marketing, logistics, fulfillment and sales expenses.
And when factoring in the higher number of store locations, the combined company will have a big enough footprint to put a dent in other big-box retailers such as Best Buy (BBY) and Wal-Mart (WMT) .
But without a real online presence and a credible strategy to increase long-term margins, how much will any of this matter?
Business customers, who once valued the cost savings from large bulk purchases, no longer care about such things. Although that model thrived when it was just three office companies, including Office Max, which Office Depot picked off two years ago, things have changed.
And Tuesday, investors that are still holding this stock will want some confirmation that Office Depot deserves more time.
For the fiscal fourth quarter that ended in December, analysts will be looking for earnings of 4 cents a share, compared with a loss of 3 cents a year earlier. Revenue is expected to have risen 12% to $3.91 billion.
For the full fiscal year, earnings are projected to be 18 cents a share, reversing last year's loss of 11 cents, while revenue is expected to come in at $16 billion, up 43% year over year.
These numbers reflect the depths to which Office Depot had fallen last year. The company is working with much easier year-over-year comparisons, which won't last indefinitely.
Although there are compelling reasons to suspect that things will continue to improve for Office Depot, investors should still manage their risk by taking profits in the stock ahead of Tuesday's results.
This article is commentary by an independent contributor. At the time of publication, the author held no positions in the stocks mentioned.