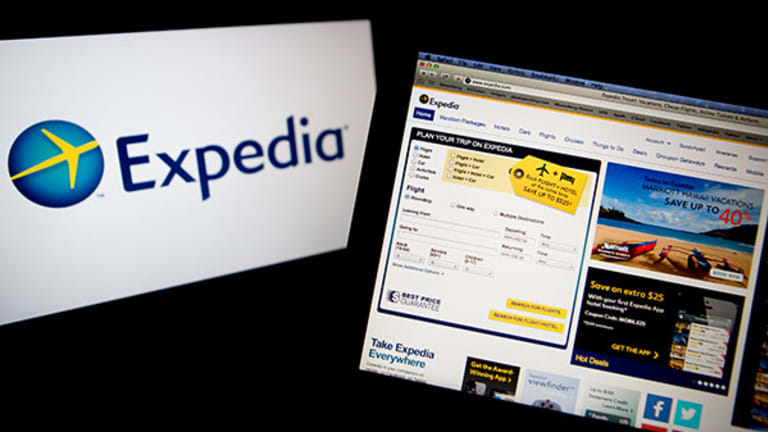 Take Profits in Expedia Now
The market is showing that Expedia shares aren't ready to go higher now. So take your profits and wait for the results.
Online travel specialist Expedia (EXPE) - Get Report will report second-quarter fiscal 2016 earnings results after the closing bell Thursday. With Expedia stock soaring some 20% over the past 30 days, it's now time to lock in some of those gains and wait for a pullback of around 8%.
Expedia continues to put up exceptional revenue growth numbers each quarter. But earnings estimates for the current quarter and full year have come down over the past three months, falling by 5% and 1%, respectively.
This adds even more pressure on the company to beat by a higher margin. So why risk 20% one-month gains?
Expedia stock is now back at a level where it has fought multiple times and lost. Take a look at the chart, courtesy of TradingView.
Expedia shares closed Wednesday at $117.30, down 0.37%. Despite the recent run, the stock is down almost 6% year to date, underperforming the 6% rise in the S&P 500 (SPX) index, while trailing rival Priceline (PCLN) , which is up 3.9%.
Thanks to its post-Brexit surge, Expedia stock is back well above all three key moving averages: the 20-day ($112.55 -- blue line), 50-day ($109.96 -- pink line) and 100-day ($109.69 -- yellow line). The chart shows resistance is now at $117.64 -- a level Expedia stock has tested in the past six trading sessions, during which its average high has been $117.83.
It has failed to break through each time -- as it also failed to do in April.
The $117 threshold was also tested multiple times following the first-quarter results, which it beat handily. You can see from the chart that Expedia gapped up about 10% on April 27 from around $107 to $117, where it met resistance again. That led to a 10% decline to support at around $104 (the green line). The stock also tested $117 on March 14, 15 and 16. You can see what happened.
Don't expect anything different this afternoon, even with a blowout quarter. Expedia stock is not cheap at 23 times forward estimates of $5.10 per share, with a price-to-earnings ratio 6 points above that of the average stock in the S&P 500 index.
The market is saying it isn't willing to pay more for the shares. So take your profits and wait for the results.
This article is commentary by an independent contributor. At the time of publication, the author held no positions in the stocks mentioned.