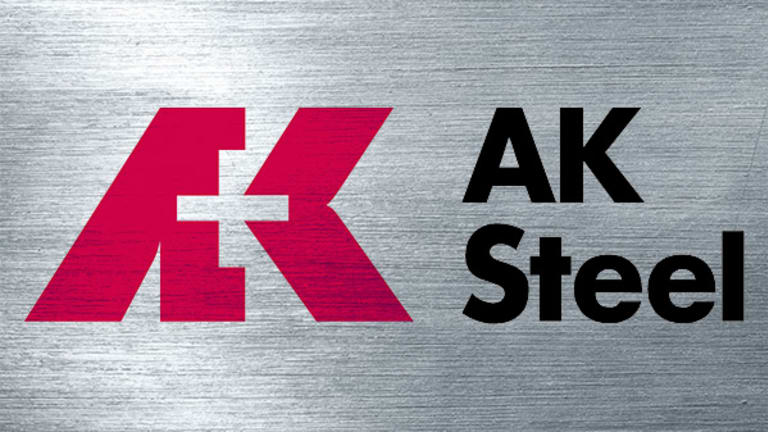 Take Profits in AK Steel
AK Steel stock is looking like a trap now.
If you've bought shares in AK Steel (AKS) - Get AK Steel Holding Corporation Report based on my July 6 recommendation, it's time to lock in some profits and wait for the eventual pullback before buying back in.
The chart below, courtesy of TradingView, says it's time to take a breather.
On July 6, when the stock then traded at $4.58, I outlined how AK Steel was poised to reclaim $5 to $5.20 per share, delivering 10% to 15% gains. That's exactly what has happened -- and then some. AK Steel shares closed Thursday at $5.40 after hitting a high of $5.84 on Monday (the red line), which was a 27.5% gain since my buy recommendation.
But commodity prices have been under pressure lately, sending the iShares S&P GSCI Commodity-Indexed ETF (GSG) - Get iShares S&P GSCI Commodity Indexed Trust Report down 8% over the past month. AK Steel, meanwhile, has gone the other way, rising 10% during that span. True, we missed the peak above $5.80, but the $5.40 close Thursday still translates to 18% gains since July 6.
AK Steel's post-Brexit move of 33% has sent the stock soaring above all three key moving averages ( 20-day, 50-day and 100-day). The stock has now returned an impressive year-to-date gain of 141%, crushing the 5.9% rise in the S&P 500 (SPX) index. But the shares appear heading back towards support at $4.85. So why ride the extra 10% down?
AK Steel is set to report second-quarter earnings on Tuesday before the opening bell. It doesn't make sense to risk a "sell the news" type of event nor risk the shares falling because of conservative guidance by management. Commodity prices are still seesawing, thanks to Chinese materials flooding the market and other reasons. Being on the sidelines is now the safer play.
Wait for the dust to settle after earnings and see what the guidance look like. AK Steel stock becomes a buy again at or near $4.85 or after it breaks back above $5.82. Anything in between and you could be trapped.
This article is commentary by an independent contributor. At the time of publication, the author held no positions in the stocks mentioned.