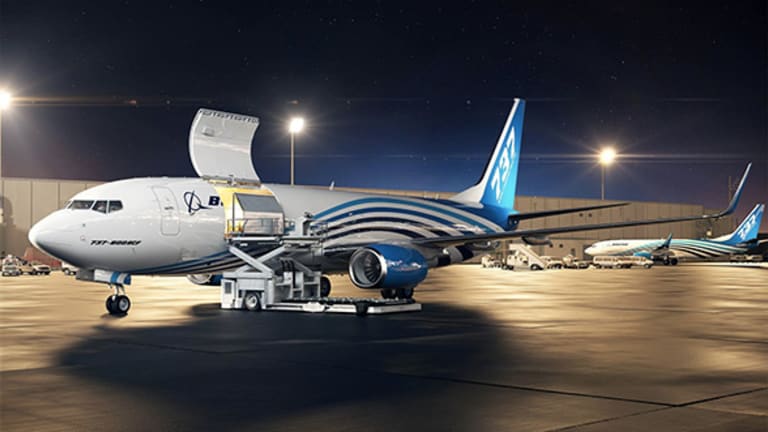 Publish date:
Take a Look at Boeing's New 737-800 Converted Freighter
Boeing says it will start to convert next-generation 737-800s for cargo use, with an eye on the Chinese cargo market.
Boeing says it will start to convert next-generation 737-800s for cargo use, with an eye on the Chinese cargo market.
Editors' Pick: Originally published Feb. 25.

Boeing (BA) - Get Report said it will convert next-generation 737s for cargo use, despite the slow recovery of the world's cargo market.
The Chicago-based aerospace company will convert next-generation 737s for the first time and said it has orders and commitments from seven customers for up to 55 conversions.
"While the recovery of the global cargo market has been slow, we see demand for freighters, such as the 737-800BCF, that will carry express cargo on domestic routes," said Stan Deal, senior vice president of commercial air services for Boeing Commercial Airplanes, in a prepared statement.
"Over the next 20 years, Boeing forecasts customers will need more than 1,000 converted freighters the size of the 737, with China's domestic air freight carriers accounting for nearly one-third of the total market," Deal said.
World air cargo markets have recovered slowly from the recession.
Last month, the International Air Transport Association proclaimed in a prepared statement that "the decline in cargo demand may be bottoming out." Global air freight markets expanded 2.2% in 2015, compared with 5% growth in 2014.
IATA CEO Tony Tyler called 2015 "another very difficult year for air cargo" and said the trade group anticipates 2016 air cargo revenue of $51 billion, compared with peak revenue of $67 billion in 2011. In the Asia Pacific region, IATA said, cargo expansion "has been hampered by a shift in Chinese economic policy to favor domestic consumption."
Boeing spokeswoman Cynthia Reynaud said that while the global long-haul cargo market has slowed, "demand for standard-body conversions is on the rise, particularly in express markets including China."
Boeing projects that global air cargo traffic will grow 4.7% annually over the next 20 years, with domestic China growing 6.7% annually, largely as a result of a rise in e-commerce, Reynaud said.
Boeing announced the launch of its next-generation converter program in Shanghai, where it owns a majority interest in Boeing Shanghai Aviation Services, a maintenance base operated as a joint venture with China Eastern Airlines and the Shanghai Airport Authority.
Conversion work will be done at Boeing Shanghai and at other facilities located near conversion demand, Boeing said.
"It's a good move; the 738 will be an excellent freighter," said aerospace analyst Scott Hamilton. "But Boeing [conversions] will be more expensive than independents'."
Boeing 737-800 conversion customers with 30 firm orders include Hangzhou, China-based YTO Airlines and Beijing-based China Postal Airlines, each with 10 orders, and GE Capital Aviation (GECAS) and an unidentified customer, each with five orders.
Also, Boeing has 25 commitments, including 10 from YTO and 13 combined from Shenzhen-based SF Airlines; Sofia, Bulgaria-based Cargo Air and two unannounced customers.
The first 737-800BCF is expected to be delivered in the fourth quarter of 2017 to GECAS.  In a prepared statement, GECAS said the aircraft "offers more payload, volume, range, all at lower cost than 737-300 and 737-400 freighters.'
This article is commentary by an independent contributor. At the time of publication, the author held no positions in the stocks mentioned.