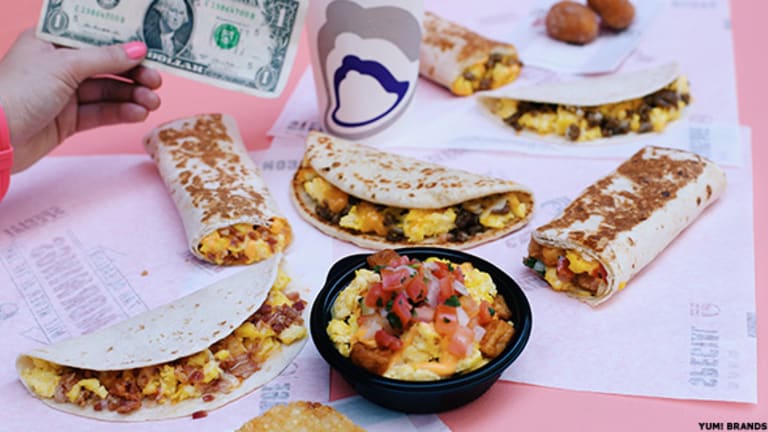 Taco Bell Launches Dollar Breakfast Menu as Battle With McDonald's Heats Up
Taco Bell is launching a new value breakfast menu in a bid to wrest some momentum from rival McDonald's.
Taco Bell is launching a new value breakfast menu in a bid to wrest some momentum from rival McDonald's.

The fast-food breakfast wars are about to really heat up. 
On Thursday, Yum! Brands (YUM) - Get Report -owned Taco Bell took the wraps off a new nationwide $1 breakfast menu. The breakfast menu -- which is permanent -- consists of 10 items, three of which have been newly created.
The additions include: a mini skillet bowl filled with potatoes, scrambled eggs, cheese and pico de gallo; a soft taco filled with scrambled eggs, bacon or sausage and cheese; and a flat bread filled with cheese, sausage, and scrambled eggs.  
Subsequently, there will be two casualties from Taco Bell's breakfast menu as a result of the new dollar offerings.
In order to keep breakfast service fast amidst a rush of customers seeking dollar breakfast burritos, Taco Bell will remove the more-complex-to-prepare biscuit taco and country breakfast crunchwrap with gravy. The loss of the biscuit taco is surprising given the fanfare associated with the product's launch last year.  
"Because Taco Bell is so well known for value the rest of the day, I think we have to be competitive in this space and really go after that dollar price point -- this is one of those things that will help us grow our breakfast business from a step change standpoint," Taco Bell marketing manager Emili Matsumura explained to TheStreet. 
One company that no longer has a national dollar menu of any kind is Taco Bell's rival McDonald's (MCD) - Get Report . The Golden Arches began to phase out its well-known dollar menu in January with the launch of its McPick 2 value platform.  
McDonald's recently tweaked its value menu to McPick 2 for $5 (at some New York City locations it's McPick 2 for $6), and enhanced the types of items consumers can choose. 
Taco Bell's breakfast dollar menu is part of a broader focus on value this year at the chain in a bid to gain share in the competitive fast food industry.
"The emphasis will be on value [this year] to build on the great momentum we had in 2015," said Yum! Brands retiring CFO Pat Grismer on a Feb. 4 earnings call.


The new mini skillet bowl.
Taco Bell launched its breakfast menu nationally on Mar. 27 last year with the Waffle Taco and easy-to-hold A.M. Crunchwrap, taking full aim at McDonald's dominance at selling Egg McMuffins in the morning. The menu, which is still only available from 7 a.m. to 11 a.m. (unlike McDonald's new all-day breakfast platform), has since been expanded to 26 items. Along the way, Taco Bell has gotten creative with what it sells for breakfast and its marketing. 
Last year it unveiled four versions of a biscuit taco, with sausage, eggs and honey dressing wrapped in a folded biscuit. At the same time, Taco Bell poked fun at McDonald's breakfast standard bearer, the Egg McMuffin, in several high-profile TV commercials.  
Taco Bell's efforts have led to breakfast becoming a lucrative business for it.
According to the company, sales during breakfast hours are growing at twice the rate of Taco Bell's overall business. In the fourth quarter, breakfast transactions increased 6%. Aided by its success in breakfast, Taco Bell's system-wide sales rose 8% in 2015, with operating profit margins increasing to 27.1% from 25.8% a year ago.  
The dollar menu will likely help Taco Bell sustain its momentum in breakfast as McDonald's has garnered widespread attention for its all-day breakfast platform launched in January.
"McDonald's moving to all-day breakfast is obviously a big development that perhaps neutralizes some of the impact that Taco Bell has had during breakfast," said David Henkes, senior principal at research firm Technomic.

But the roll-out of a dollar menu for breakfast, and possibly a more expansive "Dollar Craving Menu" for the rest of the day, is expected to take a bite out of Taco Bell's bottom line.
Said Grismer, "My expectation is that margins [operating] will be up above 20%, perhaps a bit below where they were in this year because of the more aggressive push on value and a more temperate approach to pricing."
Matsumura didn't divulge whether the 10 items on the dollar menu are expected to be profitable, or simply serve as traffic drivers.  
"We designed this menu of course not only with consumers in mind, but also with our franchisees in mind," Matsumara said. "This is something positive for our stores in terms of sales, and is definitely a transaction driver as well."