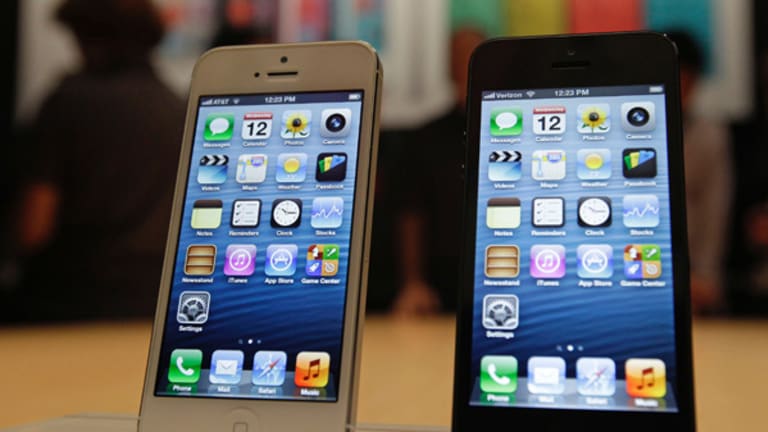 T-Mobile Might Have Just Blown Up the Game of Selling iPhones
It's one thing to offer a no-contract option for a smartphone, but monthly payments on an iPhone? That's genius.
Updated from 12:06 p.m. with analysis and more details on the T-Mobile plan.
NEW YORK (
) --
T-Mobile
continues to light it up today.
TheStreet's
Gary Krakow
outlined some of the wireless carrier's big plans
, including a "no contract" option. That basically means you're not locked in to a two-year deal, however you receive no subsidy, meaning you pay full price for your smartphone.
Now, our friends at
CNBC
Tweet an alert with something that really could be a game changer in the wireless industry:
Why didn't somebody think of this sooner? It's one thing to fall for the gimmick of a subsidized iPhone from
Apple
(AAPL) - Get Free Report
. It's entirely another to be told you not only have no contract, but you do not have to come up with the cash up front to buy the phone. You can spread it out over time with what I presume is zero interest.
Genius.
AT&T
(T) - Get Free Report
,
Verizon
(VZ) - Get Free Report
and
Sprint
(S) - Get Free Report
must be watching closely.
Indeed that's the word from today's T-Mobile event in New York: Starting April 12, creditworthy buyers can put $99 down and make monthly payments on a no-contract iPhone 5 from Apple via T-Mobile.
This is where Apple's secrecy gets really interesting. Why does T-Mobile get this deal? Why did Apple approve it? Did AT&T, Verizon and Sprint see it coming? Do they care?
All of this stuff is under lock and key -- and will likely remain there -- for the foreseeable future.
That's one reason why
you must take Apple rumors or reports that the company has nothing brewing with a grain of salt. Apple doesn't talk much. It just acts. On it's own time line.
This is a big deal. For several reasons.
First, T-Mobile is coming to play. At its event today in New York, the company positioned itself as freeing wireless customers from a trap. From the uncomfortable confines of the equivalent of cell-phone purgatory -- the two-year contract. In fact, when T-Mobile CEO John Legere took the stage he addressed the press with "This is bullshit," in reference to the restrictions.
Second, T-Mobile must
really
be coming to play. They got this deal. The big three did not. But, again, does anybody else want it?
Which leads to the third point . . . is this really a big deal? Yes and no. We'll have to wait for complete details, but if you're paying monthly for the phone, your service, data and a $20/month surcharge for the privilege of payments are you really getting a deal?
Really, it's all about psychology. At first blush, it appears there's a customer or three just ripe for this sort of marketing. The question then becomes how many people really stopped short of getting an iPhone because of the contract and an unwillingness (or inability) to pay full price for the phone up front?
Can T-Mobile sell millions of iPhones to existing iPhone customers when their present deals expire
and
attract just as many who, theoretically, stayed away?
If this works, it's a major score for T-Mobile. In effect, it seems as if they still have you locked into a two-year deal. If you decide you no longer want your phone and/or want to break off your month-to-month relationship, you're more than likely on the hook for the cost of the phone (plus penalties?).
If you stick with the plan, you're paying T-Mobile for data, but also breaking the carrier free from the chains of having to take a roughly $400 loss out of the gate for every iPhone it sells. T-Mobile no longer has to rely on usage fees and such to make that money back over time. It's dealing in gravy now.
T-Mobile got the iPhone. Finally. And, based on its aggressive media push today, I think it thinks it got an excellent, game-changing deal.
--
Written by Rocco Pendola in Santa Monica, Calif.
Rocco Pendola is
TheStreet's
Director of Social Media. Pendola's daily contributions to
TheStreet
frequently appear on
CNBC
and at various top online properties, such as
Forbes
.