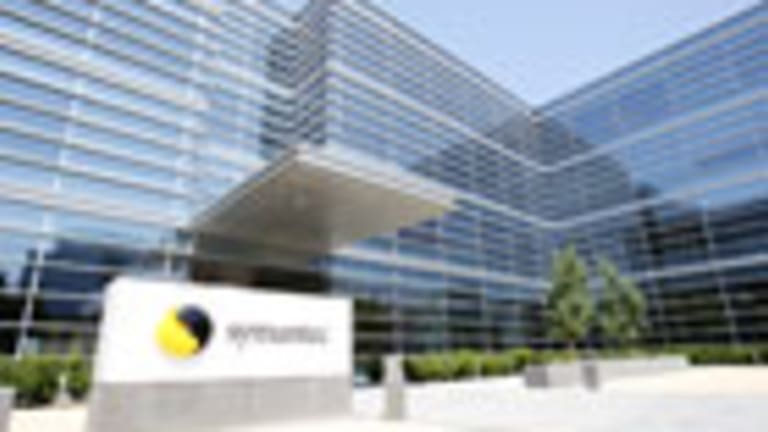 Symantec's Outlook Is Insecure as Its Competitors Gain Ground
Upstarts such as FireEye and Palo Alto Networks are eating Symantec's lunch, and Microsoft is giving security software away for free. No wonder Symantec's stock is cheap.
NEW YORK (TheStreet) -- Investors should avoid shares of security and enterprise software services company Symantec (SYMC) - Get Symantec Corporation Report ahead of its release of fiscal first-quarter 2016 earnings results Tuesday after the closing bell.
Although cyberthreats continue to rise, driving huge spikes in security stocks, Symantec's value continues to plummet. It's fallen more than 12% in 2015, and is down some 6% in the past year.
The Mountain View, Calif.-based specialist in computer threat detection is suffering from slowing demand and weak profits. And despite owning critical assets such as its Norton antivirus software, which remains popular among desktop computer users, Symantec's earnings per share and revenue for fiscal 2016 are projected to decline 1% and 4%, respectively.
For the quarter that ended in June, analysts on average expect earnings of 43 cents a share on revenue of $1.53 billion, translating to declines of 4% and 12%, respectively. For the fiscal year ending in March, the average earnings estimate of $1.86 per share would be a 1% decline, while annual revenue is projected to fall 4% to $6.3 billion.
These anticipated declines follow a fiscal 2015 during which earnings and revenue shed 1.5% and 2.5%, respectively, meaning the company's financial struggles are expected to accelerate.
By contrast, upstarts such as FireEye (FEYE) - Get FireEye, Inc. Report and Palo Alto Networks (PANW) - Get Palo Alto Networks, Inc. Report -- specialists in threat management, web gateways and firewalls -- are increasing their revenue and profits at impressive rates.
Businesses have been quick to adopt the newer technologies from Symantec's smaller competitors because they are perceived as more nimble and cutting-edge. Complicating matters, Microsoft (MSFT) - Get Microsoft Corporation (MSFT) Report offers free security software.
Symantec, which missed Wall Street's estimate on its fourth-quarter earnings, spooked investors further by offering tepid guidance, suggesting that its business is under even more pressure than had been thought.
To compete more effectively, Symantec plans to split into two companies -- one for its security side and one for its Veritas Information Management segment.
There's implied value in SYMC shares, which have a forward P/E of 12, compared to the average P/E of 17 for companies in the S&P 500 index.
But that low-multiple reflects the fact that the company is projected to grow earnings by an average of just 6% annually for the next five years. Considering earnings are projected to climb at about 7.5% to $2.02 a share in fiscal 2017, this means analysts expect a slowdown in the years to follow. And that does not bode well for the stock. 
The company has been profitable for nine straight quarters, but with so much uncertainty surrounding the business -- and with no guarantees that its split will help revive sales and profits -- the stock remains risky, despite how tempting the cheap price may be.
What matters are revenue and profits. And until both begin to trend in the right the direction, the stock -- despite its consensus hold rating -- will remain under pressure and should be avoided.
This article is commentary by an independent contributor. At the time of publication, the author held no positions in the stocks mentioned.