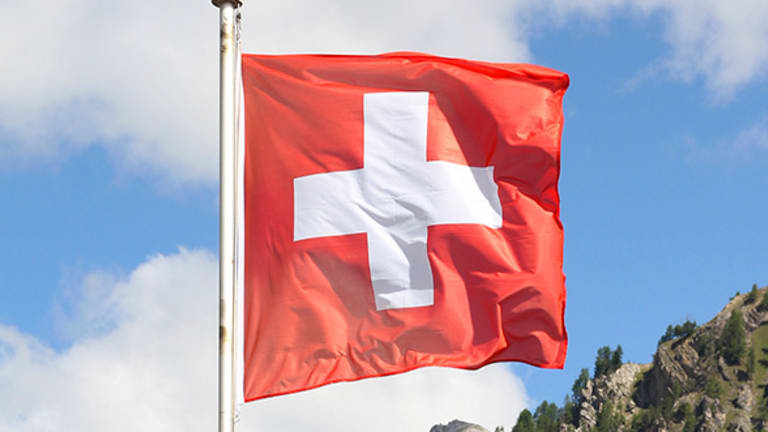 Swiss Voters Reject Basic Income Guarantee, Executive Pay Caps at State-Owned Firms
Government-controlled Swisscom hails the 'No' vote as a victory for modern public services.
Swiss voters on Sunday rejected proposals to introduce a guaranteed basic income for everyone and to curb executive pay at state-owned companies including telecoms incumbent Swisscom (SCMWY) .
More than three-quarters of voters opposed a controversial measure that would have required the government to cough up Sfr2,500 ($2,565.17) a month per adult, regardless of employment status or financial situation, and a quarter of that amount per child in the wealthy Alpine nation.
While a universal income requirement has been discussed in other countries such as Canada , the Netherlands, and Finland, Switzerland was the first to put the matter to voters in a national referendum that was widely expected to be defeated.
While the 'Pro Public Service' measure had been deemed too close to call, it was also voted down, by about 68% of voters.
It would have required public service companies including Swisscom, Swiss Post and railway operator SBB not to seek to make a profit and limited executive pay at those companies to no more than what a government minister earns.
Switzerland's benchmark SMI was up 0.10% in late morning trading at 8,156.15, while Swisscom was 1.0% higher after paring earlier gains.
Swisscom, which is 51% government-owned, welcomed the 'No' vote as a "vote in favor of modern public services, based first and foremost on intense competition and only secondarily on state regulation."
"It is precisely this competition that has led to Switzerland's network infrastructure being the best among the world," it said. "The rejection of the initiative allows Swisscom to continue to compete successfully against other domestic and international companies."
UBS analysts Vikram Karnany and Polo Tang predicted a "relief rally" for Swisscom shares, which they noted has underperformed the sector by about 4% over the last month.
But they also believe that attention will soon shift to Swisscom's Italian subsidiary Fastweb, which "could materially benefit" from potential deal remedies surrounding Hutchison's agreed telecoms joint venture in Italy with VimpelCom.
The Hutchison/VimpelCom deal is the subject of an ongoing in-depth probe by EU antitrust watchdogs by the European Commission. That review is due to be wrapped up in August.