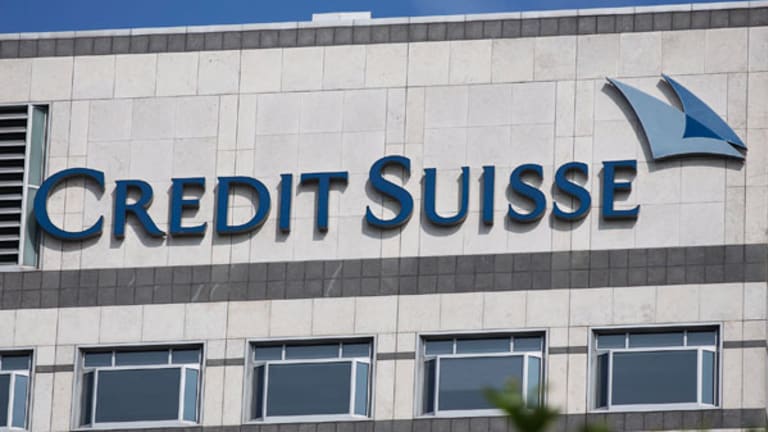 Swiss Banks Still Protecting Criminals
Can today's scheduled Congressional grilling of Credit Suisse CEO Brady Dougan lead to greater pressure on Switzerland to allow the release of list of U.S. clients suspected of tax evasion?
NEW YORK (TheStreet) -- Today's grilling of Credit Suisse (CS) - Get Free Report CEO Brady Dougan and Hans-Ulrich Meister, the bank's co-head of private banking and wealth management, by the Senate Permanent Subcommittee on Investigations could will be painful for the bank executives, but could also provide necessary pressure on the Department of Justice, President Obama and even the Senate itself to take more action to address the underlying problem of Switzerland's culture of bank secrecy.
The story of Swiss banks' complicity in the efforts of thousands of U.S. clients to evade U.S. taxes is nothing new.  UBS (UBS) - Get Free Report in 2009 entered into a deferred prosecution agreement with the Justice Department, which included a fine of $780 million.  UBS also provided the names of 4,700 U.S. account holders, whose names hadn't previously been disclosed to the Internal Revenue Service.  But according to a report released on Wednesday ahead of the Subcommittee meeting, the "Justice Department has failed to hold accountable the vast majority," of the people whose identities were provided by UBS.
The Permanent Subcommittee's Report is entitled, OFFSHORE TAX EVASION: The Effort to Collect Unpaid Taxes on Billions in Hidden Offshore Accounts.  The chairman of the Subcommittee is Senator Carl Levin (D., Mich.) and the ranking minority member of the Subcommittee is Senator John McCain (R., Ariz.).  The report examines the roles of several Swiss banks, focusing on Credit Suisse, which according to the Subcommittee, "was deeply involved in facilitating U.S. tax evasion and whose unnamed U.S. customers continue to owe unpaid U.S. taxes on billions of dollars in hidden assets."
Credit Suisse on Wednesday released a lengthy statement outlining the many steps it has taken since 2008, when the Senate Permanent Subcommittee on Investigation "first highlighted abuses of Swiss banking secrecy."  The bank also said it had "built a business culture where hiding income and assets of U.S. clients is absolutely unacceptable," and that it had "been active proponents of all Swiss financial institutions moving rapidly in this direction."
Credit Suisse also said that the "misconduct" that had previously occurred was "centered on a small group of Swiss-based private bankers."
After asserting that it had provided as much information on U.S. clients to U.S. government authorities as is allowed under Swiss law, Credit Suisse said it was ready to provide additional information, but was unable to do so, "because the U.S. Senate has not yet ratified the Protocol to the Double Taxation Treaty agreed to by the U.S. and Swiss governments in 2009 and approved by the Swiss Parliament in 2010."
The Permanent Subcommittee agrees with that statement, saying in its report that "The U.S. Senate should promptly ratify the 2009 Protocol to the U.S.-Switzerland tax treaty to take advantage of improved disclosure standards."
Kudos to the Permanent Subcommittee for taking the Senate to task for the legislative body's failure to ratify the 2009 Protocol.  But the ratification of the Protocol, together with other agreements between Switzerland and the United States, is still unlikely to enable the U.S. to recover much in the way of lost tax revenue, because the information will only be provided if the U.S. provides "the name and other identifying information," for the person being investigated.
So U.S. authorities need to know the identities of U.S. clients of Swiss banks who evaded U.S. taxes with the help of Swiss banks before requesting information on these criminal suspects from Swiss banks.
Looking Ahead

It would appear that the majority of U.S. clients of Swiss banks who evaded U.S. income taxes before the Subcommittee's investigations and Justice Department investigations began in 2008 will get away with it, unless much higher-level pressure is brought against the Swiss government by President Obama.
But future tax-evasion is likely to be limited, because Switzerland in February 2013 signed an agreement with the United States, under which Swiss banks are required to comply with the Foreign Account Tax Compliance Act, or FATCA.  This means Swiss banks on July 1, 2014, will be required to disclose all of their U.S accounts to the IRS and withhold U.S. income taxes.
FATCA represents a major change for banks all over the world, and compliance is turning out to be a major industry headache, according to Mary Kopczynski, founder and CEO of regulatory management firm, 8of9 Consulting.  "The whole world is going this route of being open and transparent with money," Kopczynski said during an interview in January.
That's all well and good, not only for the U.S. government and for citizens who don't evade taxes, but for the Swiss banks themselves, who can go on running profitable businesses while taking comfort in abetting less criminal activity.
But it would appear that there's little hope that most of the U.S. tax evaders alluded to in the Senate Permanent Subcommittee's report will be brought to justice, because the new agreements can't be applied retroactively.  Then again, maybe the Justice Department can direct some of its venom away from big U.S. banks and toward more of the 4,700 alleged U.S. tax evaders that were identified by UBS.
-- Written by Philip van Doorn in Jupiter, Fla.
Philip W. van Doorn is a member of TheStreet's banking and finance team, commenting on industry and regulatory trends. He previously served as the senior analyst for TheStreet.com Ratings, responsible for assigning financial strength ratings to banks and savings and loan institutions. Mr. van Doorn previously served as a loan operations officer at Riverside National Bank in Fort Pierce, Fla., and as a credit analyst at the Federal Home Loan Bank of New York, where he monitored banks in New York, New Jersey and Puerto Rico. Mr. van Doorn has additional experience in the mutual fund and computer software industries. He holds a bachelor of science in business administration from Long Island University.