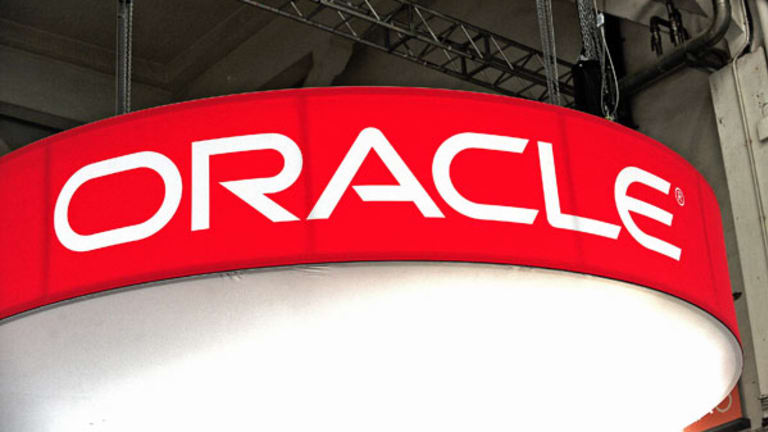 Surviving Oracle in an Amazon World
Oracle has missed estimates before and the stock moved on to new highs. It will again this time too.
NEW YORK (TheStreet) -- When the dust settled after the closing bell on Thursday, Oracle (ORCL) - Get Free Report shed $15 billion in market valuation from the closing on Wednesday. If you're ready to break the glass and push the panic button, hold off until you read this, I just might change your mind.
Oracle consistently beats market expectations, as you can see by reviewing the results over the last 12 or more quarters. Still, surpassing analyst estimates doesn't ensure any given stock will rise after earnings releases and Oracle has a history of post-earnings release weakness that I pointed out with my
Oracle earnings preview.
In the third paragraph, I hit the nail on the head:
We don't predict the future, we predict the odds. Chances are, within days after a beat, Oracle's shares will tank. An upward path throughout 2013 should eventually follow. In the interim, there is money to be made.
I also believed that Oracle would beat on earnings and while I could argue adjusting for onetime expenses makes sense, it doesn't matter. What matters to investors is the stock reaction and I feel confident that a 9.8% one-day drop qualifies as tanking. Of course shareholders need to get through Friday and Monday, but you should expect the storm clouds to pass and the sun to shine again.
Regardless if Oracle beats or misses, the first few days after a release brings a lower stock price. There isn't a lot about Wall Street that is consistent when it comes to predicting price action, but Oracle after earnings is starting to appear as the exception to the rule.
If it's true that Oracle is not only a relatively consistent profit maker, but also a relatively consistent stock, then it's time to look back to December 2011. If you're a new Oracle investor and thought Thursday was a tough day, 2011 was a rough Christmas for many shareholders.
Shares dropped well over 10% and took over a month before Oracle's shares once again closed higher than the day before the earnings release. Today, it's hard to say how much lower Oracle shares can go, but technical analysis shows strong support just under $32 a share.
The current widely followed 200-day moving average is about $31.97 and even if the price breaches below that level, it will likely push back. Even with newer technology nipping at Oracle's heels, the Redwood City company has demonstrated a strong push toward adjusting to the needs of customers.
data by
Amazon
(AMZN) - Get Free Report
and other cloud computing offerings are expected to grow at the expense of
Microsoft
(MSFT) - Get Free Report
,
Dell
(DELL) - Get Free Report
,
Hewlett-Packard
(HPQ) - Get Free Report
and other traditional hardware and software providers.
However, before we all call our broker to short sell everyone but Amazon, keep in mind that Oracle has cloud offerings; as technology changes and costs continue to fall, cloud computing may only be fashionable for a few years.
data by
According to the earnings call, cloud computing revenue was worth just under $240 million and slightly lower than the previous quarter. Also, total revenue was flat in constant currency valuation and only down 1% after accounting for changes in U.S. dollar valuation. More importantly, cash flow and free cash flow increased.
There was considerable discussion Thursday about the fairness of throwing the sales force under the bus for the disappointing earnings. I tend to fall into the camp that believes you can delegate authority, but not responsibility (a belief instilled upon me from the Navy). New or old, the salespeople are as good as management.
For me, if Oracle really does have an outsized amount of new sales staff, this quarter can be considered a building quarter. As a Green Bay Packer fan, I have lived through many of these years, especially in the 80s.
data by
I trust the market will give the company the same amount of latitude and quickly look to next quarter's release to determine if Wednesday was a speed bump on the database highway, or a fundamental change in the ability of Oracle to compete.
As a consequence, we should expect to see the support level at the 200-day moving average hold and the shares to start the ascent once again, same as before. Either way, now isn't the time to decide to sell. If you want to take a stop loss and get out at least give yourself enough time to see if support holds.
If the share price support doesn't hold, you're most likely only looking at an additional 2% decline. On the other hand, if support holds, the upside is most likely at least a 10% possibly much more.
At the time of publication, the author held no positions in any of the stocks mentioned.
This article is commentary by an independent contributor, separate from TheStreet's regular news coverage.