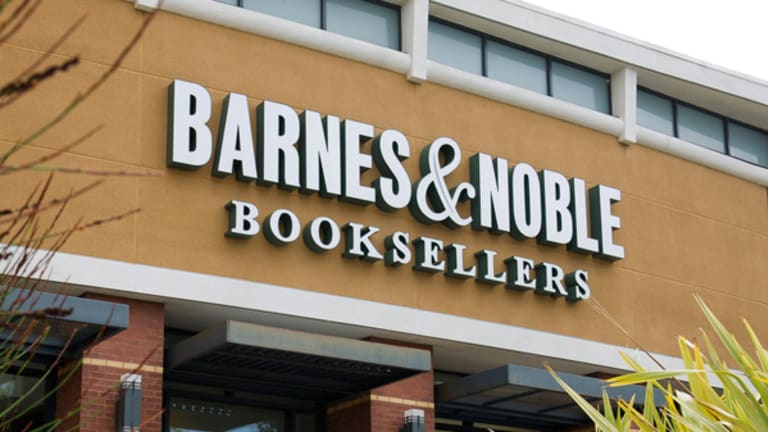 Surviving Barnes & Noble in an Amazon World
It's not easy being a Barnes & Noble investor, and it's only going to get worse.
It's not easy being a Barnes & Noble investor, and it's only going to get worse.
NEW YORK (TheStreet) -- My son just finished little league, and it was a bittersweet season. It was enjoyable to watch my son and the team play. I didn't keep track, but they lost most of the games. When you're losing, the last inning isn't a lot of fun. You enter it knowing a miracle is needed to change the outcome to a win.
When your team is behind, your aspiration to win is extinguished with each out, not unlike each reporting quarter with
Barnes & Noble
(BKS) - Get Report
. Even when you're losing, there are enough positive events that will cause your mind to play tricks on you. One example is when
Microsoft
(MSFT) - Get Report
announced they were investing in the Nook, shares of Barnes & Noble shot higher. Investors thought for a brief moment that maybe there was a way the team could win.
The immediate and profound sell-off after the announcement was a clear sign of smart money actively exploiting positive news to liquidate their shares. You don't have to take my word for it though, according to
, institutions sold almost half their holdings in the prior quarter.
On Tuesday, Barnes & Noble only lost about 16.5% from Monday's close. I say only because after the earnings release horror show, shareholders were lucky (so far). Take a look at the revenue, gross profit, and earnings per share chart.
BKS Revenue Quarterly
data by
Notice the pattern of higher revenue coupled with flat gross profit and shrinking bottom-line earnings per share profit. You can see the red line peaks (earnings per share) falling year after year. The first takeaway is they are growing revenue due to competitors leaving the space, but margins are squeezed.
As soon as revenue peaks (and it appears it has), the earnings per share will implode. Some may argue that losing $2.11 "is" an implosion, but they're not listening to Barnes & Noble's CEO William Lynch who stated during the
"As we announced in this morning's year-end results, Barnes & Noble Retail and Barnes & Noble College delivered a very solid performance in fiscal year 2013..."
Also see: The Dumbest Fee in the Airline Business>>
I can say my son and the Lowes Creek Red Wings had a very solid performance in the last little league season too, but with more credibility. Barnes & Noble reported an acceleration of losses combined with shrinking revenue. We can agree it was a solid acceleration of losses; doubling from $1.06 a share during the corresponding quarter last year with the performance of 7.3% lower sales.
If I was William Lynch, I too would focus the earnings call on Barnes & Noble College. It's the bright spot in the Barnes & Noble family. Unfortunately, you can't count on that segment to flourish, and I will explain why.
How long do you think it will take before the majority of schools are using tablets instead of books? The transformation is already beginning. There should be no question in your mind that digital books cost less. No shipping, distribution, printing, or binding is required, and Barnes & Noble is part of distribution.
The way content is delivered is changing, and the half-life of physical paper books is probably not much more than five years. Why buy a physical copy of a college book for $125 when you can buy the same text in digital form for $70? I'm sure some will prefer the paper version regardless of cost, but isn't a model you want to invest in.
Some colleges include books as part of tuition. You can count on colleges to be keenly interested in the cost savings of issuing one tablet versus the current costs of physical books. As content delivery shifts to a digital format, what value does Barnes & Noble add that justifies anywhere near the current margins enjoyed now? What will stop professors and other authors from selling directly or when a publisher is employed, having the publisher sell directly?
The company reported Barnes & Noble College full year comps decreased 1.2%. As an investor, you should anticipate continued revenue and margin contraction. Even if they can hang on to their niche, the only way you can believe the margins won't get squeezed is to bet on
Amazon
(AMZN) - Get Report
not aggressively competing for sales. Digital content delivery makes it easier, not harder for competitors to enter the space.
Also see: Are Americans Afraid of Their Credit Scores?>>
My opinion of Amazon's share price notwithstanding, the number one online retailer didn't achieve its position because it lacks initiative. I'm not suggesting the world belongs to Amazon, and this is a cage match where only one can exit, but you're setting yourself up for failure if you're counting on any part of this business model to flood the coffers with cash. I would sooner bet on team coaches Brad, Darrin, and Shanda to turn the Lowes Creek Red Wings into the little league champs.
BKS EPS Diluted Annual
data by
At the time of publication the author held no positions in any of the stocks mentioned.
This article is commentary by an independent contributor, separate from TheStreet's regular news coverage.
Robert Weinstein currently blogs, mentors traders, and writes several weekly columns in Rocco Pendola's Option Investing newsletter from his home in northern Wisconsin. Robert tends to focus on the psychological importance of goals, risk mitigation, emotion, and relatively short term market exposure. With nearly 30 years of studying and investing experience, Robert has experienced the many ups and downs in the financial markets and uses the knowledge gained to maintain balance. Robert believes the best way to make money investing is to avoid losing it. The best way to avoid losing is to know what emotional traps lay in the path of investors and learning how to avoid them. Robert is a voracious reader of financial related books often completing more than one book a week while not trading or writing. Robert contributes to his blog at paid2trade.com on a regular basis with an emphasis on studying behavior finance.