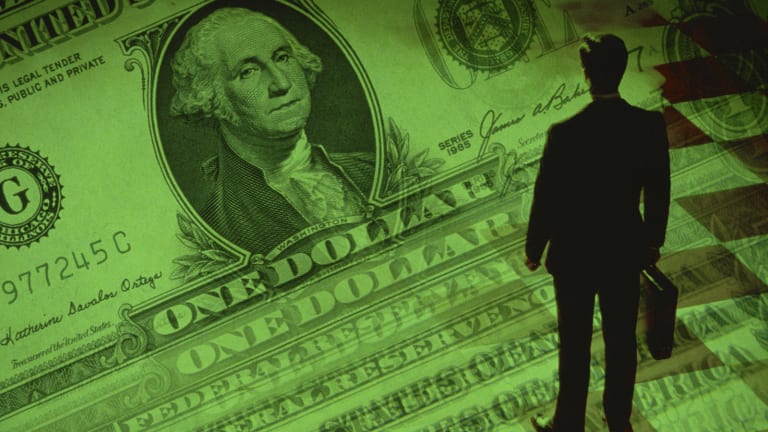 Surprise! Growth Stocks May Be Better Than Value Stocks When Looking for Value
It may sound like blasphemy, but growth stocks have outperformed value stocks for the past decade.
NEW YORK (TheStreet) -- Investors looking for value should consider growth stocks. This may seem counterintuitive, but growth stocks have actually outperformed value stocks over the last ten years.
Growth stocks look to be the better value when you consider them relative to their own historical valuations. Tech is a growth sector and is now the second-largest after financials. This growth is partly fueled by the ramp up in technology spending across nearly all industries. Due to revenue growth, valuations in traditionally pricier sectors like technology and healthcare have outpaced their stock market growth, making them relatively good deals.
Ten years ago, you would not have looked at tech companies like Apple or Google based on valuation. To many in the financial community, this sounds like blasphemy. It seems to be commonly expected for value to outperform growth stocks in the long run. This has been a part of the findings of rigorous research, well documented by Fama and French at the University of Chicago. Yet, growth has been in a bull market relative to value since 2003. Although the outperformance has not been striking in any one year, it adds up.
For example, if you look at a popular growth ETF such as Vanguard Growth (VUG) - Get Free Report, it has been up cumulatively over 120% in the last decade. This compares to only a little over 75% for the SPDR S&P 500 ETF (SPY) - Get Free Report. The cumulative gain in the Vanguard Value ETF (VTV) - Get Free Report, for the same period, adds up to less than half that of its growth counterpart.
Although the leadership oscillates between growth and value for any given holding period, in the last 10 years, growth has also more frequently outperformed value, in terms of the duration of performance. The mean average return in a given year has also been more than a full percentage point better for growth relative to value for the last decade. Outperformance of growth stocks is also happening overseas.
Technology
Innovation has been disrupting every major industry. That trend doesn't show signs of slowing down anytime soon.
There are several factors that have come together to create the perfect storm for the technology sector to do well.
The smartphone with constantly available and reliable internet service: We all take this for granted nowadays, yet this is something that simply didn't exist until just now. It has altered entire industries. We can hail a car, compare prices, or have a video chat with anyone, all from our phones.
Technological innovation is no longer optional: Although technology has often been thought of as an optional and variable expense, it is increasingly becoming a staple. To maintain relevance, particularly with younger and more technologically literate millennials and Generation X consumers, companies are finding that technological advancement is absolutely necessary. Furthermore, there has been a dispersion effect of technology being more widely adopted across all age groups. As an example, when Facebook started out, it was only kids using it. Now it's everyone. 
Great technological innovation of the past decade has given way to a massive network effect: This refers to the concept that as more people are part of a network, it becomes increasingly valuable. If we consider companies like Facebook, Airbnb, Uber, or LinkedIn , they essentially only work if enough people sign up for them to make them worth anybody's time. As people increasingly have been spending their time online, the value of online properties naturally has grown as well. This network effect is impacting, not only the business-to-consumer space but also business-to-business. As technological adoption increases, areas like data storage, data analytics, software security, technology consulting and many others are increasingly important.
Expectations have been reset across industries. In the past decade we have come to expect that we can instantly hear any song that we want or watch TV on demand. Because technology has exponentially increased the availability of services, consumers are now more accustomed to instant gratification and companies that can deliver that experience.
These changes help to categorize the software revolution. As impactful as they have been, there is so much more coming. Because of the steep ramp up rate of technological improvement along with costs halving every couple of years (Moore's law), we are on the cusp of massive growth in the so called "internet of things." Self-driving cars, smart-homes: appliances, watches, lights, thermostats, vents, etc., all connected, controlled and providing information through networks. Although all of it is made possible by the internet, it is permeating alternate sectors such as apparel, biotechnology, transportation, and energy.
The technology stocks of today are far ahead, financially, than those of the nineties. They are largely profitable and growing entities that are taking advantage of massive demographic shifts and nuances in consumer preferences. Because of swift changes in technological innovation, it is extremely tough to pinpoint the best performers for the next decade. We tend to favor technology companies that have some diversification to their business models such as Google (GOOG) - Get Free Report (GOOGL) - Get Free Report. We also like a broad approach to technology investing through ETFs. While it may be nearly impossible to find and invest in the next Apple (AAPL) - Get Free Report or Facebook in its infancy stage, it is entirely possible to own the next best and most innovative companies, weighted based on how large they grow by simply investing in ETFs that cover that area.
Utilities and Real Estate
On the value side of things; sectors such as utilities and real estate have run up to historically high valuation levels. Because interest rates have remained low, many investors have sought out areas of the financial markets that they view as so called "safe high quality dividend paying securities," driving prices higher in those areas. This includes real estate investment trusts (REITs), which in the U.S. sport price-to-earnings ratios that are a lot higher than other sectors. Vanguard's REIT ETF (VNQ) - Get Free Report has a price-to-earnings ratio of over 30. Utilities stock prices have also been moving higher. Their valuations are much more in line with other stock prices based on price-to-earnings ratio alone. However, historically, Utilities have tended to trade at lower valuation levels than average because they tend to have lower than normal growth rates. Much like REITS, many investors like them because of their sizeable dividend rates.
It appears that there is, currently, an elevated level of risk to investing in both the REIT and utilities sectors. Their prices may revert closer to their normal valuation range, particularly when interest rates rise. Long term bonds performed extremely well last year as bond yields fell (which was against consensus). If you look at their performance, they were highly correlated to REITs and utilities. The iShares 20+ Year Bonds ETF (TLT) - Get Free Report was up 27.3% and the REITs ETF mentioned above was up 30.36%. The Vanguard Utilities ETF (VPU) - Get Free Report was up 26.99%. The correlation between these categories recently shot up relative to longer term historical data.
Bonds
It would not be a stretch to expect REITs and utilities to also correlate with long-term bonds on the flip-side given their interest rate sensitivity. The Federal Reserve has been hinting at raising interest rates and seems to be looking for the right time. Investors (especially retirees and pension funds) have been so hungry for yield that many high yielding investment options have become an overly crowded trade. It could get ugly if investors all flee for the exits in a rising interest rate environment. For every 1% move up in interest rates, the 10 year bond price goes down more than 8%, the 30 year bond goes down almost 18%.
You have to go back more than 30 years to really get a sense of what a rising interest rate environment feels like. Recency bias tells us that many investors just aren't prepared for it. Most people wouldn't intuitively guess that, in addition to interest rate risk for bonds, there may also be hidden risk in a variety of higher yielding investments, like the sectors mentioned, that have elevated levels of correlation.
Index funds and ETFs have proven to be great investments relative to more active investments in recent years. Particularly, given the bull market in stocks and the long term bull market in bonds.
My guess is that once investors get a real sense of what rising interest rates can do on the bond side of things, that they will increasingly seek out active management, at least on the bond side. It will be comforting to have someone steering the ship.
This article is commentary by an independent contributor. At the time of publication, the author held no positions in the stocks mentioned.