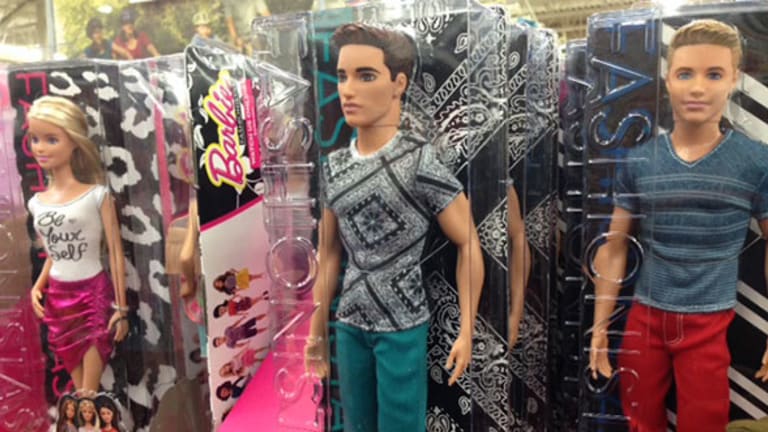 'Super Saturday' Was Not So Super for These Three Companies
The final shopping weekend before Christmas brought big crowds to the nation's malls and discount stores. But these three stores found little to cheer about.
NEW YORK ( TheStreet) -- The  final shopping weekend before Christmas was headlined by packed malls and discount stores offering surprising discounts on apparel, electronics and handbags.
But not all retailers partook in the spending festivities, and that puts their investors at risk.
Based on a walk-through of close to 30 stores in the New York area over the weekend, some of the companies that should be most concerned are Coach (COH) , Mattel (MAT) - Get Mattel Inc. Report and Abercrombie & Fitch (ANF) - Get Abercrombie & Fitch Company Report . So why should they be worried with just three shopping days left before Christmas?
1. Coach Handbags Are Ignored by Women at Department Stores
Coach ended Super Saturday weekend the same way it began the shopping season on Black Friday -- by discounting heavily at department stores. The handbag maker is attempting to regain its cool factor with trendier styles from new designer Stuart Vevers, which began to appear in malls last September.
Coach had most of its styles at Lord & Taylor on sale for 40% off. Clearance tables with Coach handbags were also spotted there. At Macy's (M) - Get Macy's, Inc. Report , Coach handbags were being discounted as buy one, get one 50% off.
A Macy's spokesman declined to comment on Coach or sales trends on Super Saturday weekend, saying it's in its quiet period ahead of the fourth-quarter earnings report.
The big discounts on Coach highlight what was a very disappointing start to selling its goods at department stores in its new fiscal year. In the first fiscal quarter, sales for Coach products at department stores dropped by a "mid-teens" percentage. Coach's merchandise is sold in about 1,000 department store locations in the U.S. and Canada.
Sluggish sales at major department stores in the first quarter -- and perhaps the whole holiday season -- come as Coach remodels its shops to include flashier signs, lighting and racks. By the end of the first quarter, Coach had completed 140 of these remodeling projects at department stores, with a goal to touch up over 300 locations over the next nine months.
Coach shares have popped 3% in the past month on speculation that LVMH's (LVMUY) Louis Vuitton had interest in a buyout. But Coach's probably rocky holiday season sets up investors hoping for a buyout to be disappointed when earnings and guidance are released at the end of January. Coach expects a low double-digit percentage decline in sales for fiscal year 2015, along with gross margins in a range of 69% to 70%.
2. Barbie and Ken Hang Out on Retailer Shelves
A good number of Mattel's Barbie and Ken dolls found their way to the discount racks at Wal-Mart (WMT) - Get Walmart Inc. Report over Super Saturday. A spokesman for the world's largest retailer declined to give specifics on the matter, saying it's "not commenting on sales until the quarter is closed."
At Target (TGT) - Get Target Corporation Report and Toys R' Us stores, the Barbie aisles were stuffed with inventory that is destined to be aggressively marked down post-holiday.
Why have Barbie and Ken had such a tough time finding homes?
The answer seems to be the Elsa and Anna dolls from Disney's (DIS) - Get The Walt Disney Company Report juggernaut Frozen movie. The dolls are on fire at Disney retail stores, as well as online and discount retailers. The National Retail Federation estimated in November that 20% of Americans would buy Elsa and Anna merchandise this holiday season, compared to 17% for Barbie.
Lackluster demand for Barbie this holiday season would cap an alarming sales decline for the Barbie brand in 2014, despite stepped-up investments by Mattel execs. "We have invested in the doll, the dolls look better this year than they did last year," said Mattel Chairman and CEO Bryan Stockton on an Oct. 16 earnings call.
Stockton added, "Barbie is not out of the woods yet, but I would say we continue to make solid progress on it."
Worldwide Barbie sales for Mattel declined by 21%, 15% and 14%, respectively, from the third quarter to the first quarter. The problems selling Barbie dolls have weighed on Mattel shares, which have plunged 38% this year.  
3. Abercrombie & Fitch Gives the Store Away
Chock full of clothing inspired by the now retired, long-time CEO of Abercrombie & Fitch, Mike Jeffries, these stores tried to clear through it all on Super Saturday weekend with a 50%-off-the-entire-store promotion at both its Abercrombie and Hollister stores. This comes just weeks after the company offered 40% off the entire store on Black Friday.
A company spokesman could not immediately be reached for comment regarding the magnitude of the discounting on Super Saturday and sparse traffic.
With its heavy discounting, Abercrombie & Fitch's goal seems to be to empty the stores out before shirts and jackets engineered by new division presidents at Abercrombie & Fitch and Hollister arrive late in the first quarter of 2015.
Abercrombie & Fitch could use the interest in its clothing. Same-store sales declined 7% in the 39 weeks ended Nov. 1, following a 13% fall a year ago. Since Black Friday on Nov. 28, Abercrombie & Fitch's shares have fallen 4.4% vs. the 0.2% gain for the S&P 500 (SPY) - Get S&P 500 ETF TRUST ETF Report . 
Steep discounts by the company this holiday season could cause the shares to remain under pressure, as investors fear very weak same-store sales, profit margins and guidance.  
This article is commentary by an independent contributor. At the time of publication, the author held no positions in the stocks mentioned.