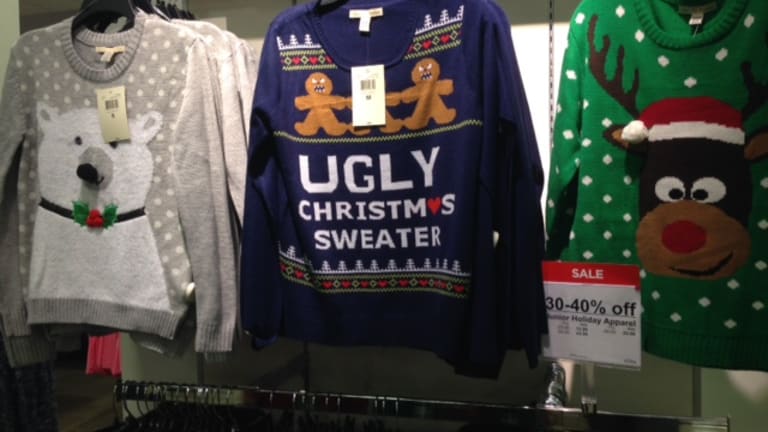 Super Saturday Preview: Which Retailers Desperately Need Big Results
This Saturday could turn out to be the busiest shopping day of the holiday season. For these retailers, it may be the most important day of 2014.
NEW YORK (TheStreet) -- Super Saturday could turn out to be the busiest shopping day of this year's holiday season. For struggling retailers like Abercrombie & Fitch (ANF) - Get Abercrombie & Fitch Co. Class A Report , Sears (SHLD) and Wal-Mart (WMT) - Get Walmart Inc. Report it may be the most important day of the whole year.
Dubbed "Super Saturday" as it represents the final major weekend day of the holidays to grab discounted merchandise in stores, research firm ShopperTrak estimates U.S. retailers will haul in $10.1 billion. If so, the day would top the unexpectedly low $9.1 billion retailers brought in from consumers on Black Friday.
Execs at Wal-Mart, Abercrombie & Fitch and Sears are hoping that armed with savings from the gas pump, consumers shop until they drop on Super Saturday. TheStreet takes a look at some of the companies nervously entering the final weekend of shopping hoopla.
1. It's crunch time for Abercrombie & Fitch.
On Dec. 9, just 11 days until Super Saturday, Abercrombie & Fitch  shocked Wall Street by announcing that its controversial, long-time CEO of 22 years Mike Jeffries was retiring. In an interview with TheStreet on Dec. 12, a company spokesman said "this conversation with Mike has been going on for a while, it's that publicly we couldn't talk about it." 

The surprising timing of the event -- smack in the middle of the holiday season -- suggested Abercrombie & Fitch's same-store sales continue to be under major pressure due to fierce competition from fast-fashion chains Forever 21 and H&M. This may force Abercrombie & Fitch to become especially promotional on Super Saturday to clear through slow-moving inventory, which would come at the expense of profits. Already, the company is running a "50% off the entire store and online" sale at both its namesake business and its Hollister division.
Same-store sales for Abercrombie & Fitch declined 7% in the 39-weeks ended Nov. 1, following a 13% fall a year ago.
The company expects trendier fashions for teens under the leadership of its new division presidents for Abercrombie & Fitch and Hollister to begin appearing in stores late in the first-quarter, and become more apparent in the second-quarter of 2015. Since Black Friday on Nov. 28, Abercrombie & Fitch's shares have fallen 3.9% vs. the 0.3% drop for the S&P 500.
Must Read:
How Clorox's New CEO Hopes to Wipe Away Competitors in 2015


2. Sears needs cash -- now.
As TheStreetnoted on Black Friday, the holiday shopping season for Sears and Kmart did not start on a festive note, with too few shoppers and too much inventory. "I thought it would be busier," said a Kmart cashier at the time who requested anonymity. Since then, the reads on Sears' holiday season have not gotten any better.
On Dec. 4, Sears announced that third-quarter same-store sales at its Sears domestic business declined by 0.7%, worse than the 0.1% fall last year, paced by lackluster sales of consumer electronics, apparel and auto services. Kmart's same-store sales rose a meager 0.5% vs. a 2.1% decline a year ago. The improvement came from greater demand for apparel. Unlike competitors such as Wal-Mart, Target (TGT) - Get Target Corporation Report  and J.C. Penney (JCP) - Get J. C. Penney Company, Inc. Report   that gave updates on Black Friday sales after their Thanksgiving Day openings, Sears did not break out any sales figures.
For Sears, Super Saturday is one final important day to raise badly needed cash before a possible high-yield debt raise in early 2015.
So far this year, Sears has logged an alarming $833 million in losses in adjusted earnings before, interest, taxes and depreciation (Ebitda).  In 2013, Ebitda losses excluding one-time items such as impairments related to store closures tallied $337 million.  
With losses from the very core of the business mounting, Sears was forced to use $1.9 billion in cash to fund its operations in 2014 as of Nov 1. A year ago at the same time, it had used $1.6 billion in cash. Total cash declined to $326 million in the third-quarter vs. $599 million a year earlier. "Over the next six to nine months, we intend to work with our lenders and others to evaluate our capital structure with a goal of achieving more long-term flexibility, as we have previously stated, and may take action sooner if appropriate," cautioned Sears CFO Rob Schriesheim on the third-quarter earnings call.
Shares of Sears have shed 7.7% from Black Friday, trailing the 0.5% gain for Target and 1.7% decline for Wal-Mart.
Must Read:
Macy's CEO: Big Things are in the Works


3. Wal-Mart's inventory problem
The world's largest retailer made a huge wager that economically sensitive households would spend more freely this holiday season on TVs and Disney's (DIS) - Get Walt Disney Company ReportFrozen gear. On Oct. 31, Wal-Mart announced it would be selling its "broadest assortment ever" for the upcoming holiday season. Furthermore, Wal-Mart said it had expanded its range of online offerings to 7 million items, up 1 million from last holiday season.
Now with Super Saturday here, it will be critical that Wal-Mart sells through its remaining holiday inventory. If not, it will only perpetuate an issue of bloated inventory levels in its U.S. stores pressuring the segment's profits.
In the third-quarter alone, inventory at Wal-Mart U.S. increased 5.2% year-over-year, while net sales for the division only rose 3.4%. Gross profit margins fell 22 basis points year-over-year. "We've taken recent actions with respect to reducing inventory, but it's too early to see any significant impact," noted Greg Foran, president and CEO of Wal-Mart U.S. on the Nov. 13 earnings call, adding that "however, we're reasonably confident that we'll see an improvement in inventory levels over the next year."
If inventory is not sold through at pre-planned discounts, it could lead to disappointing EPS guidance when Wal-Mart reports its holiday numbers on Feb. 19, 2015. Shares of Wal-Mart have declined 1.8% since Black Friday vs. the 0.3% dip of the Dow Jones Industrial Average.
Must Read:
CSX CEO Explains How His Company is Powering the Economy
This article is commentary by an independent contributor. At the time of publication, the author held no positions in the stocks mentioned.