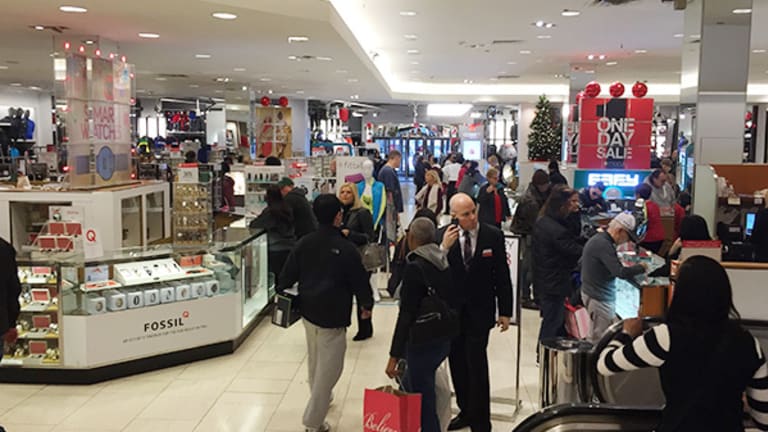 'Super Saturday' Looks to Have Been Festive for Retailers
By most indications, the holiday shopping season is ending on a strong note.
Updated to include sales numbers and statistics.
Retailers may end up having a merry little Christmas after all.
Although the holiday shopping season began mixed for many bricks-and-mortar retailers on Black Friday as consumers apparently held back on some spending and bought more items online, Super Saturday weekend looks to have been a different story, at least according to a sampling of major retailers and malls in the Long Island, N.Y., area and early comments from some retailers.
For starters, shoppers consistently came out in force the entire weekend, unlike on Black Friday, when the crowds at malls died down considerably by Friday afternoon and into the weekend. "The discounts are too good to pass up," said one shopper at Roosevelt Field Mall on Long Island on Saturday morning.
Crowds were thick at the upscale mall well into the evening based on TheStreet's observations. Department stores such as Macy's (M) - Get Macy's Inc Report and J.C. Penney (JCP) - Get J. C. Penney Company, Inc. Report  had nicely picked-over racks of adult sweaters and kid's apparel by Saturday afternoon, a strong indication yet the economy may not be as dreary as some on Wall Street suggest.
At the Walt Whitman Mall, another upscale mall on Long Island, parking lots filled up early on Sunday as consumers sought to finish up their shopping or in some cases, just get started. "I am here to finally buy a coat for myself and mom," said a shopper about to walk into the mob scene that was Macy's. Another shopper noted the parking lots seemed busier than last year.

Continued warm weather caused retailers to offer big discounts on winter coats.
"We had a strong Saturday, and an even stronger Sunday," said a Toys "R" Us spokesman via email to TheStreet. She added, "We had massive sales on Shopkins and others."
Fresh data reinforced the holiday spirit being shared by some retailers following Super Saturday weekend. According to location-sharing company Foursquare, Super Saturday this year bested Black Friday in number of visits, with about 3% more foot traffic to physical stores. Compared to last year, however, visits by people to stores for Super Saturday were down about 1%, similar to how store visits dropped 2% on Black Friday this year compared to a year ago.
According to research firm Customer Growth Partners (CGP), online and offline retailers generated about $55 billion in sales for Super Saturday and Sunday. The result broke 2014's record for the weekend before Christmas, rising 4% year over year. CGP estimates, though, that store traffic fell 3% from the prior year while web sales rose 12%.  
The final shopping weekend before Christmas has become an increasingly important period for retailers. According to Foursquare, the location-based recommendation app, more people actually shopped in stores on the Saturday before Christmas, better known as "Super Saturday," last year than did on Black Friday, the day after Thanksgiving.
So seeing consumers out there spending aggressively should certainly add some cheer to the stockings of retail execs eager to see a strong finish to the holiday shopping season.
TheStreet shares three key observations from Super Saturday weekend.

1. Crowds devoured toy sections. Amid an improved U.S. economy and lower energy prices this year, parents appeared to be splurging more on toys for their children.
By Sunday afternoon, sections of drones, Hasbro (HAS) - Get Hasbro, Inc. (HAS) Report Nerf toys and assorted movie-themed toys were nicely out of stock at various retailers visited by TheStreet. The activity in the stores looked as if parents were out there spending more than they planned, having purchased discounted toys on Black Friday as well.
2. Coats were still not being sold. Department stores pulled out all the stops to try to sell winter coats this weekend in the face of prolonged warm weather across the country. At Macy's, for example, Tommy Hilfiger women's coats were on sale for 65% off. Most coats for men and women were being sold at 50% off, in addition to a $15 coupon that Macy's put in its weekend circulars.
Despite the big discounts in the final weekend of holiday shopping, by Sunday, coat inventories were still piled up (as seen above at a Macy's store on Long Island), which bodes ill for the fourth-quarter profit margins of outerwear makers such as V.F. Corp (VFC) - Get V.F. Corporation Report , Under Armour (UA) - Get Under Armour, Inc. Class C Report and Columbia Sportswear (COLM) - Get Columbia Sportswear Company Report .
Slow sales of coats could also hurt Macy's and J.C. Penney, which may have to hold fire sales of the items post Christmas, hurting profit margins.


Following a strong opening weekend for the movie, sales of Star Wars items started to pick up. 

3. Sales of Star Wars paraphernalia finally picked up. "Star Wars sales are flying -- the sales increases since the movie opening were impressive," said the spokeswoman at Toys "R" Us, which was good news for the toy retailer in light of sluggish sales of Star Wars merchandise on Black Friday.
At over 200 Disney (DIS) - Get Walt Disney Company Report stores in North America over the weekend, Star Wars merchandise was also a hot seller.
According to a spokeswoman at Disney, "We saw strong response yesterday to our Star Wars merchandise, with guests shopping the last weekend before Christmas -- items featuring Rey, Kylo Ren and BB-8 have been top sellers, including light sabers, action figures and voice changing masks."
With the robust opening of the latest Star Wars movie, it's no surprise the merchandise sales kicked into high gear. Star Wars: The Force Awakens brought in an impressive $238 million over the weekend, making it the best North American debut of all time. Given the movie's momentum, which is likely to stay strong as kids go on break from school this month and January, companies hawking Star Wars toys and apparel could receive a nice bump to close out their fiscal years ending in January.