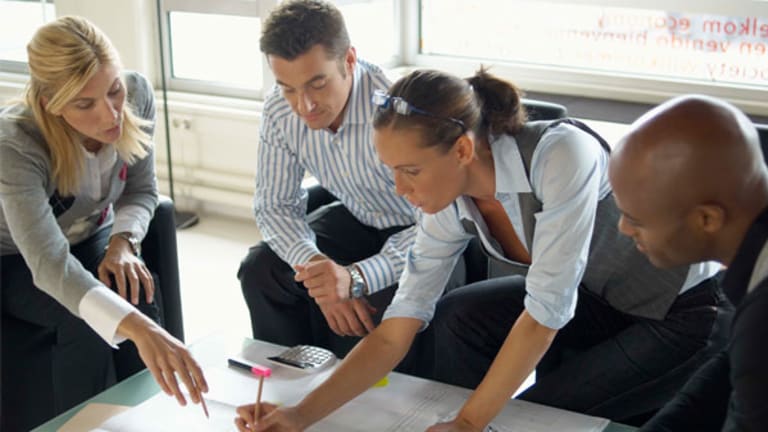 Super Committee: Failure Isn't an Option
The super committee's failure to address the nation's big problem of spending beyond its means will be demoralizing to Americans.
The super committee's failure to address the nation's big problem of spending beyond its means will be demoralizing to Americans.
The following commentary comes from an independent investor or market observer as part of TheStreet's guest contributor program, which is separate from the company's news coverage
.
NEW YORK (
) -- Squabbling on the super committee; political leaders putting politics and re-election ahead of the nation -- again. America is in the midst of a crisis and politicians are worried about their popularity. Getting re-elected should be the least of their worries.
If the super committee decides to roll the dice like Congress did in August or go for minimum cuts, put your seatbelt on. This will inspire more discussions on credit downgrades, settling trades in a currency that isn't the greenback, and reform of the global monetary system, which has the dollar's primacy as a reserve currency in its sights.
Would the discussions lead to action? A failure of the super committee would add a ton of fuel to the fires that are already burning under these discussions. The world at large is tired of the American superpower's privileged currency residing in a house of financial ill repute.
>>U.S. Debt Crisis: What's the End Game?
The nation can't afford to change the color of these fiery discussions from red to white; this will expedite the pace of examining dollar alternatives. Accelerating any action that would lessen demand for dollars and consequently raise the interest on the nation's debt cannot be an option. The committee needs to douse the flames not fan them.
According to the Congressional Budget Office (CBO), if interest on the debt goes up 1%, that adds $1.3 trillion in interest expenses over 10 years. If it goes up 3%, that adds nearly $4 trillion. Not coincidentally, the first amount is about what the super committee is charged with cutting, and the second is the amount the experts say needs to be cut. Rolling the dice or coming up short could be a double or nothing bet.
Beyond this though, a failure to address the nation's big problem of spending beyond its means will be demoralizing to Americans -- again. Do Americans really need to hear again that another nation or credit agency has "lost confidence" in the U.S. government to make decisions?
Politicians must have a very low opinion of the average American IQ if they think they'll be punished for responsibly addressing the world's largest public debt problem. Of course, they are aware of the sentiments of key constituents. AFL-CIO president Richard Trumka recently said, "I would have a tough time envisioning us endorsing people who actually voted for major cuts to Social Security, Medicare or Medicaid... it would make our job significantly more difficult in mobilizing our members around a candidacy."
It would be a sad day for all Americans if an organized labor group were pulling strings in Congress at the expense of fiscal stability. That is what Trumka's remarks imply. The CBO projected that Medicare and Medicaid will consume 13% of GDP by 2035, up from 5.7% in 2008. These programs are insatiable money-eating monsters. They have to be addressed in a major way before they eat the American economy alive.
Let's hope Trumka is good to his word and even convinces fellow organized labor groups to follow suit. The fewer politicians in a special interest group's back pocket, the better. In the case of organized labor, a lower profile in Washington would serve America particularly well because their entrenched interests are at odds with increasing revenue; the other half of the restoring fiscal stability problem.
Driving revenue means getting people back to work. This is a two-part problem: there are insufficient skills to fill jobs that are already available and there is a need for more jobs.
America's skills problem is an education problem. It's already known that there are poor performing teachers lingering in classrooms around the country. If there are fewer politicians in the back pocket of organized labor, the poor performers can be terminated just like they are in unorganized labor.
How many more times do we need to hear stories like this one from Washington State? Last week, a ninth grade teacher who had been caught with a mini-camera under a student's desk "settled for $16,000" and a commitment from the district not to challenge an application for unemployment benefits. This sounds like one of the Catholic Church's disastrous responses to pedophile priests.
The jobs problem? America could have access to millions of jobs if it gets involved in the global growth party happening in the developing world. To do that, there has to be fewer politicians who don't get that trade is a net jobs producer. This way the nation can get serious about negotiating free trade agreements with key economies, just like our neighbors to the north and south, the European Union to the east and our fiercest competitor, China. Guess what? The politicians who are disillusioned about free trade are the same ones Trumka has his sights on.
Get free trade going and instead of reading about companies heading to Mexico or Canada for preferential access somewhere in the world, Americans can read about foreign companies setting up operations here and American companies returning home.
If any special interest group is going to punish politicians who are trying to return respect to America, is that a reason for a politician to fail to meet their responsibilities to the nation? That sounds like the best reason of all not to be re-elected. Politicians that roll the dice on America's future have no place in Washington.