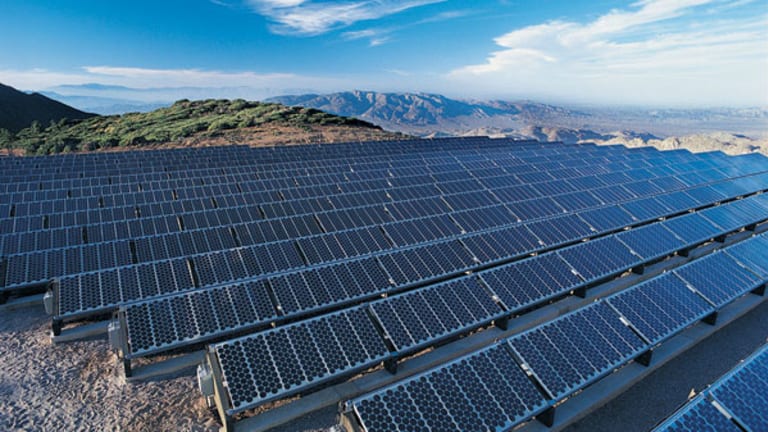 SunPower Is a Hot Investment Again
The company has growth momentum now and projects in the pipeline.
NEW YORK (TheStreet) -- A new day has dawned for solar company SunPower (SPWR) - Get SunPower Corporation Report and I recommend buying this stock.
Why? Consider: Back in mid-2013, TheStreet's Jim Cramer urged investors to "sell, sell, sell" SunPower. Two days ago, Baird raised its price target on the company to $42 from $38.
What happened in nine months?
SunPower, whose shares are up 8.7% for the year to date at $32, ended its fiscal year 2013 with a net income (GAAP) of $95.6 million, up from a loss of $352 million in fiscal year 2012.
The company reduced its manufacturing costs by 20% in 2013, thus improving the gross margin from 15.4% in 2012 to 20.4% in 2013. The cost structure will further improve following the acquisition of the solar panel robotics company Greenbotics in the fourth quarter. This acquisition will help reduce water usage by 90% at the solar projects, saving money and boosting the annual energy yield in dry and dusty regions by 15%.
Reducing costs and improving margins allows SunPower to maintain a healthy bottom line, insulating it against events like solar PV demand reduction and falling panel prices due to competition.
In addition, the company has been running at full capacity over the past two quarters, which shows strong demand for SunPower's high-efficiency solar panels. The company started its fiscal year 2014 with two-thirds of its bookings (in megawatts) being held as backlog. In addition, the company has a strong 6 gigawatts (GW) of global pipeline in power plants, or utility projects, which include:
The project pipeline doesn't end here. the company has received projects in different regions across globe with the help of the strong network of Total SA (TOT) - Get Total SA Sponsored ADR Class B Report, which owns 60% of the company.
The projects will provide strong growth to SunPower's top line and ensure strong demand for its solar panels. The company is benefiting from strong demand from the Japan PV market, especially in the distributed and rooftop solar segment.

Japanese consumers prefer high-efficiency solar panels due to the smaller available area for installation on their rooftop. Thus, Japan's PV installation, especially rooftop, makes it an ideal market for SunPower's high efficiency solar panels. The company has some of the leading conversion efficiency solar panels, which provide efficiency as high as 21.5%.
It plans to bring its first 23% X-series panel by the end of 2015from the new plant (Fab 4), which is under-construction. Fab 4 is expected to start in early 2015, and this state of art facility will produce at 35% lower cost per watt than fab 2, adding further value to its ongoing cost reduction. SunPower reported approximately 100% year over year shipment growth in Japan in the fourth quarter, accounting for approximately 24% of the company's solar module volume.
SunPower has a strong base in terms of its project pipeline, robust demand from Japan, and solid bottom line. Thus, SunPower looks perfectly positioned to post a strong financial performance in 2014.
SunPower operates in the utility and residential/ commercial segments, which makes the company a strong player in the solar PV industry. Utility projects have always been a strong territory for First Solar (FSLR) - Get First Solar, Inc. Report as low efficient CdTe solar panels make the company's job tougher in residential installation. Contrary to this, SolarCity (SCTY) has been a dominant player in the U.S. residential installation, and unlike First Solar or SunPower the company doesn't manufacture solar panels.
SunPower has strength in both segments, and with its strong utility project base, the company added a lease program in 2011 to target the residential rooftop market.
SunPower's high conversion efficiency technology and manufacturing capabilities perfectly position the company in the residential segment. Up to now, SunPower has more than 20,000 lease contracts, and the company is leveraging its strong partnership with seven of top 10 builders to receive new residential installation contracts.
Residential installation is growing at the brisk pace in the U.S., surpassing overall solar installation growth in the U.S. SunPower recently announced an extension of its financing program with Bank of America, in which the bank would financially assist $220 million worth of residential solar lease projects. This extended financing will ensure SunPower's growth in lease contracts.
In addition, the cost to finance this new deal will be lower than the previous signed deal. Therefore, this new deal should positively impact the retained value of SunPower's lease projects. SunPower could also add asset backed securitization in the near term for financing the solar projects, which will help monetize the long-term solar lease projects beforehand.
So what does this all mean?

SunPower has strong growth fundamentals that mirror the strong demand of solar panels. The company has built a diversified vertically integrated business model, which could add value to its financial performance. In addition, support of French oil major Total SA will help it target international projects.
I recommend buying this stock.
At the time of publication, the author held no positions in any of the stocks mentioned.
This article represents the opinion of a contributor and not necessarily that of TheStreet or its editorial staff.